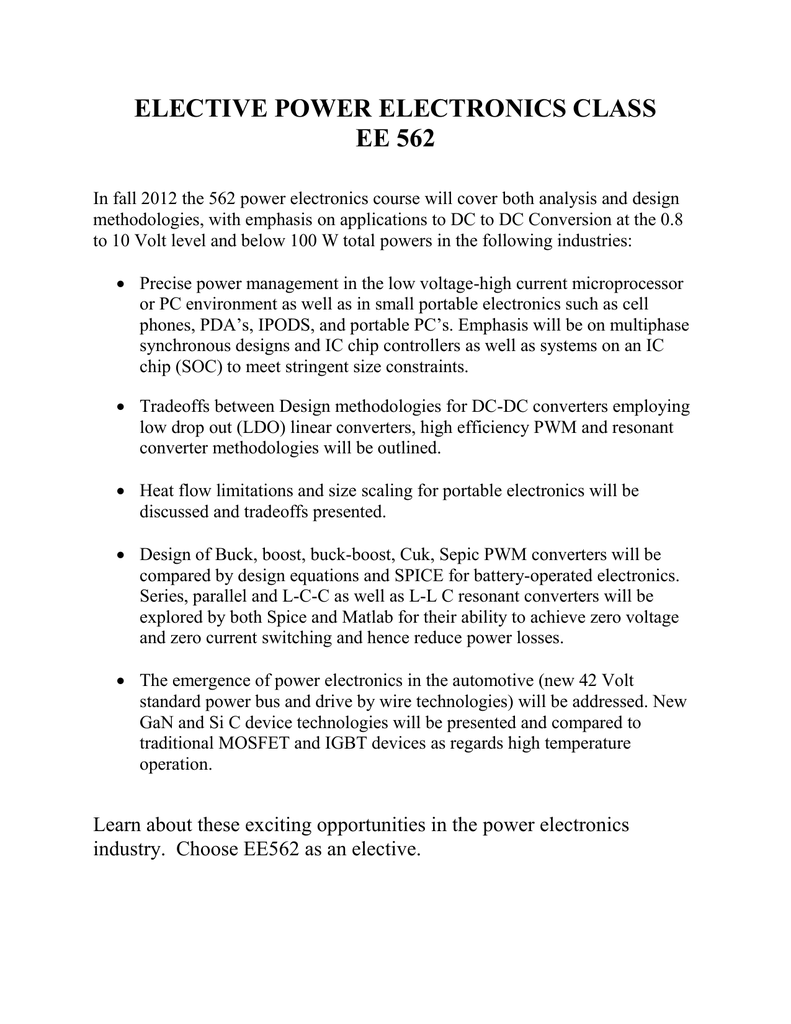 ELECTIVE POWER ELECTRONICS CLASS
EE 562
In fall 2012 the 562 power electronics course will cover both analysis and design
methodologies, with emphasis on applications to DC to DC Conversion at the 0.8
to 10 Volt level and below 100 W total powers in the following industries:
 Precise power management in the low voltage-high current microprocessor
or PC environment as well as in small portable electronics such as cell
phones, PDA's, IPODS, and portable PC's. Emphasis will be on multiphase
synchronous designs and IC chip controllers as well as systems on an IC
chip (SOC) to meet stringent size constraints.
 Tradeoffs between Design methodologies for DC-DC converters employing
low drop out (LDO) linear converters, high efficiency PWM and resonant
converter methodologies will be outlined.
 Heat flow limitations and size scaling for portable electronics will be
discussed and tradeoffs presented.
 Design of Buck, boost, buck-boost, Cuk, Sepic PWM converters will be
compared by design equations and SPICE for battery-operated electronics.
Series, parallel and L-C-C as well as L-L C resonant converters will be
explored by both Spice and Matlab for their ability to achieve zero voltage
and zero current switching and hence reduce power losses.
 The emergence of power electronics in the automotive (new 42 Volt
standard power bus and drive by wire technologies) will be addressed. New
GaN and Si C device technologies will be presented and compared to
traditional MOSFET and IGBT devices as regards high temperature
operation.
Learn about these exciting opportunities in the power electronics
industry. Choose EE562 as an elective.