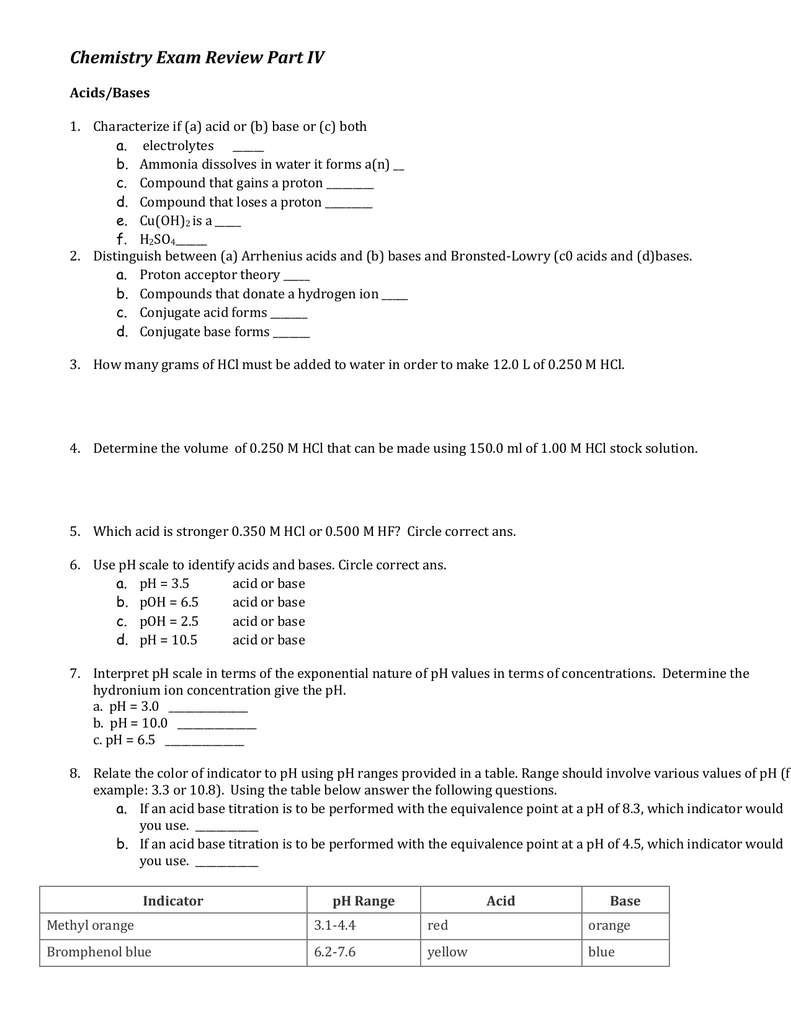 Chemistry Exam Review Part IV
Acids/Bases
1. Characterize if (a) acid or (b) base or (c) both
a. electrolytes ______
b. Ammonia dissolves in water it forms a(n) __
c. Compound that gains a proton _________
d. Compound that loses a proton _________
e. Cu(OH)2 is a _____
f. H2SO4______
2. Distinguish between (a) Arrhenius acids and (b) bases and Bronsted-Lowry (c0 acids and (d)bases.
a. Proton acceptor theory _____
b. Compounds that donate a hydrogen ion _____
c. Conjugate acid forms _______
d. Conjugate base forms _______
3. How many grams of HCl must be added to water in order to make 12.0 L of 0.250 M HCl.
4. Determine the volume of 0.250 M HCl that can be made using 150.0 ml of 1.00 M HCl stock solution.
5. Which acid is stronger 0.350 M HCl or 0.500 M HF? Circle correct ans.
6. Use pH scale to identify acids and bases. Circle correct ans.
a. pH = 3.5
acid or base
b. pOH = 6.5
acid or base
c. pOH = 2.5
acid or base
d. pH = 10.5
acid or base
7. Interpret pH scale in terms of the exponential nature of pH values in terms of concentrations. Determine the
hydronium ion concentration give the pH.
a. pH = 3.0 _______________
b. pH = 10.0 _______________
c. pH = 6.5 _______________
8. Relate the color of indicator to pH using pH ranges provided in a table. Range should involve various values of pH (fo
example: 3.3 or 10.8). Using the table below answer the following questions.
a. If an acid base titration is to be performed with the equivalence point at a pH of 8.3, which indicator would
you use. ____________
b. If an acid base titration is to be performed with the equivalence point at a pH of 4.5, which indicator would
you use. ____________
Indicator
pH Range
Acid
Base
Methyl orange
3.1-4.4
red
orange
Bromphenol blue
6.2-7.6
yellow
blue
Thymol blue
8.0-9.6
yellow
blue
Phenolphthalein
8.0-10.0
colorless
red
9.
Determine the concentration of an acid or base using titration. Interpret titration curve for strong
acid/strong base.
Draw and label the titration curve below for 25.0 mL of unknown concentration of HCl that required 32.0 ml of
0.1 M NaOH to neutralize the acid at its endpoint. ______________________
PH
|
|
|
|
|
|
|
|
|
|
|
________________________________
mL of 0.1NaOH
Use MaVa = MbVb
10. Compute pH, pOH, [H+], and [OH-]. Calculations will involve only whole number values (for example: pH or
pOH values such as 3, 5, 8. and [H+] and [OH-] values such as 1x10-4 or 1x10-10).
pH
2.0
[H3O+]
pOH
[OH-]
Acid/Base
1x 10 -6
3.0
1x 10 -6
Physical Properties and Solutions
Using the reference tables, identify the unknown:
a) An inorganic substance with a density greater than that of sulfur dioxide.
__________________
b) An unknown metal is heated until it melts at 420 °C.
__________________
c) A student observed an unknown inorganic solvent evaporating at 69 °C.
__________________
An unknown metal placed in a graduated cylinder displaces the water from 10.0 mL to 18.3 mL. The mass is
measured at 14.5 g. What is the identity of this metal?
What mass of pure mercury would one need to fill a container with a volume of 5.0 mL?
Which block is more dense?
B
A
Mass = 500 g
Mass = 500 g
.
For which type of reaction are the "Solubility Rules" necessary?
Write the equation for a reaction between aqueous iron III chloride and aqueous silver nitrate. Predict the
products and include state symbols for all species.
Use graph of solubility vs. temperature
to identify a substance based on
solubility at a particular temperature.
Use graph to relate the degree of
saturation of solutions to temperature.
Use graph to make simple calculations
about solutions.
Solubility Curves of Pure Substances
150
140
KI
130
120
110
NaNO3
100
1. How many grams of NaNO3 will
dissolve in 100 g of water at 20C?
2. Ninety grams of NaNO3 is added to
100 g of water at 0C. With constant
stirring, to what temperature must
the solution be raised to produce a
saturated solution with no solid
sodium nitrate remaining?
grams solute per 100 grams H2O

90
KNO3
80
70
NH4Cl
NH3
60
50
KCl
40
NaCl
30
20
KClO3
10
Ce2(SO4)3
0
0
10
20
30
40
50
60
70
80
90
100
Temperature/Celsuis
3. A saturated solution of KClO3 was made using 300 g of water at 40C. How much KClO3 could be recovered
by evaporating the solution to dryness?
4. Which compound is most soluble at 30C? Least soluble at 30C?
5. Which of the compounds is obviously a gas phase solute dissolved into a liquid solvent?