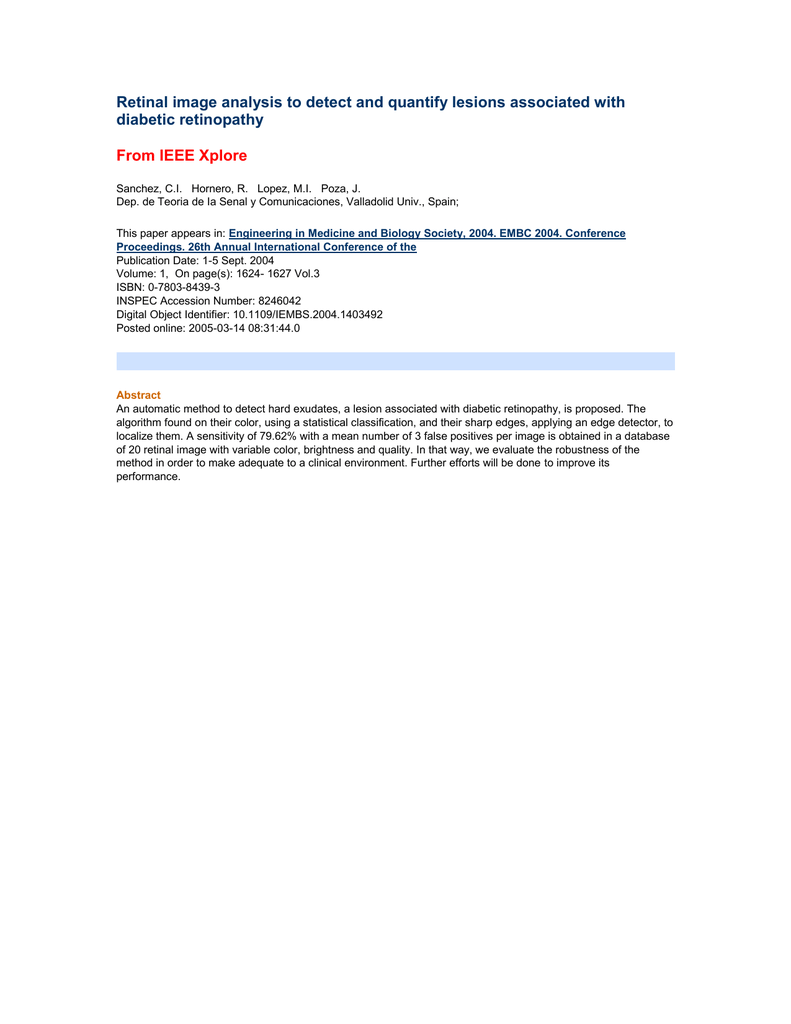 Retinal image analysis to detect and quantify lesions associated with
diabetic retinopathy
From IEEE Xplore
Sanchez, C.I. Hornero, R. Lopez, M.I. Poza, J.
Dep. de Teoria de Ia Senal y Comunicaciones, Valladolid Univ., Spain;
This paper appears in: Engineering in Medicine and Biology Society, 2004. EMBC 2004. Conference
Proceedings. 26th Annual International Conference of the
Publication Date: 1-5 Sept. 2004
Volume: 1, On page(s): 1624- 1627 Vol.3
ISBN: 0-7803-8439-3
INSPEC Accession Number: 8246042
Digital Object Identifier: 10.1109/IEMBS.2004.1403492
Posted online: 2005-03-14 08:31:44.0
Abstract
An automatic method to detect hard exudates, a lesion associated with diabetic retinopathy, is proposed. The
algorithm found on their color, using a statistical classification, and their sharp edges, applying an edge detector, to
localize them. A sensitivity of 79.62% with a mean number of 3 false positives per image is obtained in a database
of 20 retinal image with variable color, brightness and quality. In that way, we evaluate the robustness of the
method in order to make adequate to a clinical environment. Further efforts will be done to improve its
performance.