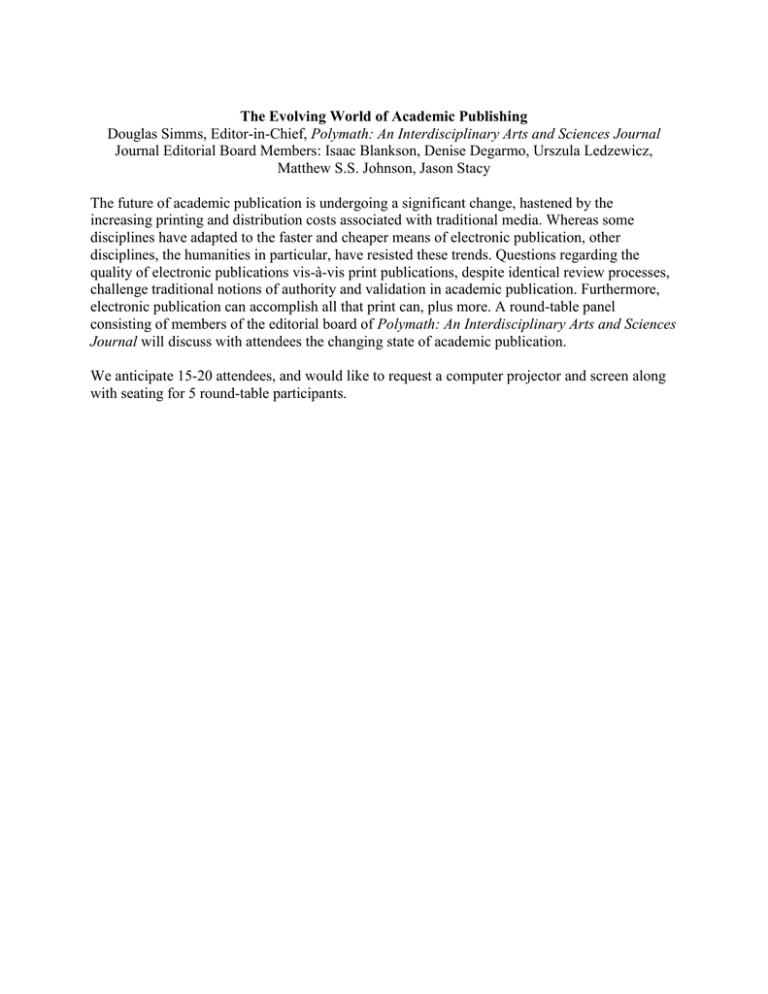 The Evolving World of Academic Publishing
Douglas Simms, Editor-in-Chief, Polymath: An Interdisciplinary Arts and Sciences Journal
Journal Editorial Board Members: Isaac Blankson, Denise Degarmo, Urszula Ledzewicz,
Matthew S.S. Johnson, Jason Stacy
The future of academic publication is undergoing a significant change, hastened by the
increasing printing and distribution costs associated with traditional media. Whereas some
disciplines have adapted to the faster and cheaper means of electronic publication, other
disciplines, the humanities in particular, have resisted these trends. Questions regarding the
quality of electronic publications vis-à-vis print publications, despite identical review processes,
challenge traditional notions of authority and validation in academic publication. Furthermore,
electronic publication can accomplish all that print can, plus more. A round-table panel
consisting of members of the editorial board of Polymath: An Interdisciplinary Arts and Sciences
Journal will discuss with attendees the changing state of academic publication.
We anticipate 15-20 attendees, and would like to request a computer projector and screen along
with seating for 5 round-table participants.