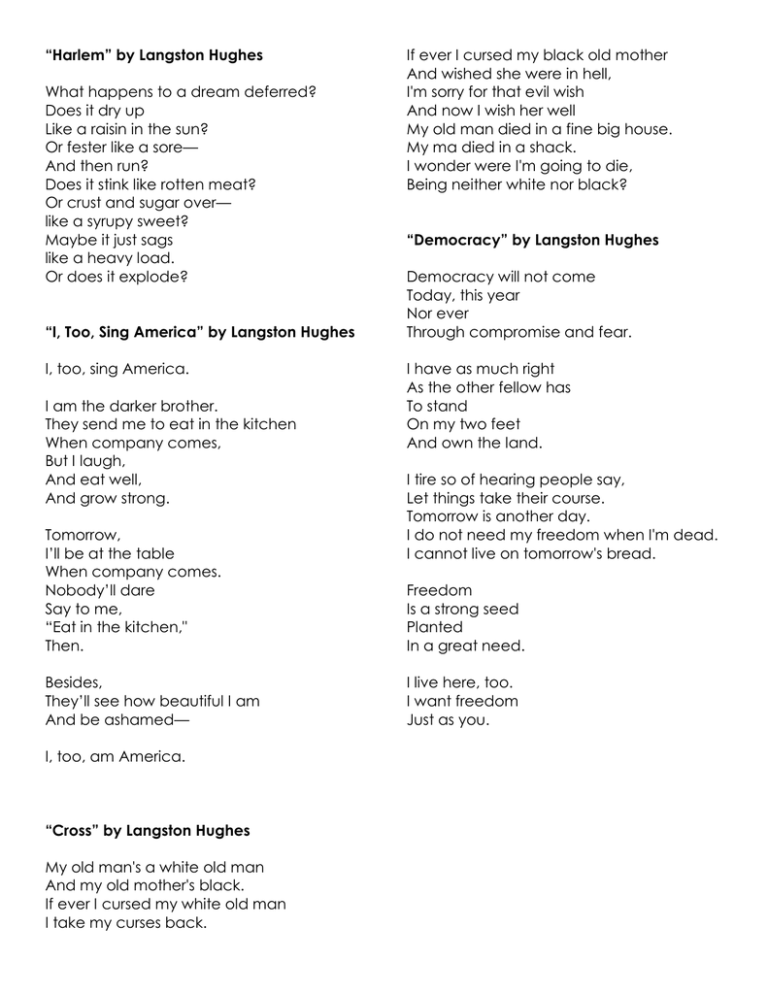 "Harlem" by Langston Hughes
What happens to a dream deferred?
Does it dry up
Like a raisin in the sun?
Or fester like a sore—
And then run?
Does it stink like rotten meat?
Or crust and sugar over—
like a syrupy sweet?
Maybe it just sags
like a heavy load.
Or does it explode?
"I, Too, Sing America" by Langston Hughes
I, too, sing America.
I am the darker brother.
They send me to eat in the kitchen
When company comes,
But I laugh,
And eat well,
And grow strong.
Tomorrow,
I'll be at the table
When company comes.
Nobody'll dare
Say to me,
"Eat in the kitchen,"
Then.
Besides,
They'll see how beautiful I am
And be ashamed—
I, too, am America.
"Cross" by Langston Hughes
My old man's a white old man
And my old mother's black.
If ever I cursed my white old man
I take my curses back.
If ever I cursed my black old mother
And wished she were in hell,
I'm sorry for that evil wish
And now I wish her well
My old man died in a fine big house.
My ma died in a shack.
I wonder were I'm going to die,
Being neither white nor black?
"Democracy" by Langston Hughes
Democracy will not come
Today, this year
Nor ever
Through compromise and fear.
I have as much right
As the other fellow has
To stand
On my two feet
And own the land.
I tire so of hearing people say,
Let things take their course.
Tomorrow is another day.
I do not need my freedom when I'm dead.
I cannot live on tomorrow's bread.
Freedom
Is a strong seed
Planted
In a great need.
I live here, too.
I want freedom
Just as you.