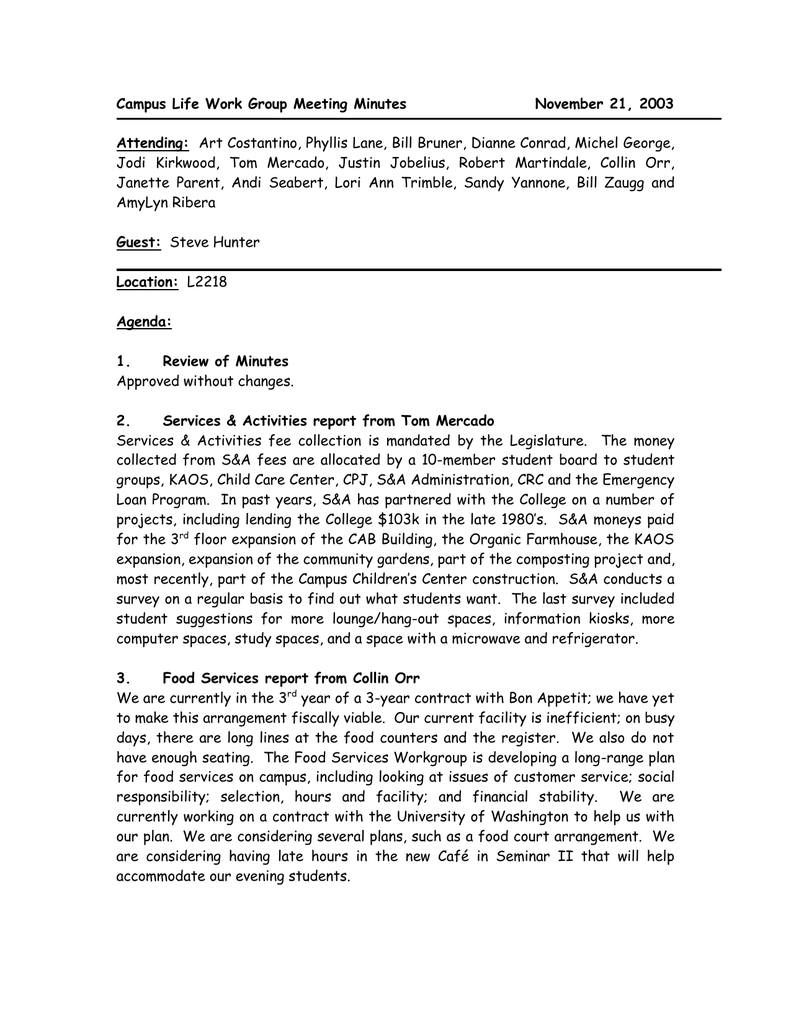 Campus Life Work Group Meeting Minutes
November 21, 2003
Attending: Art Costantino, Phyllis Lane, Bill Bruner, Dianne Conrad, Michel George,
Jodi Kirkwood, Tom Mercado, Justin Jobelius, Robert Martindale, Collin Orr,
Janette Parent, Andi Seabert, Lori Ann Trimble, Sandy Yannone, Bill Zaugg and
AmyLyn Ribera
Guest: Steve Hunter
Location: L2218
Agenda:
1.
Review of Minutes
Approved without changes.
2.
Services & Activities report from Tom Mercado
Services & Activities fee collection is mandated by the Legislature. The money
collected from S&A fees are allocated by a 10-member student board to student
groups, KAOS, Child Care Center, CPJ, S&A Administration, CRC and the Emergency
Loan Program. In past years, S&A has partnered with the College on a number of
projects, including lending the College $103k in the late 1980's. S&A moneys paid
for the 3rd floor expansion of the CAB Building, the Organic Farmhouse, the KAOS
expansion, expansion of the community gardens, part of the composting project and,
most recently, part of the Campus Children's Center construction. S&A conducts a
survey on a regular basis to find out what students want. The last survey included
student suggestions for more lounge/hang-out spaces, information kiosks, more
computer spaces, study spaces, and a space with a microwave and refrigerator.
3.
Food Services report from Collin Orr
We are currently in the 3rd year of a 3-year contract with Bon Appetit; we have yet
to make this arrangement fiscally viable. Our current facility is inefficient; on busy
days, there are long lines at the food counters and the register. We also do not
have enough seating. The Food Services Workgroup is developing a long-range plan
for food services on campus, including looking at issues of customer service; social
responsibility; selection, hours and facility; and financial stability. We are
currently working on a contract with the University of Washington to help us with
our plan. We are considering several plans, such as a food court arrangement. We
are considering having late hours in the new Café in Seminar II that will help
accommodate our evening students.
2
4.
CRC report from Janette Parent
The CRC is currently working to provide more family recreation, as many older
students with families return to college. CRC staff see that people want recreation
that is instant and effective;
5.
Update from needs assessment subgroup
Postponed until 12/5.
6.
Enrollment growth plan report from Steve Hunter
A long-range enrollment-planning group will begin meeting in Winter 2004. This
group will explore what will happen in enrollment in the next 10 years, with a goal of
planning for enrollment growth to 5,000 full-time students. The group will look at
how enrollment growth impacts curriculum and Housing, the mix of residents and
non-residents, and the mix of transfers and high school directs.
7.
Other business
Agenda items for 12/5 meeting: report from assessment subgroup; report from
Anna Kircher & Lee Lyttle on technology in social spaces; review S&A surveys;
brainstorming on assessment tools; Housing trends, consultant report and
anthropological study; Seminar II report.
A new subcommittee on space & planning will meet before 12/5. This group consists
of Tom, Sandy and Michel.
Next meeting:
December 5th from 1-3 p.m. in L2218. Please note that Mike Segawa will not attend.