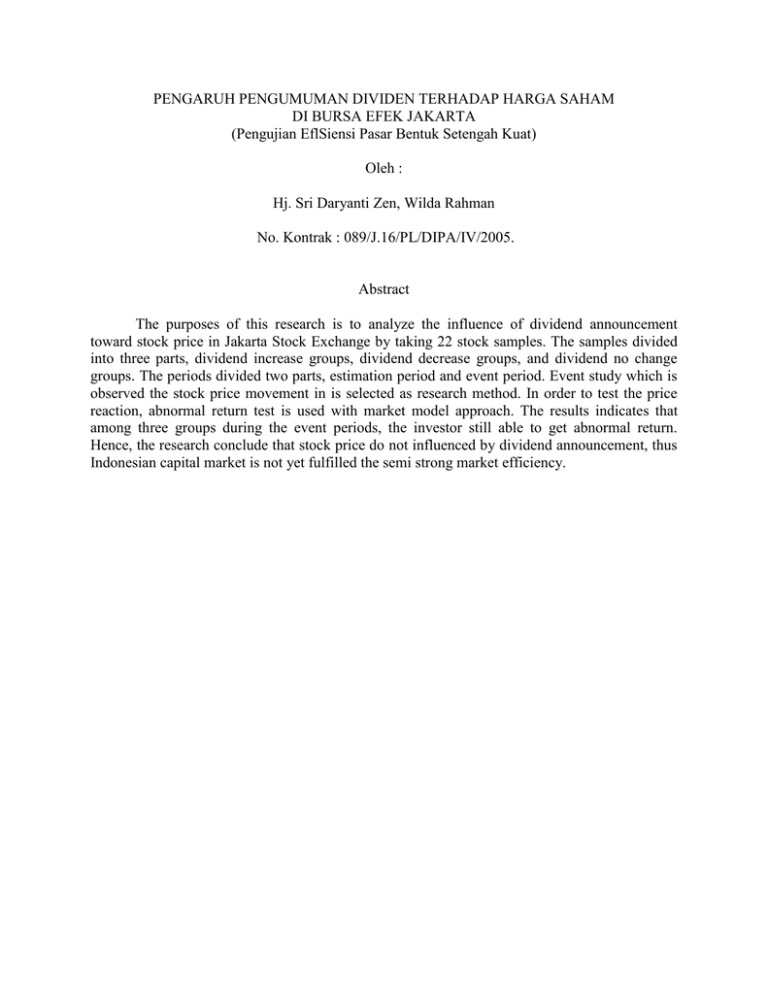 PENGARUH PENGUMUMAN DIVIDEN TERHADAP HARGA SAHAM
DI BURSA EFEK JAKARTA
(Pengujian EflSiensi Pasar Bentuk Setengah Kuat)
Oleh :
Hj. Sri Daryanti Zen, Wilda Rahman
No. Kontrak : 089/J.16/PL/DIPA/IV/2005.
Abstract
The purposes of this research is to analyze the influence of dividend announcement
toward stock price in Jakarta Stock Exchange by taking 22 stock samples. The samples divided
into three parts, dividend increase groups, dividend decrease groups, and dividend no change
groups. The periods divided two parts, estimation period and event period. Event study which is
observed the stock price movement in is selected as research method. In order to test the price
reaction, abnormal return test is used with market model approach. The results indicates that
among three groups during the event periods, the investor still able to get abnormal return.
Hence, the research conclude that stock price do not influenced by dividend announcement, thus
Indonesian capital market is not yet fulfilled the semi strong market efficiency.