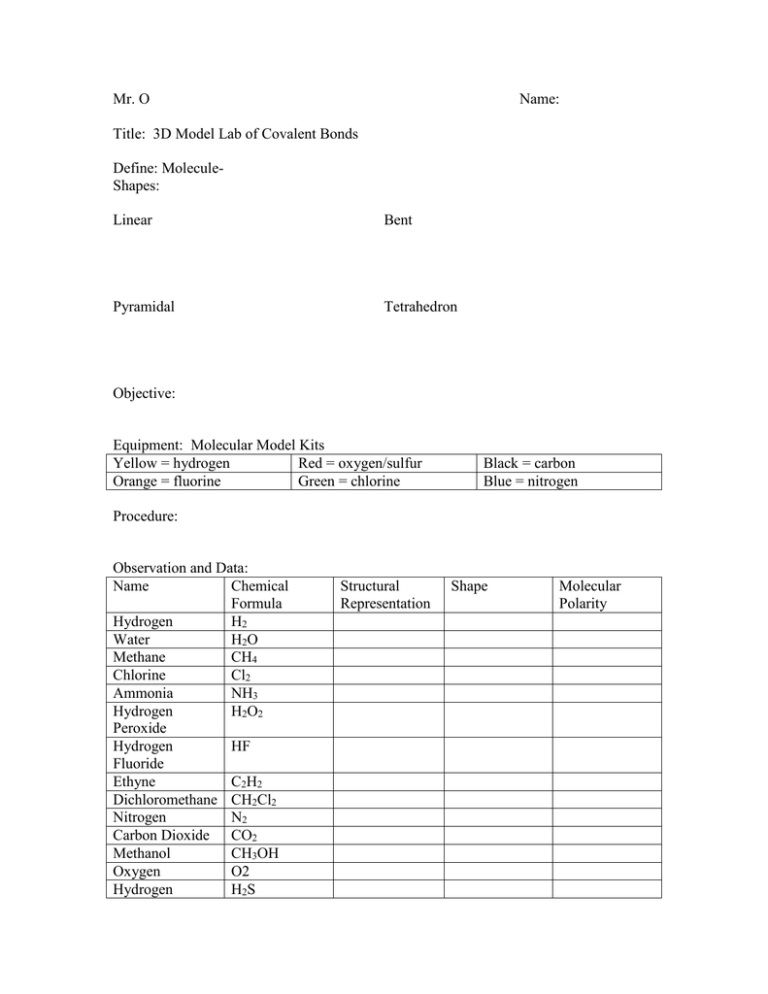 Mr. O
Name:
Title: 3D Model Lab of Covalent Bonds
Define: MoleculeShapes:
Linear
Bent
Pyramidal
Tetrahedron
Objective:
Equipment: Molecular Model Kits
Yellow = hydrogen
Red = oxygen/sulfur
Orange = fluorine
Green = chlorine
Black = carbon
Blue = nitrogen
Procedure:
Observation and Data:
Name
Chemical
Formula
Hydrogen
H2
Water
H2O
Methane
CH4
Chlorine
Cl2
Ammonia
NH3
Hydrogen
H2O2
Peroxide
Hydrogen
HF
Fluoride
Ethyne
C2H2
Dichloromethane CH2Cl2
Nitrogen
N2
Carbon Dioxide CO2
Methanol
CH3OH
Oxygen
O2
Hydrogen
H2S
Structural
Representation
Shape
Molecular
Polarity
Sulfide
Propane
C3H8
Conclusion Questions
1. What is the difference between a molecule and a compound?
2. Which molecules were nonpolar because all bonds were nonpolar covalent bonds?
3. Which molecules had polar covalent bonds, but were nonpolar because of
symmetry?
4. Which two shapes produce polar molecules?
5. Name two types of substances that do not contain molecules with covalent bonds?
6. How many bonds can one atom of carbon make? Nitrogen?
7. Most elements want to acquire eight electrons in the outer shell, which elements
do not need to follow the octet rule?