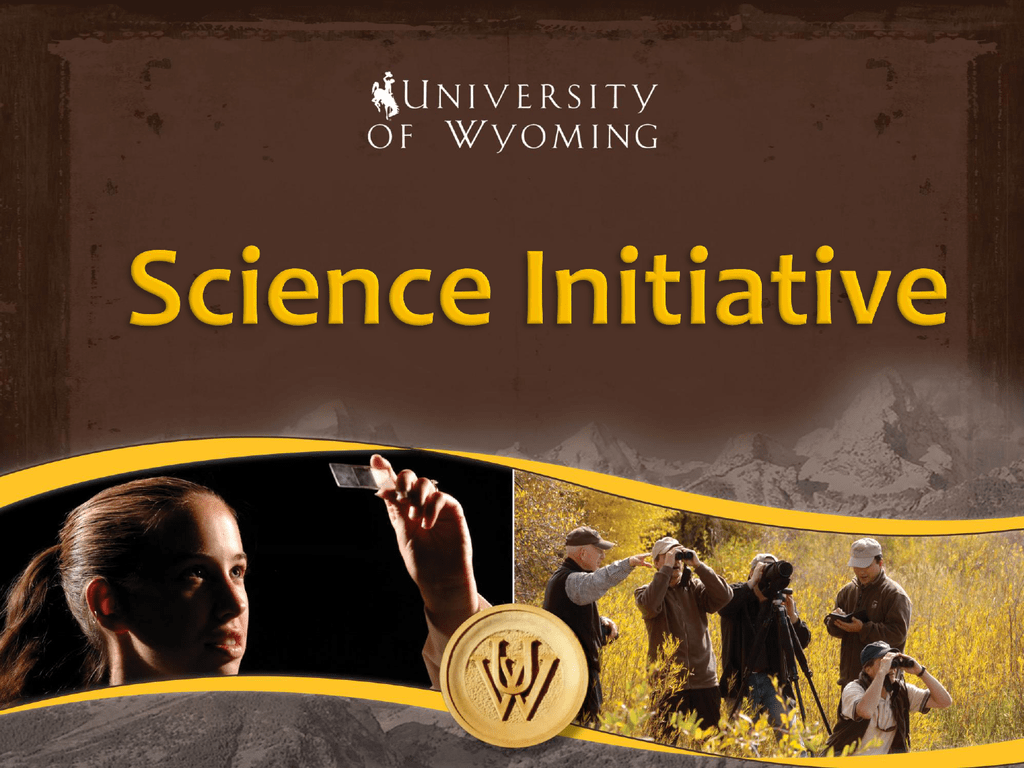 • Remove Barriers
• Improve Efficiency
• Stimulate Innovation
CIBR will include
• Incubation areas or "collision
spaces"
• Co-location with the Center for
Advanced Scientific Imaging (CASI)
• State-of-the-art animal and plant
facilities
• Interaction with physical sciences
• Modern lab/office suites
Where great ideas collide and
convergent research gets done
• Drought impacts on crops
• Invasive species
• Forest bioenergy and
hydrology
• Sustainable ecosystem
services

Research programs must be
collaborative to be
competitive for federal and
corporate funding.

Chemistry, biology and
mathematics are all
required to utilize the new
technologies of superresolution microscopy.

Key outcomes:
UW faculty members
have access to the
instruments necessary for
competitive research.
Students are trained on
latest imaging
instrumentation.
• Bacteria change lifestyle after
transferring proteins from one
cell to another.
tools
 Science convergence
 New imaging technologies
 Collision space- innovation
challenges
building
blocks
 Space is opening
 Reorganization
 Legislative goals
Enzi STEM laboratory teaching building



Supports growing chemistry & physics energy research
Timely: atomic scale imaging = 21st century science
Consolidation of infrastructure & technical support
 Economy of scale: will support ALL Wyoming state
research, education, outreach, and service
Animal Science Expansion
SI Consolidation
Scattered around campus
- duplication, limited support
-
- consolidated
- staff support
- research synergy
 Technology spin-offs & high-tech jobs in Wyoming
Prof Carron, hired by Wyoming
Chemistry department in 1988
using EPSCoR funds ($110,000)
2012
2000
DeltaNu creates 32% market share
of the handheld ~ $80M/year market
National and UW research demonstrates increased
student success and engagement using Active Learning
approaches:

 Increased class attendance – over 90% compared to 70%
 Increased student retention – 95% compared to 80%
 Improved student learning – 45% learning gains compared to
22% learning gains
 Students are 1.5 times more likely to pass a course in an active
learning setting
 Increased interest in science and desire to enroll in more
science classes

Proposed construction: 4 ALCs (200, 150, 100 and 50-person rooms)
 ALCs replace theater-style lecture halls with single-floor
interactive learning spaces – students collaborate in
groups of 6-9
 Includes courses for majors and non-majors (72% of
all UW students enrolled in one of these classes)
 All Pre-service K-12 Teachers will take SI classes in
ALCs – model AL teaching approaches
 3750 students will be immersed in Active Learning
each semester
LAMP
Learning Actively Mentorship Programs




Success of ALCs requires intensive and ongoing mentoring in AL
strategies
LAMP will employ 2 full-time SI Instructional Facilitators
Each year, a new cohort of SI faculty and grad students will be
mentored and supported
Each year, a group of 40 undergraduates will be trained and
mentored to serve as teaching assistants in ALCs (seek out K-12
pre-service teachers)
Illuminating the Path to Success in the Sciences
Renovations:
 Aven Nelson Building
 Biological Science (vacated teaching labs)
 Physical Science (vacated teaching labs)
 Molecular Biology wing of AS/MOLB
Wyoming Astronomical Observatory (WAO)
Driving UW core science programs to
top-quartile status
1. Improve the UW undergraduate education via broad
application of Active Learning across core-science programs
2. Double the 5-year SI undergraduate graduation rate
3. Double the number of undergraduate students involved in a
high-quality research experience
4. Increase the number of PhD students graduating by 25%
5. Increase the number of peer-reviewed publications by SI faculty &
students by 25%
6. Increase the dollar amount of grant and contract support by 25%
2015
2016
Phase I
Level-II planning
2017
2018
2019
2020
2021
Phase I
Construction
Phase II
Level-II planning
Phase II renovations
& construction
2016 – start full Phase I program & support
2018 – start full Phase II support
Level II planning – Phase I
$3,000,000
Partial program jump-starts & support
• Active Learning training (LAMP)
• Wyoming Research Scholars
• SI administration & support
TOTAL
$290,000
$230,000
$230,000
$3,750,000
Phase I (2015 – 2019)
CASI-CIBR integrated facility
Programs
Total Phase I
$100,000,000
$5,410,000
$105,410,000
Phase II (2017 – 2021)
Renovations
WAO
Programs
Total Phase II
Grand Total Science Initiative
$45,700,000
$44,300,000
$860,000
$90,860,000
$196,270,000
World-class science facilities for world-class research &
student training
 Technology, education, jobs, quality of life for Wyoming
 High quality careers for UW students

Questions?