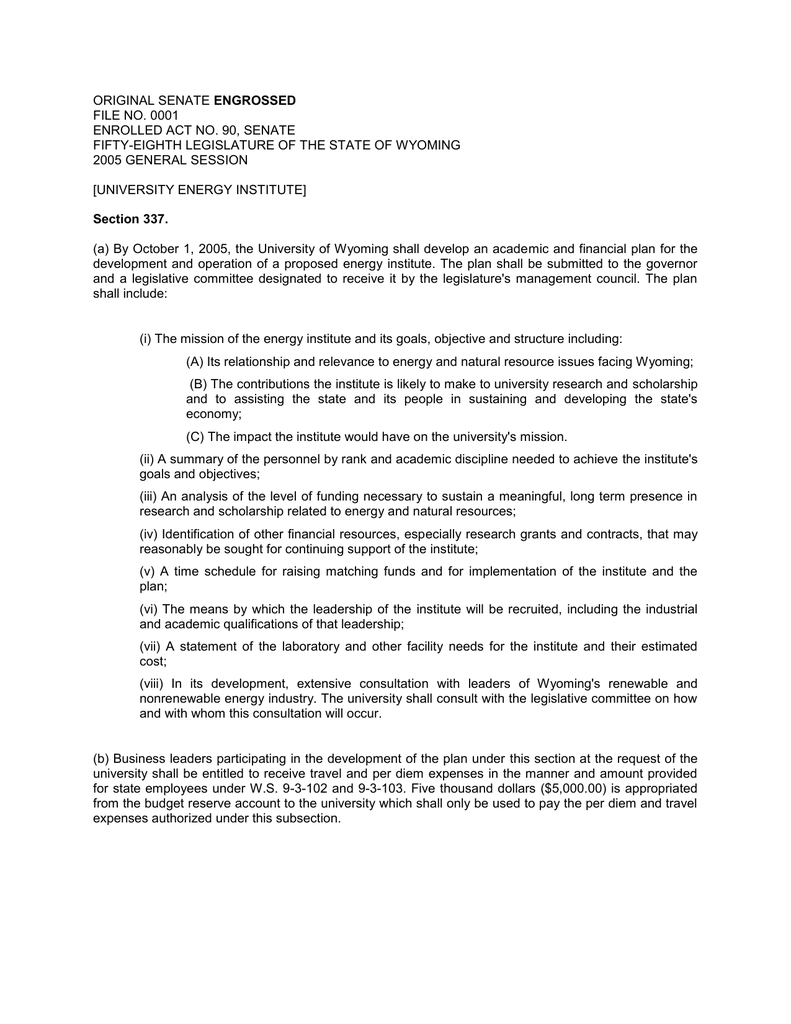 ORIGINAL SENATE ENGROSSED
FILE NO. 0001
ENROLLED ACT NO. 90, SENATE
FIFTY-EIGHTH LEGISLATURE OF THE STATE OF WYOMING
2005 GENERAL SESSION
[UNIVERSITY ENERGY INSTITUTE]
Section 337.
(a) By October 1, 2005, the University of Wyoming shall develop an academic and financial plan for the
development and operation of a proposed energy institute. The plan shall be submitted to the governor
and a legislative committee designated to receive it by the legislature's management council. The plan
shall include:
(i) The mission of the energy institute and its goals, objective and structure including:
(A) Its relationship and relevance to energy and natural resource issues facing Wyoming;
(B) The contributions the institute is likely to make to university research and scholarship
and to assisting the state and its people in sustaining and developing the state's
economy;
(C) The impact the institute would have on the university's mission.
(ii) A summary of the personnel by rank and academic discipline needed to achieve the institute's
goals and objectives;
(iii) An analysis of the level of funding necessary to sustain a meaningful, long term presence in
research and scholarship related to energy and natural resources;
(iv) Identification of other financial resources, especially research grants and contracts, that may
reasonably be sought for continuing support of the institute;
(v) A time schedule for raising matching funds and for implementation of the institute and the
plan;
(vi) The means by which the leadership of the institute will be recruited, including the industrial
and academic qualifications of that leadership;
(vii) A statement of the laboratory and other facility needs for the institute and their estimated
cost;
(viii) In its development, extensive consultation with leaders of Wyoming's renewable and
nonrenewable energy industry. The university shall consult with the legislative committee on how
and with whom this consultation will occur.
(b) Business leaders participating in the development of the plan under this section at the request of the
university shall be entitled to receive travel and per diem expenses in the manner and amount provided
for state employees under W.S. 9-3-102 and 9-3-103. Five thousand dollars ($5,000.00) is appropriated
from the budget reserve account to the university which shall only be used to pay the per diem and travel
expenses authorized under this subsection.