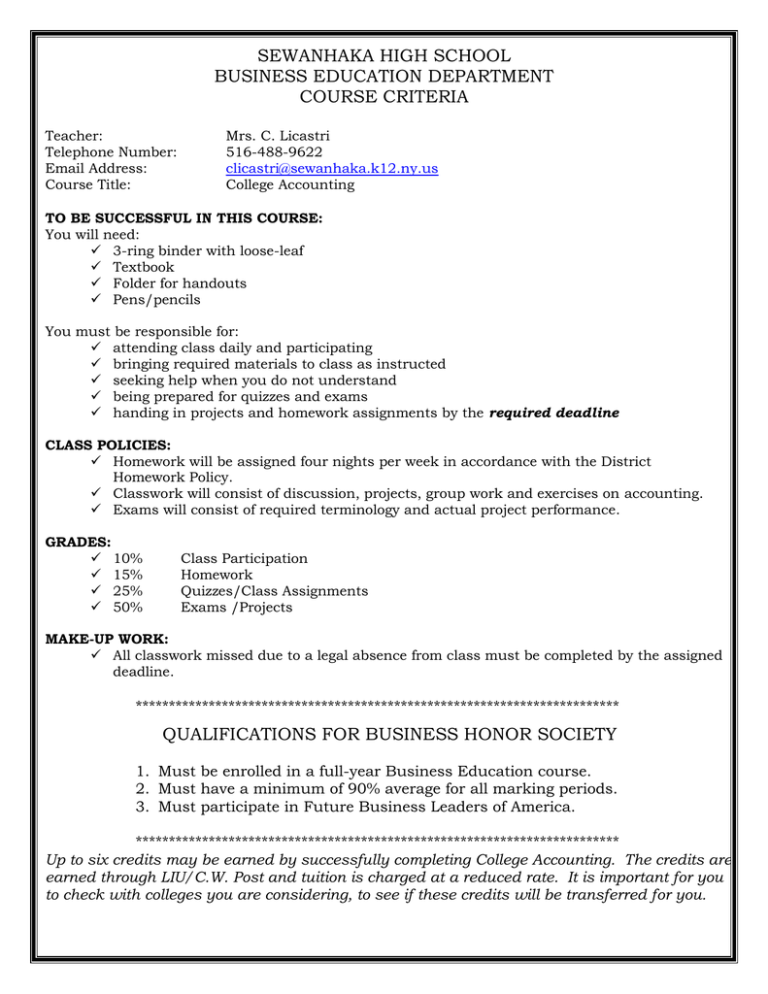 SEWANHAKA HIGH SCHOOL
BUSINESS EDUCATION DEPARTMENT
COURSE CRITERIA
Teacher:
Telephone Number:
Email Address:
Course Title:
Mrs. C. Licastri
516-488-9622
[email protected]
College Accounting
TO BE SUCCESSFUL IN THIS COURSE:
You will need:
 3-ring binder with loose-leaf
 Textbook
 Folder for handouts
 Pens/pencils
You must be responsible for:
 attending class daily and participating
 bringing required materials to class as instructed
 seeking help when you do not understand
 being prepared for quizzes and exams
 handing in projects and homework assignments by the required deadline
CLASS POLICIES:
 Homework will be assigned four nights per week in accordance with the District
Homework Policy.
 Classwork will consist of discussion, projects, group work and exercises on accounting.
 Exams will consist of required terminology and actual project performance.
GRADES:
 10%
 15%
 25%
 50%
Class Participation
Homework
Quizzes/Class Assignments
Exams /Projects
MAKE-UP WORK:
 All classwork missed due to a legal absence from class must be completed by the assigned
deadline.
*************************************************************************
QUALIFICATIONS FOR BUSINESS HONOR SOCIETY
1. Must be enrolled in a full-year Business Education course.
2. Must have a minimum of 90% average for all marking periods.
3. Must participate in Future Business Leaders of America.
*************************************************************************
Up to six credits may be earned by successfully completing College Accounting. The credits are
earned through LIU/C.W. Post and tuition is charged at a reduced rate. It is important for you
to check with colleges you are considering, to see if these credits will be transferred for you.