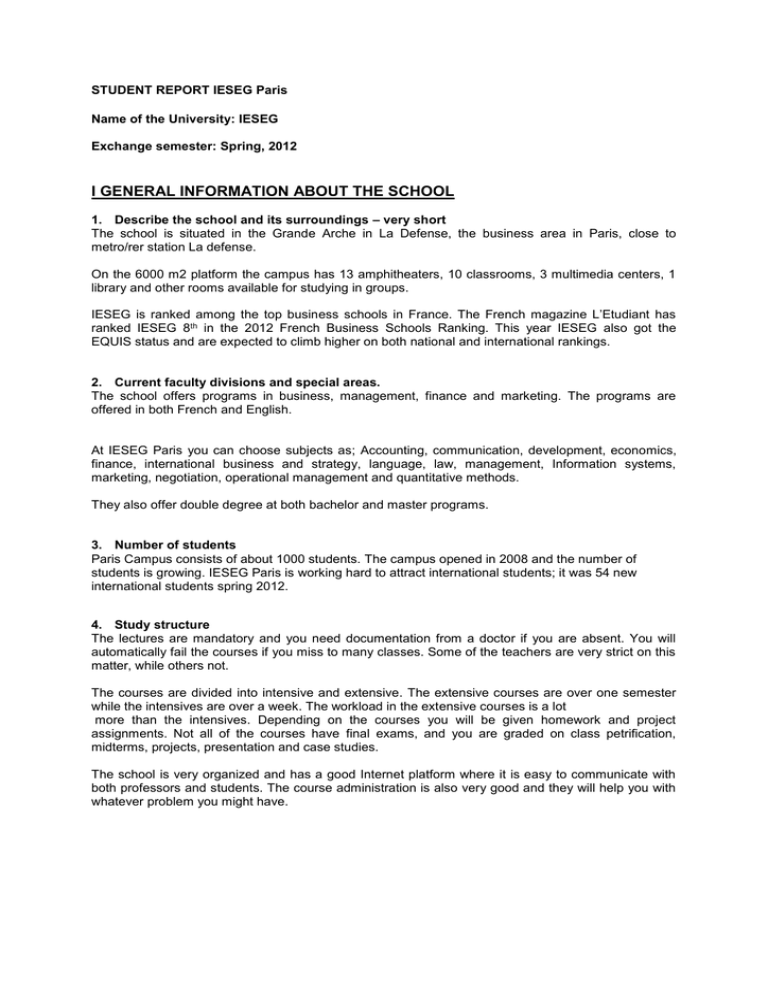 STUDENT REPORT IESEG Paris
Name of the University: IESEG
Exchange semester: Spring, 2012
I GENERAL INFORMATION ABOUT THE SCHOOL
1. Describe the school and its surroundings – very short
The school is situated in the Grande Arche in La Defense, the business area in Paris, close to
metro/rer station La defense.
On the 6000 m2 platform the campus has 13 amphitheaters, 10 classrooms, 3 multimedia centers, 1
library and other rooms available for studying in groups.
IESEG is ranked among the top business schools in France. The French magazine L'Etudiant has
ranked IESEG 8th in the 2012 French Business Schools Ranking. This year IESEG also got the
EQUIS status and are expected to climb higher on both national and international rankings.
2. Current faculty divisions and special areas.
The school offers programs in business, management, finance and marketing. The programs are
offered in both French and English.
At IESEG Paris you can choose subjects as; Accounting, communication, development, economics,
finance, international business and strategy, language, law, management, Information systems,
marketing, negotiation, operational management and quantitative methods.
They also offer double degree at both bachelor and master programs.
3. Number of students
Paris Campus consists of about 1000 students. The campus opened in 2008 and the number of
students is growing. IESEG Paris is working hard to attract international students; it was 54 new
international students spring 2012.
4. Study structure
The lectures are mandatory and you need documentation from a doctor if you are absent. You will
automatically fail the courses if you miss to many classes. Some of the teachers are very strict on this
matter, while others not.
The courses are divided into intensive and extensive. The extensive courses are over one semester
while the intensives are over a week. The workload in the extensive courses is a lot
more than the intensives. Depending on the courses you will be given homework and project
assignments. Not all of the courses have final exams, and you are graded on class petrification,
midterms, projects, presentation and case studies.
The school is very organized and has a good Internet platform where it is easy to communicate with
both professors and students. The course administration is also very good and they will help you with
whatever problem you might have.
II PRACTICAL INFORMATION
Information before you left
Received the information package from IESEG already in November in paper form and by email. The
information was also available online.
No difficulties.
Visa Procedure and travel experiences
Did not encounter any problems. Since France is a part of the European Union, I did not need Visa or
any documentation for living/studying here.
Academic Calendar
 Arrival date
January 2th. Introduction week started January 3th.

First day of the semester?
First day of semester depends of your courses, but is usually Monday after the orientation week,

Last day of classes?
Depends which courses you choose, but my last lecture was 16 th of April and the last exam was
26th of May.

Examination period?
April/May for extensive courses
January-may intensive courses
Reception
 How was the reception at the school?
Very good! The orientation week explained and helped us to fill out all the forms you needed
during the semester. Like CAF and imaginr(public transport tickets for students), they also helped
you open bank accounts.

Was the administration and faculty well prepared for your arrival?
The administration was very well prepared.

Did the school's students participate in the reception of the exchange students?
The schools students did participate in some of the events of the reception of the exchange
students, but it was mainly the international office and former international students.
Housing
 Did you have housing at your disposal or did you have to find your own housing?
IESEG did offer us student apartment in La Defense, the cost was about 650 euro and you had to
pay electricity in addition. They also helped us get in touch with French students who rented out
their apartment while they were on exchange.
The international office was very helpful and reminded us to search for housing opportunities
throughout the semester before, as well as sending us new apartment opportunities.
I chose to find my own housing, because I wanted to live closer to the city-center than La Defense.

Any special issues or good ideas for prospective students?
Its hard to find apartments with good standard(especially close to the city-center) to a reasonable
price. I stayed at Maison de Norvège, Cité internationale universitaire de Paris, Although the room
was very small and you shared bathroom and kitchen, the rent was only 450 euros a month, this
also included room cleaning, change of sheets and internet. Maison de Novege is recently
renovated so the kitchen and bathroom is clean and in a high standard. The area is also very nice,
consisting of about 40 houses and surrounded by big parks. You can also get access a gym,
swimming pool tennis and basketball courts, and football fields.
Costs
 Describe the most important expenses such as rent, books, food, etc.
Rent: 450 euros
IESEG had most of the books available online so I didn't buy any books.
The price of living in Paris is of course expensive, café's, bars, restaurants etc. You must expect
to pay around 10-15 euros for a lunch near the city-center. But you have a lot of student discount,
eg at Brioche Durée, where you get a baguette, a drink and dessert to 4,30 euros.
The International Office
 Is there an international office?
There is an international office in the H-building right next to the Grande Arche.
 Who is responsible for incoming exchange students?
It is mainly two people at the international office that are responsible for incoming exchange
students. They will help you with everything you need and are available to talk at their office or by
email.

How does the international office function?
You can send then an email, and they are quick to respond. And you can also go and talk to them
in the opening hours. They are very helpful.

Do you receive all relevant information?
Yes, you receive all the relevant information you could possible need.
Exchange promotion
 What kind of activity did you take part in to promote exchange to Norway at your exchange
university?
They arranged international day where you where expected to come and promote your university.
Social Activities
 How is your relationship with other students?
My relationship with the other students is very good, especially the international, this is because
you get to know each other in the orientation week. It's harder to get to know the French students,
if you take intensive courses, because you have class with them only a week.

Is there a student organization, and if so, are the exchange students part of it?
Yes, it is both international and French students in the student organization.

Are there any special activities and gatherings for exchange students?
Yes, reception lunch, parties, trips (Eiffel tower, Chateau de Versailles, Reims, dinners and galla's
language lunches, India, etc)
How do you like it at the school?
The school was very nice, very modern, and the students where friendly and helpful. The library
was the only thing that was disappointing. I would recommend going to the H-building, there is
always free rooms you can use.

Culture and Language
 Do you have any language problems with the faculty or other students?
I did not have any language problems with the faculty or the other students even though I didn't
speak French.
 How are the possibilities to experience the country and the culture?
There are very good possibilities to experience the country and the culture. The school arrange
trips or its easy to go by yourself. Museums are usually free for students from countries within the
European Union.
Cultural and Social Effects from the Exchange Experience
 How do you think the exchange experience will affect you from a cultural and social point of view?
By meeting people from all over the world, you learn about cultural differences and make you
more open to other cultures. You get a bigger network, which you can get advantages from in later
work situations or when you are traveling.
 How do you think the exchange experience influences your future career possibilities?
You get more confident speaking other languages, you learn a lot of yourself and you get much
more independent.
III ACADEMIC INFORMATION
The Teaching situation
 In which language are the courses taught? Any problems?
French or English. I didn't have any problems.

How would you evaluate the level of study in relationship to the level at BI?
Depends on the courses you take. From the classes I took I would say it was a lower level than BI.

Is the teaching primarily practical or theoretical?
Also depends on which courses you are choosing. I would say they where primarily theoretical,
but since the classes where much smaller they expect class participation and discussions, which
makes the courses much more interesting. They used a lot of practical exercises in the negotiating
courses.

Are the professors using cases, group work or lectures (or a mix)?
The professors are using a mix, much more cases, group work and presentations.

How is the workload compared to that at BI?
I would recommend taking master intensive courses, because the workload is much lower than
the extensive bachelor courses. The workload is also much lower than at BI. You have
exams/presentations/cases throughout the semester; this means you don't get the stressful
examination period in the end of the semester. The exams are often also two hours.

How is the relationship between faculty and students?
The relationship is very good; they are very helpful and speak both French and English.

What is the relationship between the students in the classroom?
The relationship is good. We had a lot of group work, and there were never any problems.
Required Literature
 Is the literature in English?
The English courses had all English literature. If you chose French courses the literature where
mainly French.

How do you estimate the level of the literature?
The level of literature is more or less the same as at BI, but there is more focus on articles.

Is the literature used for detailed knowledge or a broad overview?
The literature is used for a broad view and you focus less on details than BI.

Is exam based on the literature or on the lectures?
The exams are based on both literature and lectures.
Exams
 What types of exams were you given?
MCQs and open question exams. Sometimes presentations or cases are used instead of exams.

What knowledge level was required to pass the exams?
Depends on the courses, but in general low especially for the master courses. I heard the finance
courses required a very high level of knowledge.
Other
 Do students have easy access to the library and it's resources?
The access to the computer lab was not good. They where often occupied by classes. The library
wasn't good, but almost all the books where available online.

How is IT used in the teaching or as a distributor of information?
IT is used a lot in the teaching. In some courses it was only online lectures.

Courses
IBEMA- EI58UE: Social Entrepreneurship
2 credits
MGTMA-EI07UE: Decisions and leadership
2 credits
NEGMA-EI07UE: Applied conflict management theory
2 credits
LANB1-CE16UF: French as a foreign language
2 credits
MKTMA-EI53UE: Sales management marketing
2 credits
MISMA-EI32UE: E-commerce: Trends and issues
2 credits
IBEMA-EI52UE: Doing business in China
2 credits
IBEMA-EI06UE: Doing business in Latin-America
2 credits
MGTMA-EI74UE: Brand management
2 credits
OPSB2- CE01UE: Introduction to operational management 2 credits
MKTMA-EI50UE: Social media marketing
2 credits
MKTMA-EI64UR: Consumer intellegence
2 credits
MKTMA-EI51UE: CRM in small business
2 credits
MKTMA-CE01UE: Marketing management
4 credits.
----------------------------------------------------------------------------Sum
30 credits
Social entrepeneurship
Prerequisites: Basic knowledge of economic concept
Evaluation:
Course assessment will be a combination of different methods of assessment as detailed
below.
Type de Contrôle
Durée
Nombre
Pondération
0
1
20,00
0
2,00
1
1
5,00
5,00
2,00
1
70,00
100,00
Continuous assessment
Participation
Others
Project
Written Report
Final Exam
Written exam
TOTAL
Decicions and leadership
Pré requis
- None.
Évaluation
Interaction and implication are two main dimension of this seminar thus the main base of the
assessment.
Type de Contrôle
Durée
Continuous assessment
Participation
0
Others
Written Report
0
TOTAL
Nombre
Pondération
1
35,00
1
65,00
100,00
Applied conflict management theory
Pré requis:
None
Évaluation:
Participation in discussion, creativity and openness of ideas are important aspects in
assessment. In order to further support meaningful learning, students will be provided with
case studies or course-related topics, and be required to write an essay (max. 2,000 words) on
their case summarizing in this way the key learning from the module.
Type de Contrôle
Durée
Continuous assessment
Participation
0
Oral presentation
0
Others
Written Report
0
TOTAL
Nombre
Pondération
1
1
20,00
30,00
1
50,00
100,00
Sales management marketing
Pré requis
Students are best served by entering the course with a good basic knowledge of marketing and
management.
Évaluation
This course is conducted in a "seminar" style, meaning that classes will normally include a
combination of instructor-led discussions related to reading material, combined with in-class
application cases. Because the textbook serves as an important "springboard" for further
discussion, classroom presentations by the professor will not be a mere rehash of the text
material but will instead use it as a platform on which to build a deeper dialogue. This type of
course requires that each day, every student come to class fully prepared to discuss the
material that is relevant for that class period and also to participate in any in-class team
breakouts. In order to succeed in this course format, each student must be willing to
contribute his/her ideas to the class discussion. I may call on you in class for feedback, so it is
very important that you be prepared for the day's assignments.
Type de Contrôle
Durée
Continuous assessment
Participation
0
Final Exam
Written exam
2,00
Others
Case study
1,50
TOTAL
Nombre
Pondération
0
30,00
1
30,00
4
40,00
100,00
French as a foreign language
Pré requis:
-
None
Évaluation:
40% participation
60% written exam
E-commerce: Trends and issues
Pré requis
None.
Évaluation
Type de Contrôle
Durée
Continuous assessment
Participation
0
Oral presentation
0
Others
Written Report
0
TOTAL
Nombre
Pondération
1
2
20,00
60,00
1
20,00
100,00
Doing business in China
Pré requis
None
Évaluation
Students are required to undertake a two hour examination worth 100% of the grades. The
learning outcomes in this unit require students to demonstrate in the individual summative
assessment task a comprehensive understanding of the topics covered in the unit. This is
demonstrated by the requirement that the student must attain a mark of at least 50% in the
final summative assessment task.
Type de Contrôle
Durée
Nombre
Pondération
Final Exam
Written exam
TOTAL
0
0
100,00
100,00
Doing business in Latin-America
Pré requis
Students must have basic knowledge on marketing and / or international marketing.
Évaluation
Written exam 100 %
Brand management
Pré requis
Students must have a knowledge of basic marketing concepts.
Évaluation
Students will be evaluated based on class participation (10 percent), individual in-class
exercises (30 percent) and a group project (60 percent).
Type de Contrôle
Durée
Continuous assessment
Participation
0
Others
Project
0
Written Report
0
TOTAL
Nombre
Pondération
1
10,00
1
2
60,00
30,00
100,00
Introduction to operational management
Pré requis
A strong knowledge of English and access to electronic libraries and to the course book is
required. Students may wish to review an introductory level book to business and
management to support their study.
Évaluation
Type de Contrôle
Durée
Continuous assessment
Participation
0
Others
Written Report
0
Final Exam
Written exam
2,00
TOTAL
Nombre
Pondération
2
10,00
1
30,00
1
60,00
100,00
Social media marketing
Pré requis
No prior knowledge is required, but the following skills are critical in the successful
completion of the course:
- High work ethic
- Ability to pursue independent work
- Time management
- Prepared and punctual class attendance
- Professional conduct during class sessions
- Critical thinking
Évaluation
Lecture, tutorial, e-learning, project work, interactive class and participation
Type de Contrôle
Durée
Continuous assessment
Participation
0
Others
Project
0
TOTAL
Nombre
Pondération
1
20,00
2
80,00
100,00
Consumer intellegence
Pré requis
- SAS- computer program. Good knowledge!!!
Évaluation
- Presentation 40%
- Written report 60 %
CRM in small business
Pré requis
The student should have a fundamental understanding of marketing theory and practice. This
course will apply existing marketing theory to SMEs, and will have a particular focus on
technology and CRM. However, prior skills in these areas are not required as this knowledge
will be delivered during the course.
Évaluation
The course will be assessed through a group assignment, which includes a 2,000 word report
and presentation, and a final written examination. A portion of assessment is also allocated to
student particpation on a day-to-day basis.
Regarding the group assignment, students, in small groups, will be asked to design and
present approaches to CRM that would be appropriate to SMEs. They should assume the role
of a local government agency with the responsibility of educating SMEs and improving their
CRM capabilities. The group assignment requires groups of students to work together, sharing
the workload, for which they will al receive the same mark.
Type de Contrôle
Others
Project
Continuous assessment
Oral presentation
Final Exam
Written exam
presentation
statement
TOTAL
Durée
Nombre
Pondération
0
1
20,00
0
1
10,00
2,00
1
50,00
0,50
1
20,00
Marketing management
Pré requis
Students should have followed an introductory course in business and should have a
willingness to learn and grasp multiple theoretical concepts which may appear complex in the
beginning.
Évaluation
The course uses a mixture of continuous assessment, exams and a project with adequate
weightage given to individual work and working in a group.
Project = DVD
Type de Contrôle
Continuous assessment
QCM
Oral presentation
Others
Project
Written Report
Final Exam
Written exam
TOTAL
Durée
Nombre
Pondération
1,00
1,00
12
6
15,00
25,00
0,75
0,75
1
1
15,00
15,00
1,50
1
30,00
100,00
Any other experiences:
Master courses in France are not the same as in Norway. Actually most of the master courses
were easier then the bachelor courses. As long as you are not taking finance courses (or are
really good in finance) pick intensive master courses. That will give you classes with French
students whose level in English are better and at the same time give you more time off. We
both had a mix of bachelor and master courses, which forced us to sometimes stay at school
for 12 hours a day since attendance are mandatory and master courses usually are taught in
the morning and bachelor at night. The intensive courses give you the opportunity to an early
summer holiday.