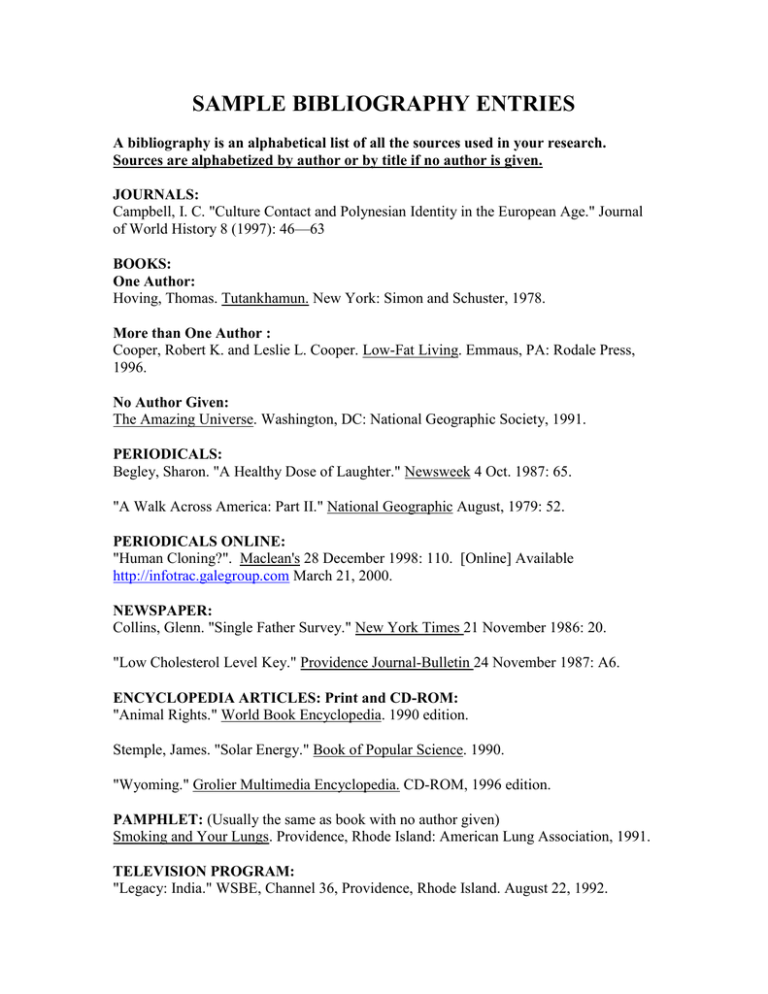 SAMPLE BIBLIOGRAPHY ENTRIES
A bibliography is an alphabetical list of all the sources used in your research.
Sources are alphabetized by author or by title if no author is given.
JOURNALS:
Campbell, I. C. "Culture Contact and Polynesian Identity in the European Age." Journal
of World History 8 (1997): 46—63
BOOKS:
One Author:
Hoving, Thomas. Tutankhamun. New York: Simon and Schuster, 1978.
More than One Author :
Cooper, Robert K. and Leslie L. Cooper. Low-Fat Living. Emmaus, PA: Rodale Press,
1996.
No Author Given:
The Amazing Universe. Washington, DC: National Geographic Society, 1991.
PERIODICALS:
Begley, Sharon. "A Healthy Dose of Laughter." Newsweek 4 Oct. 1987: 65.
"A Walk Across America: Part II." National Geographic August, 1979: 52.
PERIODICALS ONLINE:
"Human Cloning?". Maclean's 28 December 1998: 110. [Online] Available
http://infotrac.galegroup.com March 21, 2000.
NEWSPAPER:
Collins, Glenn. "Single Father Survey." New York Times 21 November 1986: 20.
"Low Cholesterol Level Key." Providence Journal-Bulletin 24 November 1987: A6.
ENCYCLOPEDIA ARTICLES: Print and CD-ROM:
"Animal Rights." World Book Encyclopedia. 1990 edition.
Stemple, James. "Solar Energy." Book of Popular Science. 1990.
"Wyoming." Grolier Multimedia Encyclopedia. CD-ROM, 1996 edition.
PAMPHLET: (Usually the same as book with no author given)
Smoking and Your Lungs. Providence, Rhode Island: American Lung Association, 1991.
TELEVISION PROGRAM:
"Legacy: India." WSBE, Channel 36, Providence, Rhode Island. August 22, 1992.
INTERVIEW:
Patinkin, Mark. Telephone interview. April 26, 1999.
ONLINE SERVICES and the INTERNET:
Gordon, Daniel. "Acid Rain." Compton's Living Encyclopedia. [Online] America Online.
Mar. 6, 1997.
"Plant Extracts." [Online] Available http://www.sciences.com/scidata/edu.html
February 23, 1997.