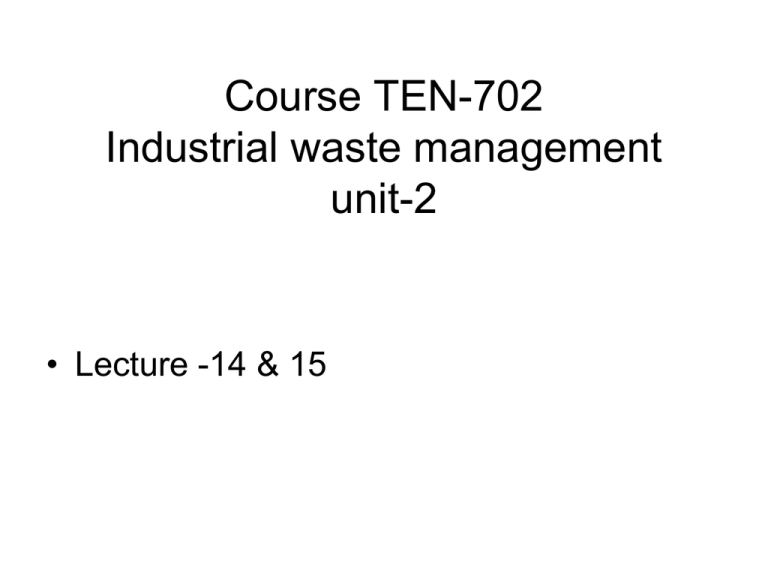 Course TEN-702
Industrial waste management
unit-2
• Lecture -14 & 15
Chemical treatment strategies…
no
Treatment
methods
Type of Mode of operation Degree of
waste
treatment
1
Ion
exchange
Plating,
nuclear
remarks
Continuous filtration Dematerializ May require
with resin
ed water
neutralization
regeneration
recovery;
and solids
product
removal from
recovery
spent
regenerant
Chemical treatment strategies…
no
Treatment
methods
Type of Mode of operation Degree of
waste
treatment
remarks
2
Reduction
and
precipitatio
n
Plating,
heavy
metals
•One day's
capacity of
batch treatment;
• 3-h retention
for continuous
treatment;
•sludge disposal
or dewatering
required
Batch or Continuous Complete
treatment
removal of
chromium
and heavy
metals
Chemical treatment strategies…
no
Treatment
methods
Type
of
waste
Mode of operation Degree of
treatment
remarks
3
Coagulation
Paper
board,
refinery
rubber,
paint,
textile
Batch or Continuous Complete
treatment
removal of
suspended
and colloidal
matter
•Flocculation
and settling tank
or sludge
blanket unit;
•pH control
required
Chemical treatment strategies…
no
Treatment
methods
Type of Mode of operation Degree of
waste
treatment
remarks
4
Adsorption
Toxic or Granular columns of Complete
organics powdered carbon
removal of
refectory
most
organics
•Powdered
carbon used
with activated
sludge process
Chemical treatment strategies…
no
Treatment
methods
Type of Mode of operation Degree of
waste
treatment
remarks
5
Chemical
oxidation
Toxic
and
refectory
organics
•Partial
oxidation to
render organics
more
biodegradable
Batch or Continuous Partial
treatment
oxidation
Ozone or catalyzed
hydrogen peroxide
Biological Treatment
• Pollutant removed/converted by biological
treatment
– Oxygen-consuming pollutants (BOD, COD,
ammonia, organic nitrogen)
– Suspended solids
– Nutrients (nitrogen and phosphorous)
Biological Treatment
• Standard Processes
– Activated sludge
– Trickling filter
• More advanced processes for difficult
wastes (high organics or wastes
containing particular types of organics that
can be degraded biologically under
controlled conditions)
Biological Treatment
• Anaerobic treatment: Provides volume and mass
reduction by the breakdown of organic material by
microbes in the absence of oxygen
• Key steps are:
– Hydrolysis – large molecules/polymers such as polysaccharides
and proteins are converted to smaller compounds
– Acidogenesis – conversion of small compounds to Volatile Fatty
Acids (VFA) by anaerobic digestion
– Methanogenesis – Volatile Fatty Acids are broken down by
methanogenic bacteria to methane and CO2
• Common for meat and food processing industries
• Effluent requires additional treatment if discharge to a
waterway is required
Biological Treatment
• Anaerobic treatment
– Numerous process configurations
– Upflow anaerobic sludge bed (UASB) reactors are
common
Biogas
Treated
Effluent
Gas collectors
Sludge
Blanket
Influent
Rising
Biogas
Biological Treatment
• Submerged fixed film (biofilm) reactors
– Aerobic process
– Biofilm attached to a solid media (plastic, burnt clay,
etc.)
Biological
Treatment
• Sequencing
Batch Reactors
– Activated
sludge on a
batch-wise
basis
fill
aerate
(mix)
settle
Slow / fast fill
with / without O2 supply
Until
– C removal
– Nitrification
completed
Denitrification (anaerobic)
Allow biological solids to settle
drain
Small / large portion
idle
If no wastewater available
Biological Treatment
• Complete system diagram for an petrochemistry
wastewater
Biological Treatment
• Onsite disposal systems are not suitable for
industrial wastewaters
• Septage haulers typically must be licensed and
haul septage to an approved treatment facility
(like a POTW)
Washington Industries that
Discharge Directly into a waterway
• Pulp and paper mills
– all but one mill is located in Western WA
• Aluminum smelters:
– There are 5 in WA
– Four of these are located on the Columbia River (the
last is located in Ferndale)
• Chemical plants (generally associated with pulp
and paper mills)
• Oil refineries: Ferndale, Anacortes, Tacoma,
Improper Discharge by
Industries?
• EPA orders Pepsi Bottling Group to correct stormwater,
industrial wastewater violations on Oahu
– The EPA action cites the lack of a permit to discharge stormwater from
the company's facility and associated unauthorized site stormwater
discharges, which enter Halawa Stream and Pearl Harbor's East Loch.
Pepsi Bottling also sent acidic industrial effluent to the city and county of
Honolulu's sewers in violation of the low pH requirement under the
EPA's general pretreatment regulations.
• EPA Slaps Firm With $4.3 Million Fine for Wastewater
Violations
– Keysor-Century Corporation knowingly released toxic wastewater into
the Santa Clara River and emitted cancer-causing air pollutants at high
levels, while falsifying emission reports to state and federal agencies.
Penobscot Indian Nations of northern
Maine
• Paper Milling Industry located upstream
•
– Fish caught in the Penobscot River are
contaminated with mercury, dioxin, and
PCBs
"Today's Penobscot, with discolored
waters and carrying scum and exhaling
offensive odors, repels sportsmen and
other recreationists. Few fishermen will wet
a line in such waters and fewer still will eat
fish taken from these waters. Downstream
from Bangor, the Penobscot is so severely
polluted that boats cannot be kept in the
river because of the way the river fouls the
paint." Richard E. Griffith, Regional Director,
Bureau of Sport Fisheries and Wildlife, U.S.
Dept. of the Interior (U.S. FWPCA, 1967).
Homeland: Four Portraits of Native Action
Questions?
In next lectures we will discuss GOOD HOUSE KEEPING APPROACH with minimization of
industrial waste problems OR cleaner production concepts and practice
Thanks!