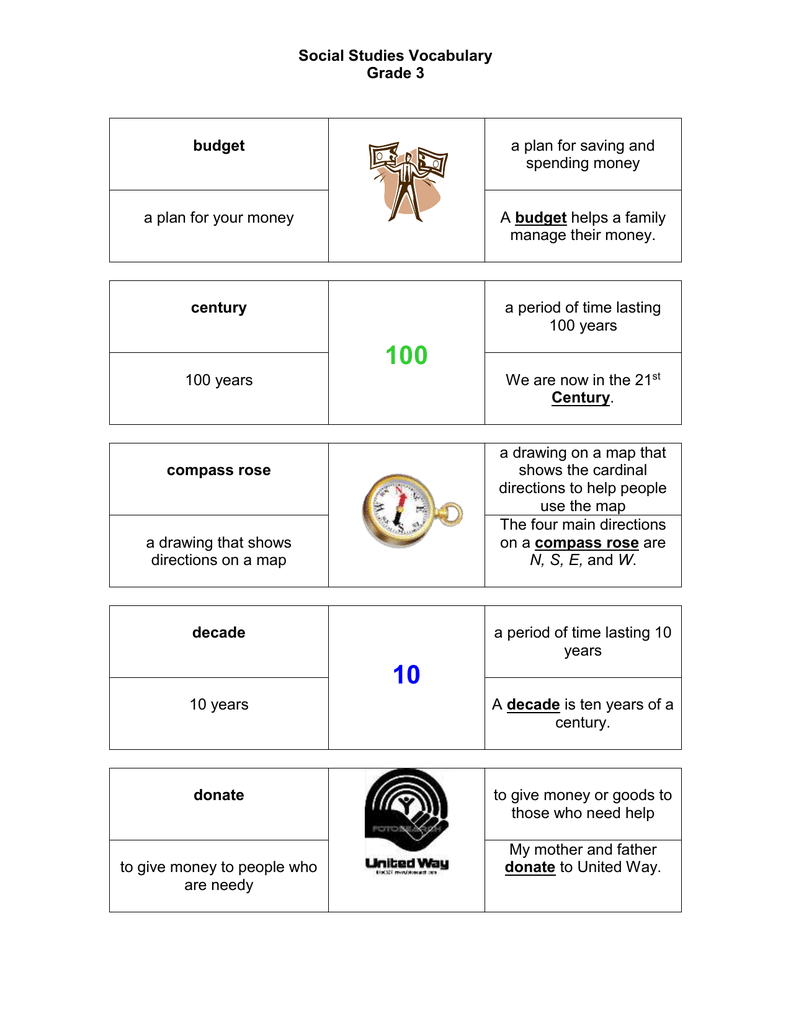 Social Studies Vocabulary
Grade 3
budget
a plan for saving and
spending money
a plan for your money
A budget helps a family
manage their money.
century
a period of time lasting
100 years
100
We are now in the 21st
Century.
100 years
a drawing on a map that
shows the cardinal
directions to help people
use the map
The four main directions
on a compass rose are
N, S, E, and W.
compass rose
a drawing that shows
directions on a map
decade
a period of time lasting 10
years
10
10 years
A decade is ten years of a
century.
donate
to give money or goods to
those who need help
to give money to people who
are needy
My mother and father
donate to United Way.
ethnic group
people who share the same
culture
entrepreneur
A person who starts a
business
a group of people who
share the same language
and culture
Each ethnic group in a
community has a different
culture.
a person who organizes
and runs a business
The young entrepreneur
started a computer
business.
executive branch
the part of government
that makes sure laws are
carried out
enforces the laws
The president is the head
of the executive branch
of the U.S. government.
Founding Fathers
men who led the colonies to
become a new nation
free enterprise
the right to create a business
members to the
Constitutional Convention,
as well as other American
leaders of the time
George Washington is
considered to be one of
our Founding Fathers.
the freedom to start a
business and to make and
sell for profit any product
or service allowed by law
Because of the free
enterprise system, I can
start a lemonade stand.
heritage
tradition
a set of values and
traditions handed down to
a group from those who
have lived before them
Celebrating patriotic
holidays is an important
part of our American
heritage.
intermediate directions
the directions between the
cardinal directions, for example,
northeast, southeast,
northwest, and southwest.
NE, SE, NW, SW
Be sure to include the
intermediate directions
between the cardinal directions
on your compass rose.
inventor
the first person to create
something
judicial branch
decides if laws are fair
legislative branch
makes the laws
one who creates or makes
something for the first time
Jonas Salk was the
inventor of a vaccine for
polio.
the part of the government
that hears and decides
law cases and is made up
of courts and judges
The Supreme Court is the
head of the judicial
branch of the U.S.
government.
the part of government
that makes laws
The House of Representatives
and the Senate make up the
Congress, or legislative
branch, of the government.
map grid
a set of lines the same
distance apart that cross
one another to form boxes
a map of squares
It is fun to locate things
using the squares of the
map grid.
map scale
part of map which helps to
measure distance
natural hazard
an event in nature which
causes great harm
scarcity
not enough of something
tax
money citizens pay for
services
a part of a map that
compares a distance on
the map to a distance in
the real world
It helps to use a ruler when
you are using a map scale
to find out how far one city is
from another.
an event in nature, such
as a tornado, earthquake,
hurricane, or flood, that
can cause great harm
Hurricane Ike hitting
Texas was a natural
hazard.
a shortage, or lack of
supply, of a product
The sell out meant there
was a scarcity of tickets
for the concert.
money that citizens pay to
run the community
government and provide
services
When you buy something
you have to pay a sales
tax.