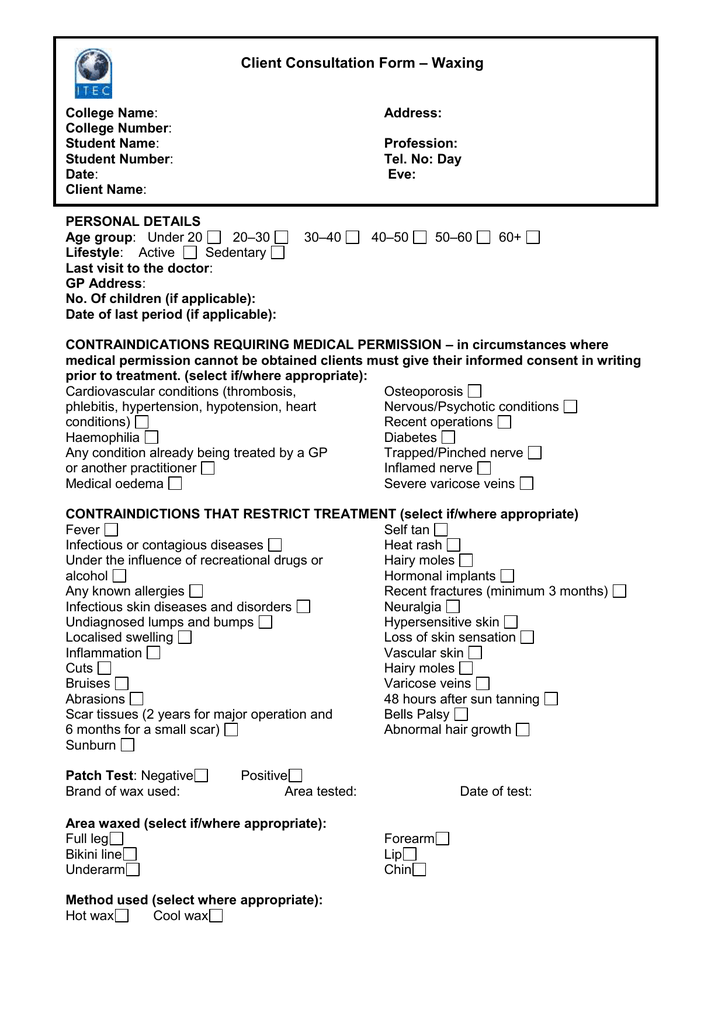 Client Consultation Form – Waxing
College Name:
College Number:
Student Name:
Student Number:
Date:
Client Name:
Address:
Profession:
Tel. No: Day
Eve:
PERSONAL DETAILS
Age group: Under 20
20–30
Lifestyle: Active
Sedentary
Last visit to the doctor:
GP Address:
No. Of children (if applicable):
Date of last period (if applicable):
30–40
40–50
50–60
60+
CONTRAINDICATIONS REQUIRING MEDICAL PERMISSION – in circumstances where
medical permission cannot be obtained clients must give their informed consent in writing
prior to treatment. (select if/where appropriate):
Cardiovascular conditions (thrombosis,
Osteoporosis
phlebitis, hypertension, hypotension, heart
Nervous/Psychotic conditions
conditions)
Recent operations
Haemophilia
Diabetes
Any condition already being treated by a GP
Trapped/Pinched nerve
or another practitioner
Inflamed nerve
Medical oedema
Severe varicose veins
CONTRAINDICTIONS THAT RESTRICT TREATMENT (select if/where appropriate)
Fever
Self tan
Infectious or contagious diseases
Heat rash
Under the influence of recreational drugs or
Hairy moles
alcohol
Hormonal implants
Any known allergies
Recent fractures (minimum 3 months)
Infectious skin diseases and disorders
Neuralgia
Undiagnosed lumps and bumps
Hypersensitive skin
Localised swelling
Loss of skin sensation
Inflammation
Vascular skin
Cuts
Hairy moles
Bruises
Varicose veins
Abrasions
48 hours after sun tanning
Scar tissues (2 years for major operation and
Bells Palsy
6 months for a small scar)
Abnormal hair growth
Sunburn
Patch Test: Negative
Brand of wax used:
Positive
Area tested:
Area waxed (select if/where appropriate):
Full leg
Bikini line
Underarm
Method used (select where appropriate):
Hot wax
Cool wax
Date of test:
Forearm
Lip
Chin
Details of treatment:
(to include products used)
Client feedback:
After/Home care advice:
Student/Therapist Signature…………………………………
Client Signature………………………………………………...