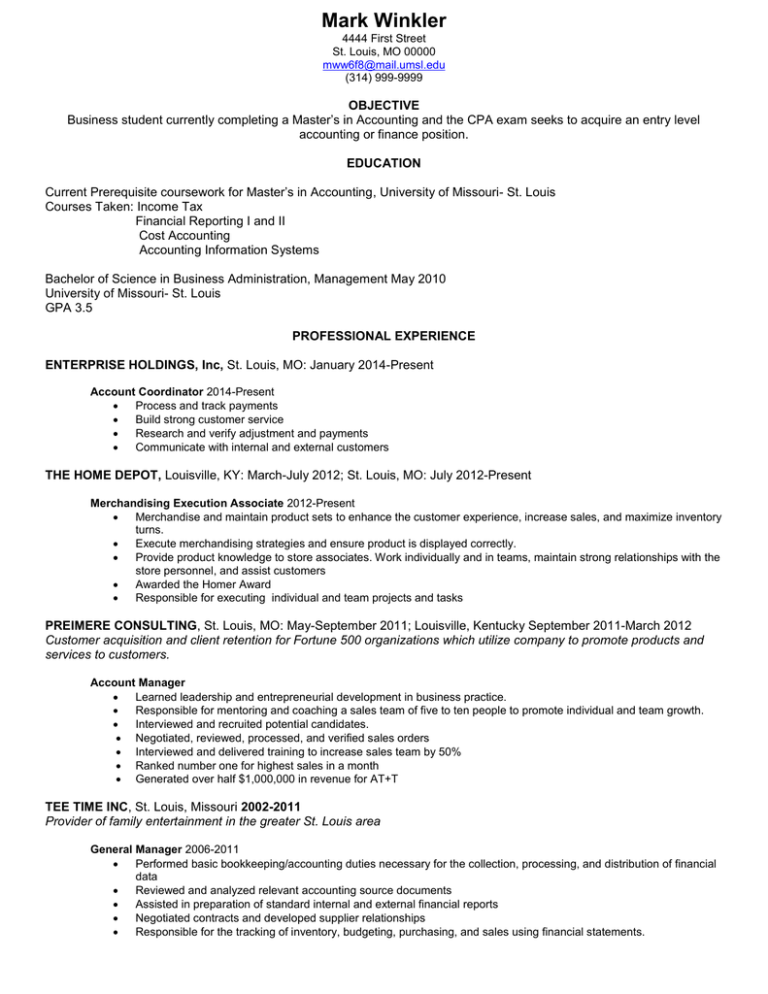 Mark Winkler
4444 First Street
St. Louis, MO 00000
mww6f8@mail.umsl.edu
(314) 999-9999
OBJECTIVE
Business student currently completing a Master's in Accounting and the CPA exam seeks to acquire an entry level
accounting or finance position.
EDUCATION
Current Prerequisite coursework for Master's in Accounting, University of Missouri- St. Louis
Courses Taken: Income Tax
Financial Reporting I and II
Cost Accounting
Accounting Information Systems
Bachelor of Science in Business Administration, Management May 2010
University of Missouri- St. Louis
GPA 3.5
PROFESSIONAL EXPERIENCE
ENTERPRISE HOLDINGS, Inc, St. Louis, MO: January 2014-Present
Account Coordinator 2014-Present

Process and track payments

Build strong customer service

Research and verify adjustment and payments

Communicate with internal and external customers
THE HOME DEPOT, Louisville, KY: March-July 2012; St. Louis, MO: July 2012-Present
Merchandising Execution Associate 2012-Present

Merchandise and maintain product sets to enhance the customer experience, increase sales, and maximize inventory
turns.

Execute merchandising strategies and ensure product is displayed correctly.

Provide product knowledge to store associates. Work individually and in teams, maintain strong relationships with the
store personnel, and assist customers

Awarded the Homer Award

Responsible for executing individual and team projects and tasks
PREIMERE CONSULTING, St. Louis, MO: May-September 2011; Louisville, Kentucky September 2011-March 2012
Customer acquisition and client retention for Fortune 500 organizations which utilize company to promote products and
services to customers.
Account Manager

Learned leadership and entrepreneurial development in business practice.

Responsible for mentoring and coaching a sales team of five to ten people to promote individual and team growth.

Interviewed and recruited potential candidates.
 Negotiated, reviewed, processed, and verified sales orders
 Interviewed and delivered training to increase sales team by 50%
 Ranked number one for highest sales in a month
 Generated over half $1,000,000 in revenue for AT+T
TEE TIME INC, St. Louis, Missouri 2002-2011
Provider of family entertainment in the greater St. Louis area
General Manager 2006-2011

Performed basic bookkeeping/accounting duties necessary for the collection, processing, and distribution of financial
data

Reviewed and analyzed relevant accounting source documents

Assisted in preparation of standard internal and external financial reports

Negotiated contracts and developed supplier relationships

Responsible for the tracking of inventory, budgeting, purchasing, and sales using financial statements.

Maintained strong relationships with employees and customers
Part-time Assistant Manager 2004-2006
Trained seasonal employees in work procedures, aided in consumer relations, and coordinated private events that included
corporations and schools. Handled daily finances and oversaw registers
Facilities Supervisor 2002-2004
Performed and delegated safety inspections and recording of maintenance logs. Monitored and repaired go-karts, batting
cages, and bumper boats.