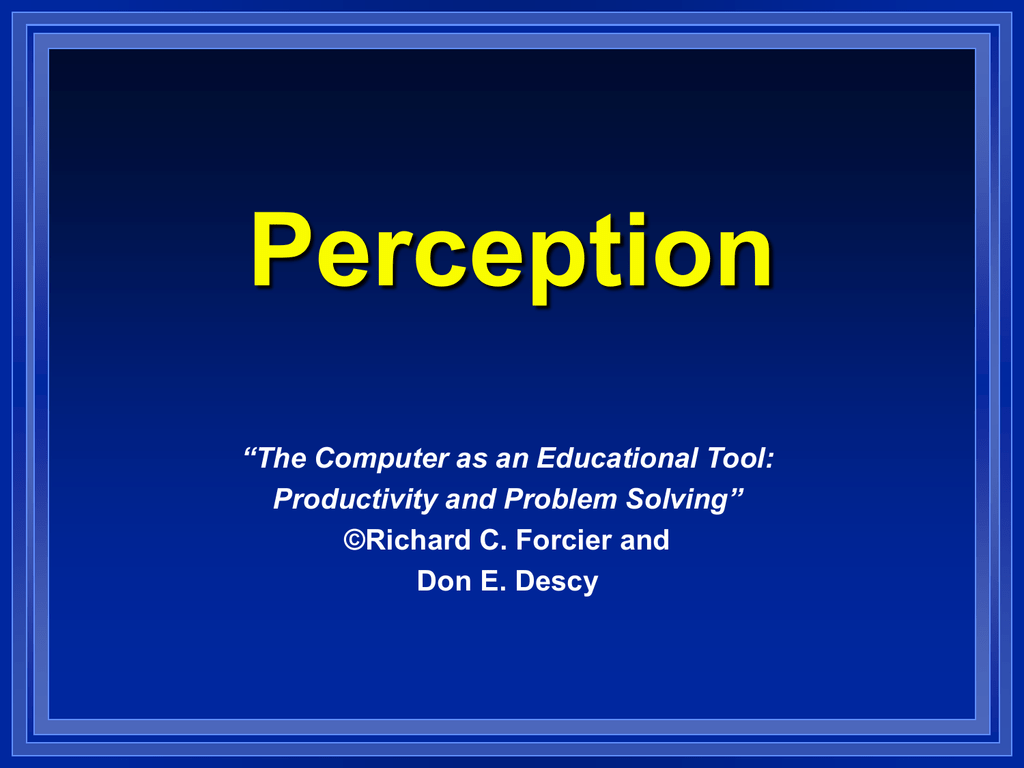 Perception
"The Computer as an Educational Tool:
Productivity and Problem Solving"
©Richard C. Forcier and
Don E. Descy
Perception
The process whereby one
becomes aware of the
world around
oneself.
How We Are Aware
Seeing
Hearing
Touching
Smelling
Tasting
Truisms
Perception:
Precedes communications
Communications:
Leads to learning
Perception Research
Words
only: 90% lost
Visuals/multimedia:
Fivefold increase (up to 50%)
Nine out of 10 presentations:
Words only!
Principles of Perception
Relative,
not absolute
Selective
Organized
Influenced
by expectations
Principles of Perception
(Continued)
The better an object is
perceived, the more reliable:
Memory
Concept formation
Problem solving, creativity
Attitude change
Important
Events
do not occur in
isolation
Individuals react to only a
very small part of an event
SO...
Design Instruction to
Attract
attention
Hold interest
Focus on "right" sample of
perceptual event
Message Theory (1)
Message:
Information
Source or sender: Brain
(Message) encoder: Thought,
verbalized or written
Transmitter: Print, film, the
Web
Message Theory (2)
Channel:
Air, wire, paper,
light
Receiver: Ear, eye, etc.
Destination: Brain
Decoder: Brain
Message Theory (3)
Feedback:
Reverse
communications to sender
Noise: Any disturbance that
interferes with or distorts
transmission
Redundancy: Repeating (to
overcome noise...)
Male cadavers are
incapable of yielding
testimony.
Dead men tell no tales.
Neophyte's serendipity
Beginner's luck
A malleable finite
cylindraceous coil
wrought of parallel
axes with azimuthal
terminates...
General Learning Theory
Motivation
Individual
differences
Learning objectives
Organization of content
Prelearning preparation
Emotions
General Learning Theory
(Continued)
Participation
Feedback
Reinforcement
Practice
and repetition
Application
Questions?