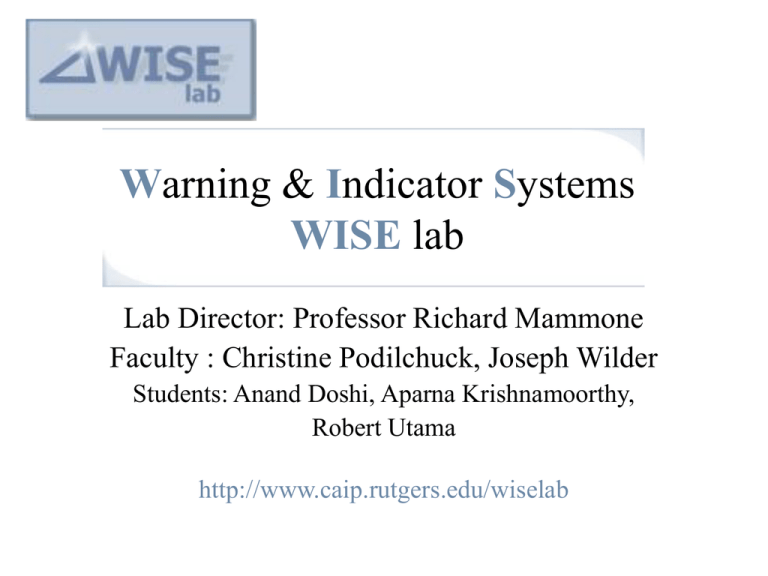 Warning & Indicator Systems
WISE lab
Lab Director: Professor Richard Mammone
Faculty : Christine Podilchuck, Joseph Wilder
Students: Anand Doshi, Aparna Krishnamoorthy,
Robert Utama
http://www.caip.rutgers.edu/wiselab
Enhancement of Signals
• filtering
• deconvolution
• noise reduction
• segmentation
Identification of Materials/People
• radioactive material
• plastic explosives
• person identity
Positional Awareness
• sensor location
• target location
• target tracking
• target prediction
Projects
• Radioactive Isotope Identification
• Positional Awareness
• Face Recognition
• Speaker Recognition
• Explosives Detection
The Rutgers CAIP Vigilant Decision Machine (VDM) detects
and Identifies materials used in radiological weapons.
• The VDM analyses data captured from moving vehicles by the Princeton
Plasma Physics Laboratory's Miniature Integrated Nuclear Detection
System (MINDS).
• The MINDS/VDM system can detect small quantities of materials hidden in
vehicles,even when shielded by lead, and can distinguish between
dangerous and benign materials.
• A proof-of-principal system is operational and has been tested on two of
the five materials (Cs-137 and Co-60) listed in draft ANSI Standard N42.35
– 2003, and a third material Am-241, which was not included in the
standard, because it was deemed too difficult to detect.
• Our system shows promise of exceeding all of the requirements in ANSI
N42.35 – 2003 and adding additional desirable capabilities.
Initial Data Collection Experiment
Data Acquisition
Miniature Integrated Nuclear Detection System
Feature
Sensors
PPPL
Preprocessing
Extraction
WISE LAB
Classification
Preprocessing
Background and Cesium 137
The need for Preprocessing
Feature Extraction
Neural Tree Network (NTN)
Difficult Sample of Co-60
Correctly Identified by our System
Target Tracking Algorithm for Air Deliverable Acoustic
Sensor (ADAS)
The objective of the project is to devise a target tracking algorithm for the ADAS
(pictured below) to locate a target in a dynamic, noisy and mobile environment
By using several ADAS devices, and an appropriate algorithm, it is possible to
triangulate a position of a target by analyzing the sound it emits.
Geometry used in the Government Test
Three nodes (each node is an ADAS) spread in three different locations. A target
vehicle will move down the road equipped with the GPS. The sensors will pick up
the acoustic data and supply it to the WISE lab algorithm which will map the
vehicle's path.
Other Projects
Speaker Recognition, Explosive Detection, Face Recognition
Feature
Sensors
Preprocessing
Extraction
WISE LAB
Classification
Summary and Conclusions
• Rutgers' Wise Lab has developed real world biometric
systems.
• Wise Lab has developed real world material
identification systems.
• System Engineering including integration of hardware
and software has been performed by WISE Lab.
• The Neural Tree Network has been shown to correctly
identify people and material when little data is available
and under noisy conditions.
• Appropriate preprocessing and feature selection are
important design considerations used by the WISE Lab.