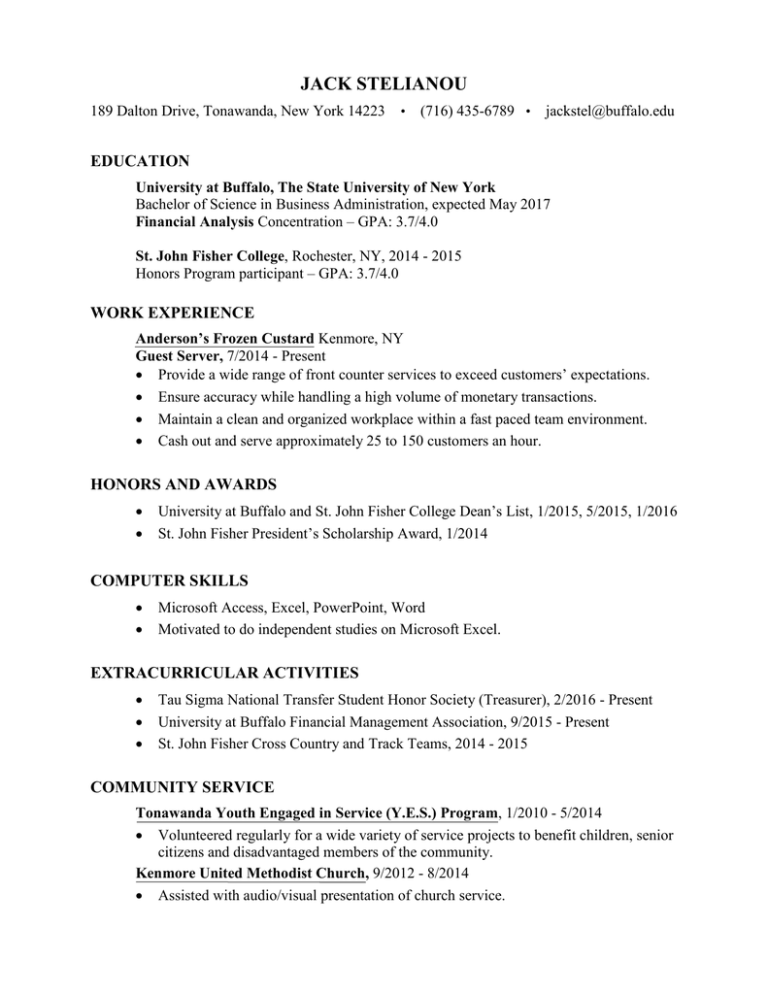 JACK STELIANOU
189 Dalton Drive, Tonawanda, New York 14223
•
(716) 435-6789 •
jackstel@buffalo.edu
EDUCATION
University at Buffalo, The State University of New York
Bachelor of Science in Business Administration, expected May 2017
Financial Analysis Concentration – GPA: 3.7/4.0
St. John Fisher College, Rochester, NY, 2014 - 2015
Honors Program participant – GPA: 3.7/4.0
WORK EXPERIENCE
Anderson's Frozen Custard Kenmore, NY
Guest Server, 7/2014 - Present
 Provide a wide range of front counter services to exceed customers' expectations.
 Ensure accuracy while handling a high volume of monetary transactions.
 Maintain a clean and organized workplace within a fast paced team environment.
 Cash out and serve approximately 25 to 150 customers an hour.
HONORS AND AWARDS


University at Buffalo and St. John Fisher College Dean's List, 1/2015, 5/2015, 1/2016
St. John Fisher President's Scholarship Award, 1/2014
COMPUTER SKILLS


Microsoft Access, Excel, PowerPoint, Word
Motivated to do independent studies on Microsoft Excel.
EXTRACURRICULAR ACTIVITIES



Tau Sigma National Transfer Student Honor Society (Treasurer), 2/2016 - Present
University at Buffalo Financial Management Association, 9/2015 - Present
St. John Fisher Cross Country and Track Teams, 2014 - 2015
COMMUNITY SERVICE
Tonawanda Youth Engaged in Service (Y.E.S.) Program, 1/2010 - 5/2014
 Volunteered regularly for a wide variety of service projects to benefit children, senior
citizens and disadvantaged members of the community.
Kenmore United Methodist Church, 9/2012 - 8/2014
 Assisted with audio/visual presentation of church service.