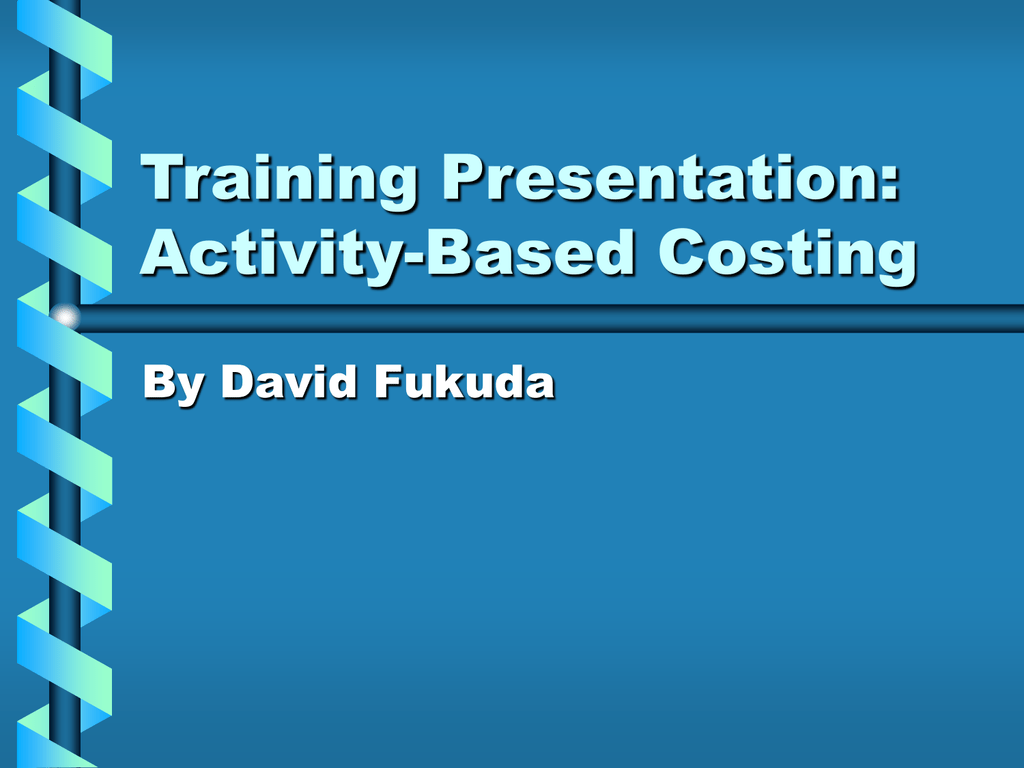 Training Presentation:
Activity-Based Costing
By David Fukuda
What Will Be Covered
•
•
•
•
•
ABC Defined
Nuts and Bolts
How It Works
A Real World Example
Summary
ABC Defined
• History
–
–
–
–
Traditional costing
Engineering Decisions
Pricing
Product Mix
ABC Defined-Continued
• Activity-based costing focuses
on work activities and
facilitates decision-making
processes by managers.
ABC Defined-Continued
• Transition to ABC
– Cost Structure
– Product Diversity
Brainstorming
• Develop a list of major costs
that exist within your firm.
• Develop a list of activities that
make up these costs.
BrainstormingContinued
• Discuss how managers maybe
able to improve their decisionmaking abilities by viewing
these major costs as activities.
Nuts & Bolts
• Goal: Use traditional costing
information to "provide more
focused data for improved
decision support."
• Costs must be assigned to the
appropriate categories.
Nuts & Bolts-Continued
• Unit-Level Costs
– Examples: equipment depreciation,
repairs, maintenance, and energy costs.
• Batch-Level Costs
– Examples: machine set-up costs, placing,
orders, receiving materials, and paying
suppliers.
Nuts & Bolts-Continued
• Product-Level Costs
– Examples: design costs, engineering
costs.
• Facility-Level Costs
– Examples: president's salary, building
security.
Nuts & Bolts-Continued
• Cost Drivers-activities
associated with incurred costs
• Cost Pools-combined costs
affected by the same activities
• Cost Rates = total costs / # of
activity units
How It Works
• ABC requirements
–
–
–
–
–
Clear Goals
Management Support
Committed Resources
Priority
Appropriate Training
How It Works- Continued
• Process
– Group overhead costs into unit-,
batch-, product-, and facility-level
items.
– Identify cost drivers for each item.
– Items are placed into the
appropriate cost pools.
How It Works-Continued
• Process (continued)
– Within each cost pool, cost rates
per activity are determined.
– Calculated cost rates are
multiplied by the number of
product or service units consumed.
How It Works-Continued
• The ABC process is:
–
–
–
–
–
Continuous
Flexible
Traceable
Understandable
Logical
How It Works-Continued
• ABC data may result in activities
being:
–
–
–
–
Favorably impacted
Changed
Improved
Eliminated
A Real World Example:
Farrall Inc.
• Explanation
– Manufacturer of filter materials
– Annual sales of $500 million
– Decides to implement an ABC
system
Farrall, Inc.-Continued
• Findings of ABC analysis
– Activities varied with both unit
production volume and work orders
(batch production).
– Low volume custom products were
costing the company.
Farrall, Inc.-Continued
• Conclusion
– Top customers were providing a
tremendous share of the profits.
– Low volume customers were
increasing product costs.
Exercise
• ABC Cost Pools
–
–
–
–
–
–
Production ($50,000)
Inspection ($25,000)
Warehousing ($30,000)
Purchasing ($95,000)
Receiving ($40,000)
Order Entry ($40,000)
Exercise-Continued
• Match the cost with the
appropriate ABC cost driver.
Production
Inspections
Inspection
Customer Orders
Warehousing
Purchase Orders
Purchasing
Parts Planned
Receiving
Store Receipts
Order Entry
Dock Receipts
Exercise-Continued
• Calculate Cost Rates
Production $50,000
$40 per part
Parts Planned 20,000
Inspection $25,000
$5 per inspection
Inspections 5,000
Warehousing $30,000
$3 per receipt
Store Receipts 10,000
Purchasing $95,000
$10 per order
Purchase Orders 9,500
Receiving $40,000
$10 per receipt
Dock Receipts 4,000
Order Entry $40,000
$40 per order
Customer Orders 1,000
• What areas should management focus on?
Summary
• Focusing on the ABC method:
– Considers all costs.
– Assigns costs to specific products
or customers.
– Helps to identify "businesssustaining and low-valued"
activities.
Summary-Continued
• Activity-based costing provides
management with an alternate
way of viewing costs within an
organization.
Readings List
• Cokins, G. (2002). "Activity-Based Costing: Optional
or Required?" Transactions of AACE
International.
• Colson, R. and J. Lere. (March 2002). "Selling
Activity-Based Costing." CPA Journal. Vol. 72,
Issue 3.
• Cortese-Danile, T. and C. Latshaw. (Winter 2002).
"Activity-Based Costing: Usage and Pitfalls."
Review of Business. Vol. 23, Issue 1.
• Ittner, C., Lanen, W., & D. Larcker. (June 2002).
"The Association Between Activity-Based
Costing and Manufacturing Performance."
Journal of Accounting Research. Vol. 40, Issue
3.
Readings List-Continued
• Naidoo, S. (May 2002). "Voyage of Discovery."
Financial Management.
• Peckenpaugh, J. (April 2002). "Teaching the ABC's."
Government Executive. Vol. 34, Issue 4.
• Taylor, J. (May/June 2002). "Activity-Based
Costing."
AFP Exchange. Vol. 22, Issue 3.