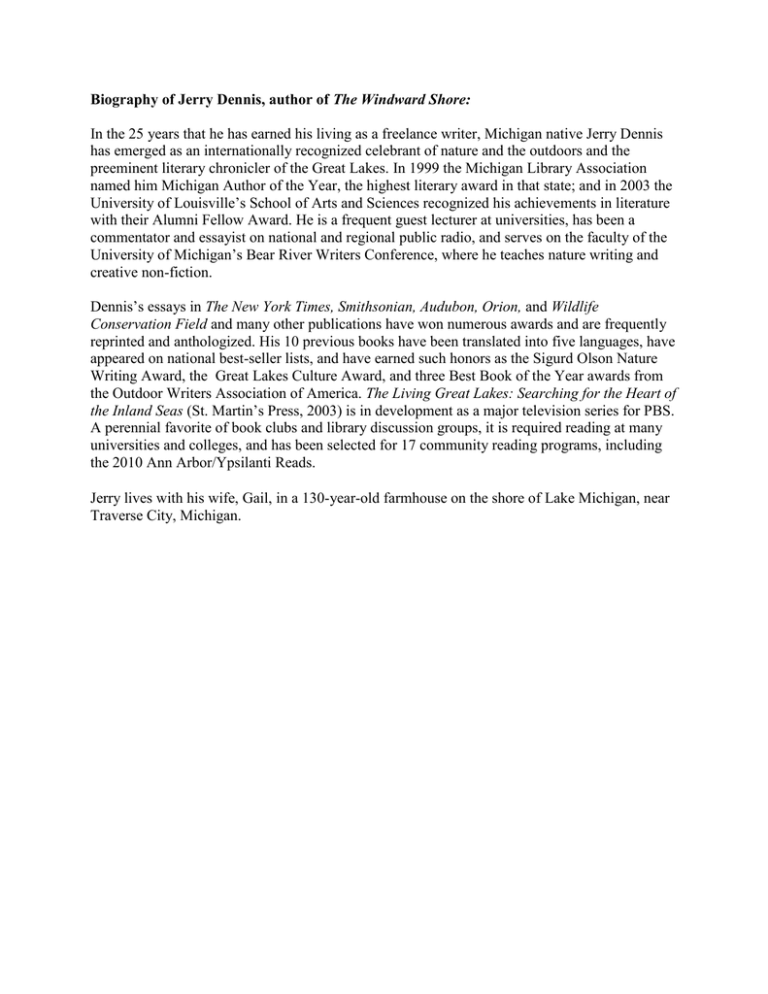 Biography of Jerry Dennis, author of The Windward Shore:
In the 25 years that he has earned his living as a freelance writer, Michigan native Jerry Dennis
has emerged as an internationally recognized celebrant of nature and the outdoors and the
preeminent literary chronicler of the Great Lakes. In 1999 the Michigan Library Association
named him Michigan Author of the Year, the highest literary award in that state; and in 2003 the
University of Louisville's School of Arts and Sciences recognized his achievements in literature
with their Alumni Fellow Award. He is a frequent guest lecturer at universities, has been a
commentator and essayist on national and regional public radio, and serves on the faculty of the
University of Michigan's Bear River Writers Conference, where he teaches nature writing and
creative non-fiction.
Dennis's essays in The New York Times, Smithsonian, Audubon, Orion, and Wildlife
Conservation Field and many other publications have won numerous awards and are frequently
reprinted and anthologized. His 10 previous books have been translated into five languages, have
appeared on national best-seller lists, and have earned such honors as the Sigurd Olson Nature
Writing Award, the Great Lakes Culture Award, and three Best Book of the Year awards from
the Outdoor Writers Association of America. The Living Great Lakes: Searching for the Heart of
the Inland Seas (St. Martin's Press, 2003) is in development as a major television series for PBS.
A perennial favorite of book clubs and library discussion groups, it is required reading at many
universities and colleges, and has been selected for 17 community reading programs, including
the 2010 Ann Arbor/Ypsilanti Reads.
Jerry lives with his wife, Gail, in a 130-year-old farmhouse on the shore of Lake Michigan, near
Traverse City, Michigan.