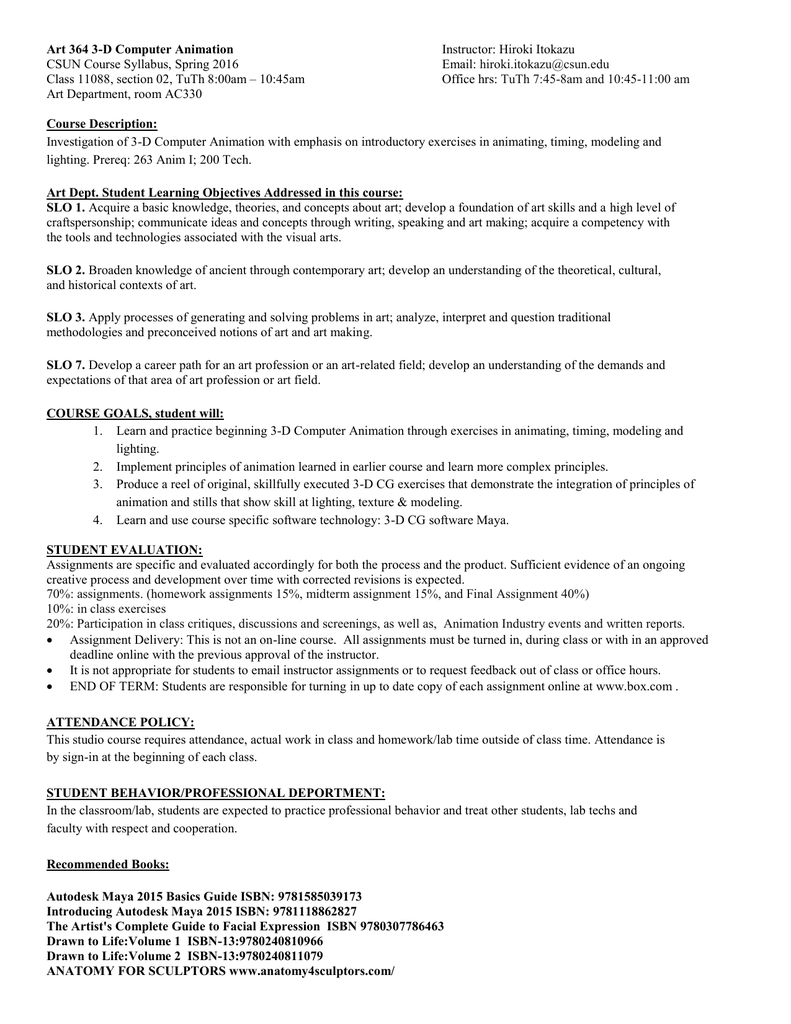 Art 364 3-D Computer Animation
CSUN Course Syllabus, Spring 2016
Class 11088, section 02, TuTh 8:00am – 10:45am
Art Department, room AC330
Instructor: Hiroki Itokazu
Email: [email protected]
Office hrs: TuTh 7:45-8am and 10:45-11:00 am
Course Description:
Investigation of 3-D Computer Animation with emphasis on introductory exercises in animating, timing, modeling and
lighting. Prereq: 263 Anim I; 200 Tech.
Art Dept. Student Learning Objectives Addressed in this course:
SLO 1. Acquire a basic knowledge, theories, and concepts about art; develop a foundation of art skills and a high level of
craftspersonship; communicate ideas and concepts through writing, speaking and art making; acquire a competency with
the tools and technologies associated with the visual arts.
SLO 2. Broaden knowledge of ancient through contemporary art; develop an understanding of the theoretical, cultural,
and historical contexts of art.
SLO 3. Apply processes of generating and solving problems in art; analyze, interpret and question traditional
methodologies and preconceived notions of art and art making.
SLO 7. Develop a career path for an art profession or an art-related field; develop an understanding of the demands and
expectations of that area of art profession or art field.
COURSE GOALS, student will:
1. Learn and practice beginning 3-D Computer Animation through exercises in animating, timing, modeling and
lighting.
2. Implement principles of animation learned in earlier course and learn more complex principles.
3. Produce a reel of original, skillfully executed 3-D CG exercises that demonstrate the integration of principles of
animation and stills that show skill at lighting, texture & modeling.
4. Learn and use course specific software technology: 3-D CG software Maya.
STUDENT EVALUATION:
Assignments are specific and evaluated accordingly for both the process and the product. Sufficient evidence of an ongoing
creative process and development over time with corrected revisions is expected.
70%: assignments. (homework assignments 15%, midterm assignment 15%, and Final Assignment 40%)
10%: in class exercises
20%: Participation in class critiques, discussions and screenings, as well as, Animation Industry events and written reports.
 Assignment Delivery: This is not an on-line course. All assignments must be turned in, during class or with in an approved
deadline online with the previous approval of the instructor.
 It is not appropriate for students to email instructor assignments or to request feedback out of class or office hours.
 END OF TERM: Students are responsible for turning in up to date copy of each assignment online at www.box.com .
ATTENDANCE POLICY:
This studio course requires attendance, actual work in class and homework/lab time outside of class time. Attendance is
by sign-in at the beginning of each class.
STUDENT BEHAVIOR/PROFESSIONAL DEPORTMENT:
In the classroom/lab, students are expected to practice professional behavior and treat other students, lab techs and
faculty with respect and cooperation.
Recommended Books:
Autodesk Maya 2015 Basics Guide ISBN: 9781585039173
Introducing Autodesk Maya 2015 ISBN: 9781118862827
The Artist's Complete Guide to Facial Expression ISBN 9780307786463
Drawn to Life:Volume 1 ISBN-13:9780240810966
Drawn to Life:Volume 2 ISBN-13:9780240811079
ANATOMY FOR SCULPTORS www.anatomy4sculptors.com/
MATERIALS: USB Flash Drive; Highly recommended but not required, Firewire/USB Hard Dive
Special Needs:
Students with disabilities must register with the Center on Disabilities and complete a service agreement each
semester. Staff with in the Center will verify the existence of a disability based on the documentation provided
and approved accommodations. Students who are approved for test-taking accommodations must provide an
Alternative Testing Form to their faculty member signed by a counselor in the Center on Disabilities prior to
making testing arrangements. The Center on Disabilities is located in Bayramian Hall, room 110. Staff can be
reached at 818 677-2684.