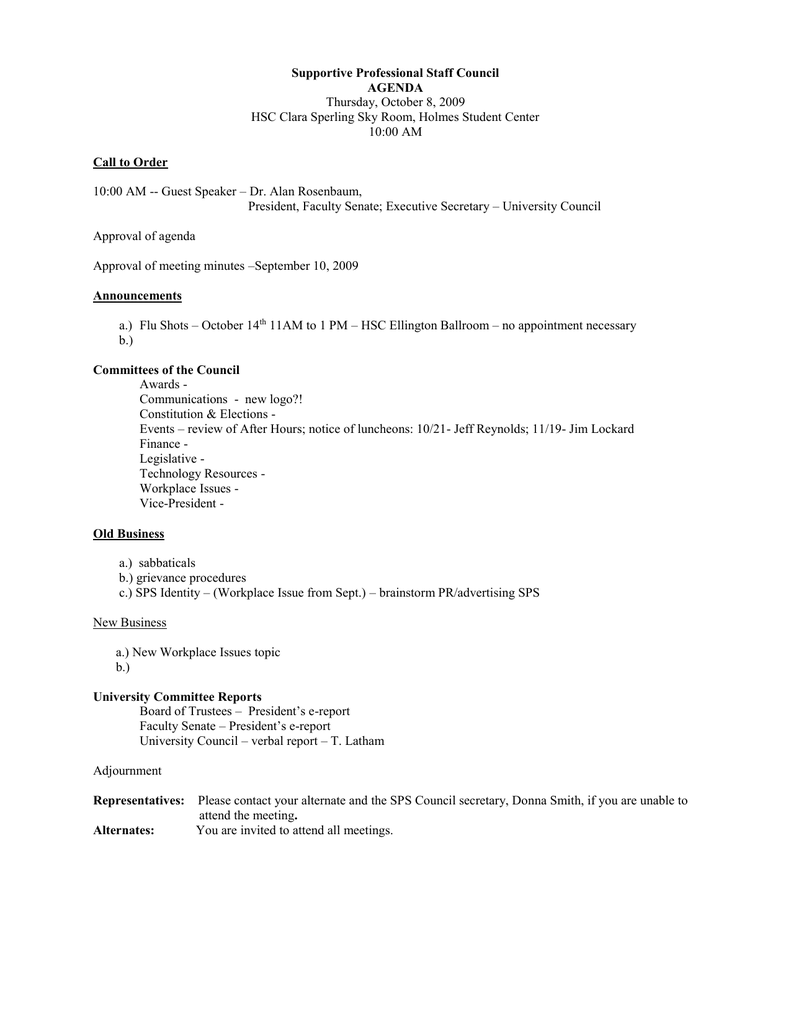 Supportive Professional Staff Council
AGENDA
Thursday, October 8, 2009
HSC Clara Sperling Sky Room, Holmes Student Center
10:00 AM
Call to Order
10:00 AM -- Guest Speaker – Dr. Alan Rosenbaum,
President, Faculty Senate; Executive Secretary – University Council
Approval of agenda
Approval of meeting minutes –September 10, 2009
Announcements
a.) Flu Shots – October 14th 11AM to 1 PM – HSC Ellington Ballroom – no appointment necessary
b.)
Committees of the Council
Awards Communications - new logo?!
Constitution & Elections Events – review of After Hours; notice of luncheons: 10/21- Jeff Reynolds; 11/19- Jim Lockard
Finance Legislative Technology Resources Workplace Issues Vice-President Old Business
a.) sabbaticals
b.) grievance procedures
c.) SPS Identity – (Workplace Issue from Sept.) – brainstorm PR/advertising SPS
New Business
a.) New Workplace Issues topic
b.)
University Committee Reports
Board of Trustees – President's e-report
Faculty Senate – President's e-report
University Council – verbal report – T. Latham
Adjournment
Representatives:
Alternates:
Please contact your alternate and the SPS Council secretary, Donna Smith, if you are unable to
attend the meeting.
You are invited to attend all meetings.