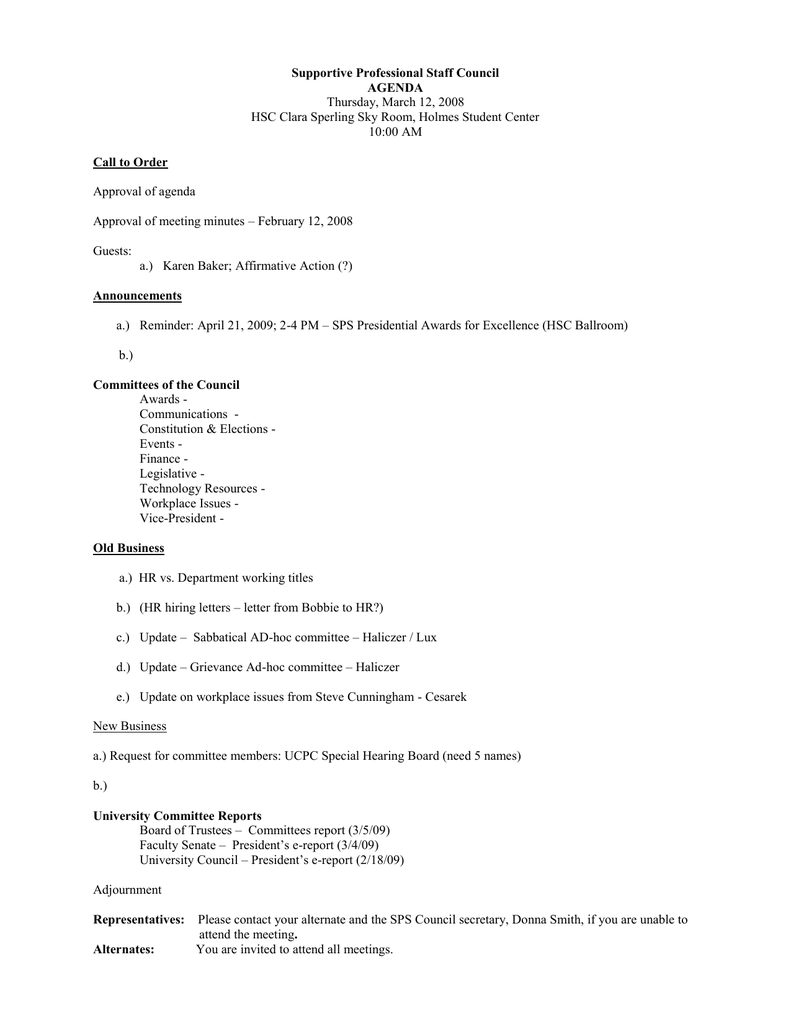 Supportive Professional Staff Council
AGENDA
Thursday, March 12, 2008
HSC Clara Sperling Sky Room, Holmes Student Center
10:00 AM
Call to Order
Approval of agenda
Approval of meeting minutes – February 12, 2008
Guests:
a.) Karen Baker; Affirmative Action (?)
Announcements
a.) Reminder: April 21, 2009; 2-4 PM – SPS Presidential Awards for Excellence (HSC Ballroom)
b.)
Committees of the Council
Awards Communications Constitution & Elections Events Finance Legislative Technology Resources Workplace Issues Vice-President Old Business
a.) HR vs. Department working titles
b.) (HR hiring letters – letter from Bobbie to HR?)
c.) Update – Sabbatical AD-hoc committee – Haliczer / Lux
d.) Update – Grievance Ad-hoc committee – Haliczer
e.) Update on workplace issues from Steve Cunningham - Cesarek
New Business
a.) Request for committee members: UCPC Special Hearing Board (need 5 names)
b.)
University Committee Reports
Board of Trustees – Committees report (3/5/09)
Faculty Senate – President's e-report (3/4/09)
University Council – President's e-report (2/18/09)
Adjournment
Representatives:
Alternates:
Please contact your alternate and the SPS Council secretary, Donna Smith, if you are unable to
attend the meeting.
You are invited to attend all meetings.