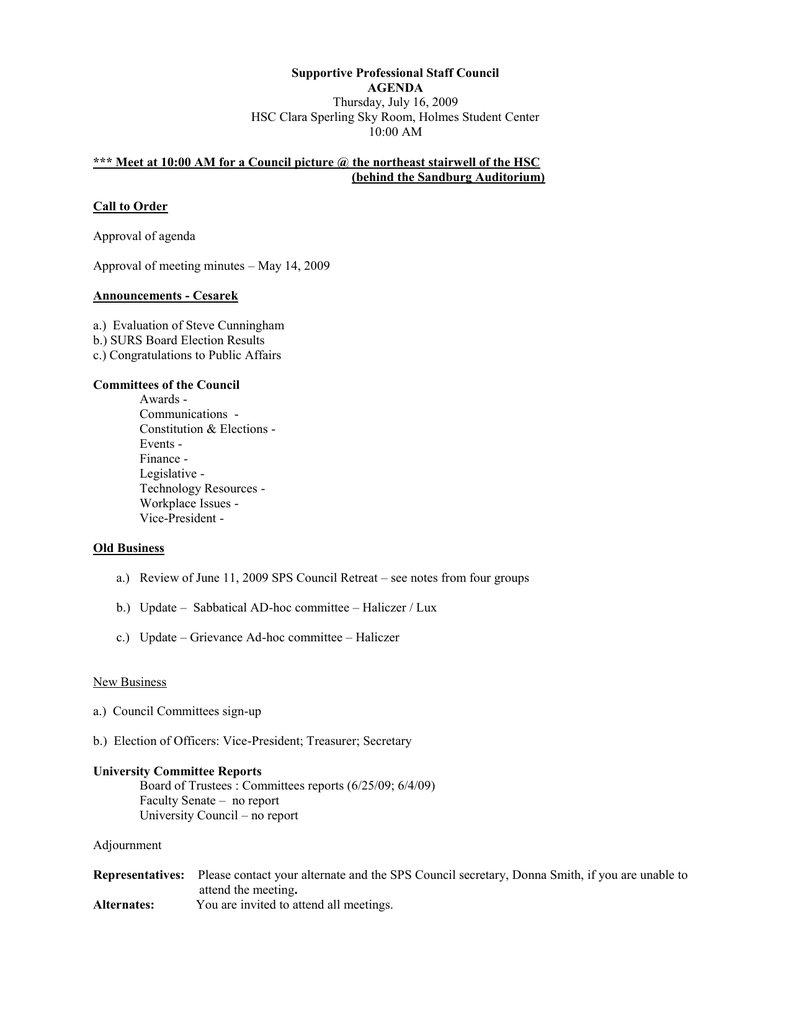 Supportive Professional Staff Council
AGENDA
Thursday, July 16, 2009
HSC Clara Sperling Sky Room, Holmes Student Center
10:00 AM
*** Meet at 10:00 AM for a Council picture @ the northeast stairwell of the HSC
(behind the Sandburg Auditorium)
Call to Order
Approval of agenda
Approval of meeting minutes – May 14, 2009
Announcements - Cesarek
a.) Evaluation of Steve Cunningham
b.) SURS Board Election Results
c.) Congratulations to Public Affairs
Committees of the Council
Awards Communications Constitution & Elections Events Finance Legislative Technology Resources Workplace Issues Vice-President Old Business
a.) Review of June 11, 2009 SPS Council Retreat – see notes from four groups
b.) Update – Sabbatical AD-hoc committee – Haliczer / Lux
c.) Update – Grievance Ad-hoc committee – Haliczer
New Business
a.) Council Committees sign-up
b.) Election of Officers: Vice-President; Treasurer; Secretary
University Committee Reports
Board of Trustees : Committees reports (6/25/09; 6/4/09)
Faculty Senate – no report
University Council – no report
Adjournment
Representatives:
Alternates:
Please contact your alternate and the SPS Council secretary, Donna Smith, if you are unable to
attend the meeting.
You are invited to attend all meetings.