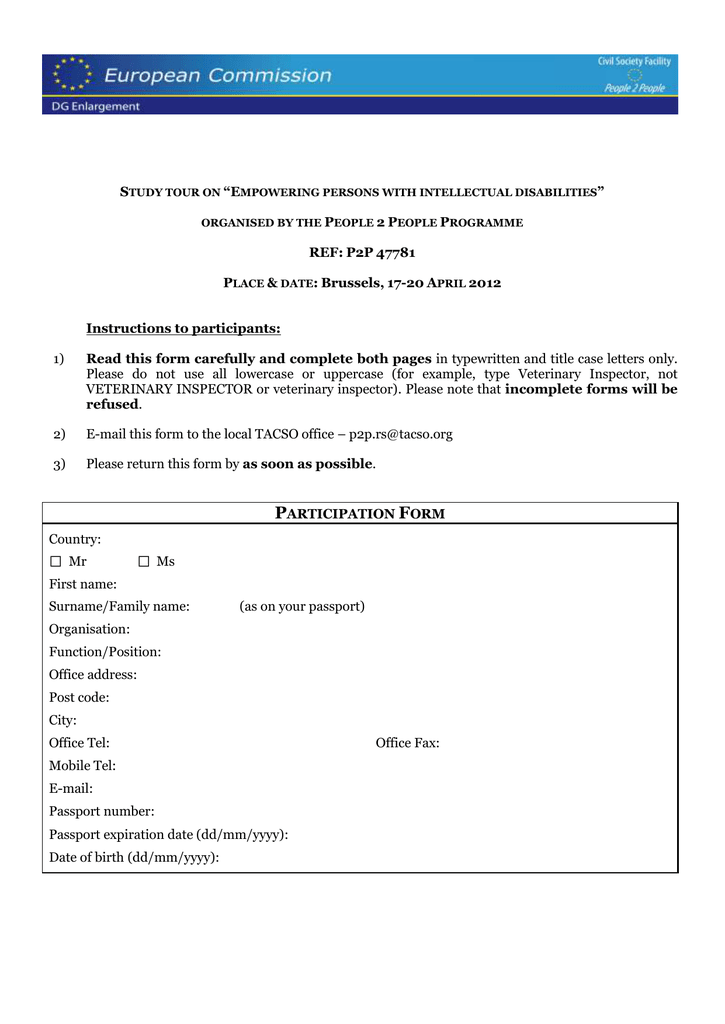 STUDY TOUR ON "EMPOWERING PERSONS WITH INTELLECTUAL DISABILITIES"
ORGANISED BY THE PEOPLE 2 PEOPLE PROGRAMME
REF: P2P 47781
PLACE & DATE: Brussels, 17-20 APRIL 2012
Instructions to participants:
1)
Read this form carefully and complete both pages in typewritten and title case letters only.
Please do not use all lowercase or uppercase (for example, type Veterinary Inspector, not
VETERINARY INSPECTOR or veterinary inspector). Please note that incomplete forms will be
refused.
2)
E-mail this form to the local TACSO office – [email protected]
3)
Please return this form by as soon as possible.
PARTICIPATION FORM
Country:
Mr
Ms
First name:
Surname/Family name:
(as on your passport)
Organisation:
Function/Position:
Office address:
Post code:
City:
Office Tel:
Mobile Tel:
E-mail:
Passport number:
Passport expiration date (dd/mm/yyyy):
Date of birth (dd/mm/yyyy):
Office Fax:
I would like to travel by:
PLANE
TRAIN
(SELECT ONE)
Airport/railway station of departure:
Please indicate if you use a wheelchair or any specific equipment that should be noticed to the airline/train
company:
I would like GIZ to book a hotel room:
YES
NO
Please note that if you do not answer GIZ will not book a hotel room.
Please indicate if you need a room adapted to people with physical disabilities:
YES
NO
If yes, please indicate if you will need to share your room with another participant:
YES
NO
Can you use public transports?
YES
NO
If not, GIZ will arrange specific transportation during your stay in Brussels.
Will you need to apply for a Schengen visa?
YES
NO
If yes, please note that the European Commission will provide you with an official invitation letter that may
be needed for obtaining your visa. However, you will be fully responsible for obtaining your visa
in due time.
I agree to share my contact details with the other participants for the purpose of this event (name,
organisation, complete office address, phone and fax numbers, e-mail address):
YES
NO
Data Protection :
Personal data contained in this document will be processed in accordance with the privacy statement of the
TAIEX instrument (see http://taiex.ec.europa.eu/PrivacyStatement) and in compliance with the
Regulation (EC) N° 45/2001.
Evaluation of P2P Events
With the view to strengthening our services, we will invite you to complete an evaluation form after the
event has taken place. Questions refer to the logistical arrangements, the overall quality of the event and/or
the contribution of experts, depending on the type of event you attended.