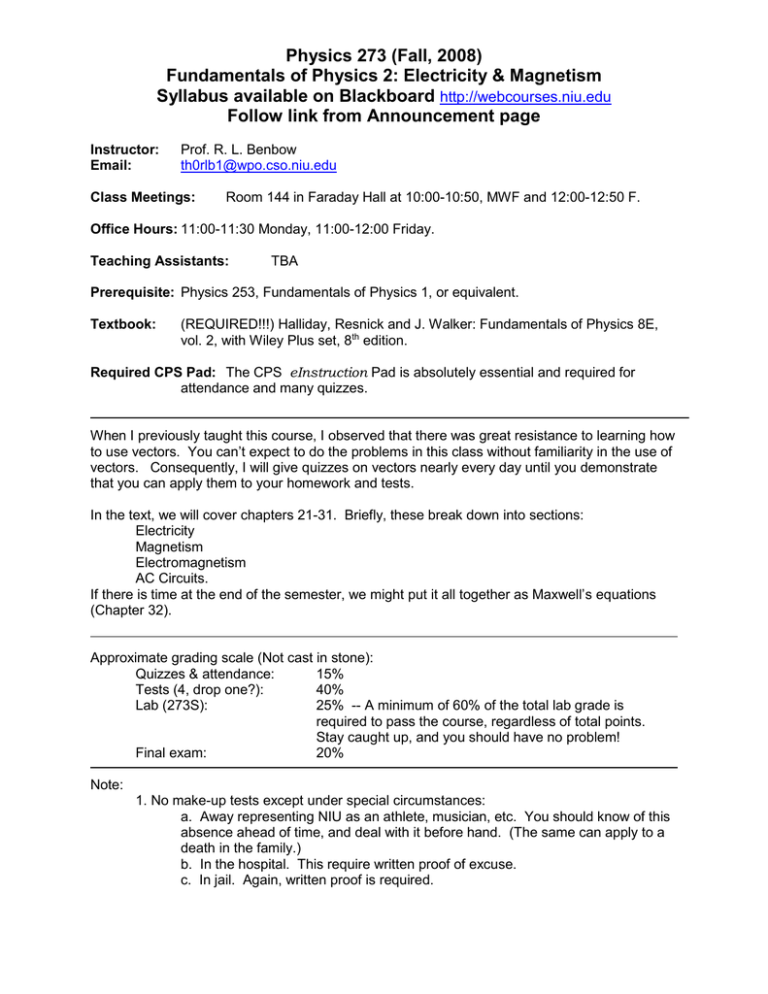 Physics 273 (Fall, 2008)
Fundamentals of Physics 2: Electricity & Magnetism
Syllabus available on Blackboard http://webcourses.niu.edu
Follow link from Announcement page
Instructor:
Email:
Prof. R. L. Benbow
th0rlb1@wpo.cso.niu.edu
Class Meetings:
Room 144 in Faraday Hall at 10:00-10:50, MWF and 12:00-12:50 F.
Office Hours: 11:00-11:30 Monday, 11:00-12:00 Friday.
Teaching Assistants:
TBA
Prerequisite: Physics 253, Fundamentals of Physics 1, or equivalent.
Textbook:
(REQUIRED!!!) Halliday, Resnick and J. Walker: Fundamentals of Physics 8E,
vol. 2, with Wiley Plus set, 8th edition.
Required CPS Pad: The CPS eInstruction Pad is absolutely essential and required for
attendance and many quizzes.
When I previously taught this course, I observed that there was great resistance to learning how
to use vectors. You can't expect to do the problems in this class without familiarity in the use of
vectors. Consequently, I will give quizzes on vectors nearly every day until you demonstrate
that you can apply them to your homework and tests.
In the text, we will cover chapters 21-31. Briefly, these break down into sections:
Electricity
Magnetism
Electromagnetism
AC Circuits.
If there is time at the end of the semester, we might put it all together as Maxwell's equations
(Chapter 32).
Approximate grading scale (Not cast in stone):
Quizzes & attendance:
15%
Tests (4, drop one?):
40%
Lab (273S):
25% -- A minimum of 60% of the total lab grade is
required to pass the course, regardless of total points.
Stay caught up, and you should have no problem!
Final exam:
20%
Note:
1. No make-up tests except under special circumstances:
a. Away representing NIU as an athlete, musician, etc. You should know of this
absence ahead of time, and deal with it before hand. (The same can apply to a
death in the family.)
b. In the hospital. This require written proof of excuse.
c. In jail. Again, written proof is required.
2. No hats or hoods are allowed during exams or quizzes (let the instructor know if this
is a problem). No electronic communication or entertainment devices of any kind are
allowed (Includes laptops, cell phones, CD players, MP3 devices, etc.) You may use a
simple scientific calculator. [Be sure it is one you know how to use. Programmable
calculators should not be used. If I am feeling mean, I may let you use one, though.
Ask me why that is mean!]
3. Any cheating or plagiarism or other unethical conduct shall be referred to the
university judicial office.
More Notes:
1. This syllabus is subject to change. You will be notified of any changes.
2. Students withdrawing during the semester will be subject to a different grade scale.
3. I will not generally be on campus afternoons, or days with no class. See me during office
hours. Incidentally, emails about grades will not be answered. If you need to see me outside of
office hours, email to make an appointment. I expect that consultations will be limited to
seeking help with homework problems.
NIU abides by section 504 of the Rehabilitation Act of 1973 regarding provision of reasonable
accommodations for students with documented disabilities. If you want to utilize this provision,
please contact me early in the semester. If you have not already done so, you will need to register
with the Center for Access Ability Resources (CAAR), the designated office on campus to provide
services and administer exams with accommodations for students with disabilities. CAAR is located
on the 4th floor of the University Health Services building (753-1303).