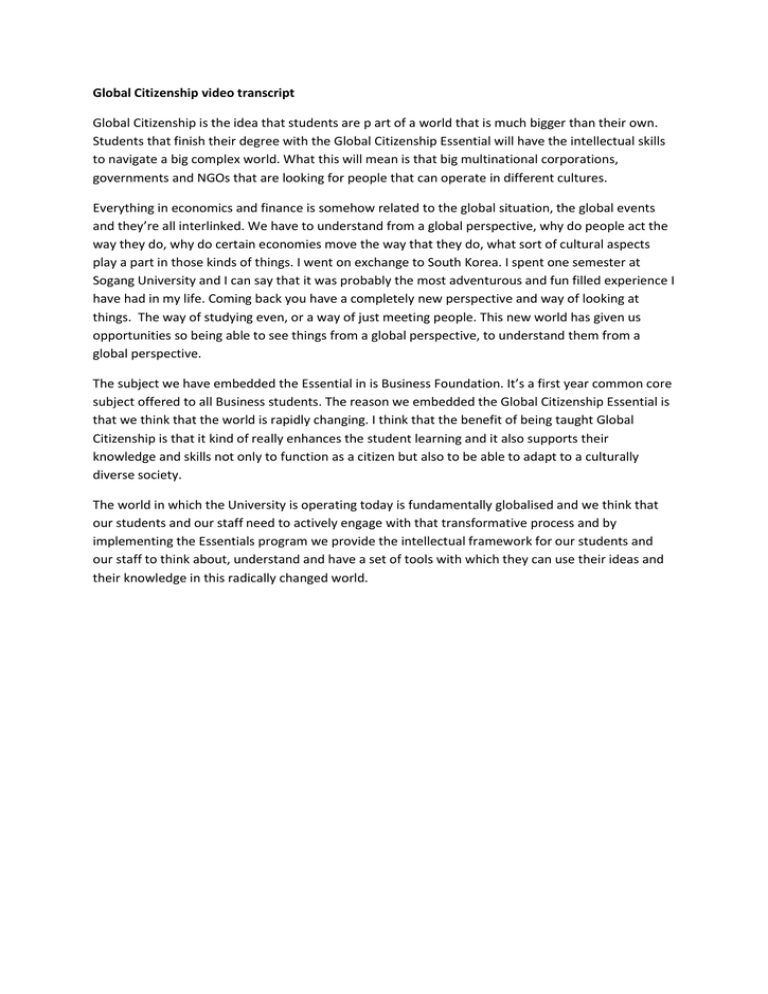 Global Citizenship video transcript
Global Citizenship is the idea that students are p art of a world that is much bigger than their own.
Students that finish their degree with the Global Citizenship Essential will have the intellectual skills
to navigate a big complex world. What this will mean is that big multinational corporations,
governments and NGOs that are looking for people that can operate in different cultures.
Everything in economics and finance is somehow related to the global situation, the global events
and they're all interlinked. We have to understand from a global perspective, why do people act the
way they do, why do certain economies move the way that they do, what sort of cultural aspects
play a part in those kinds of things. I went on exchange to South Korea. I spent one semester at
Sogang University and I can say that it was probably the most adventurous and fun filled experience I
have had in my life. Coming back you have a completely new perspective and way of looking at
things. The way of studying even, or a way of just meeting people. This new world has given us
opportunities so being able to see things from a global perspective, to understand them from a
global perspective.
The subject we have embedded the Essential in is Business Foundation. It's a first year common core
subject offered to all Business students. The reason we embedded the Global Citizenship Essential is
that we think that the world is rapidly changing. I think that the benefit of being taught Global
Citizenship is that it kind of really enhances the student learning and it also supports their
knowledge and skills not only to function as a citizen but also to be able to adapt to a culturally
diverse society.
The world in which the University is operating today is fundamentally globalised and we think that
our students and our staff need to actively engage with that transformative process and by
implementing the Essentials program we provide the intellectual framework for our students and
our staff to think about, understand and have a set of tools with which they can use their ideas and
their knowledge in this radically changed world.