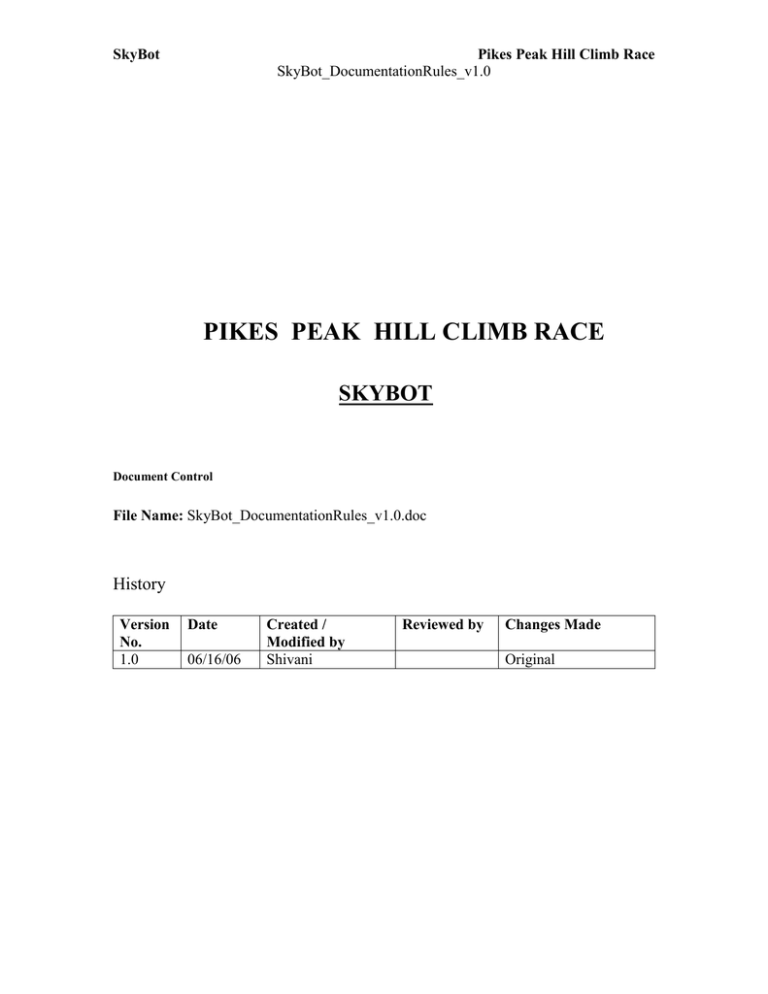 SkyBot
Pikes Peak Hill Climb Race
SkyBot_DocumentationRules_v1.0
PIKES PEAK HILL CLIMB RACE
SKYBOT
Document Control
File Name: SkyBot_DocumentationRules_v1.0.doc
History
Version
No.
1.0
Date
06/16/06
Created /
Modified by
Shivani
Reviewed by
Changes Made
Original
SkyBot
Pikes Peak Hill Climb Race
SkyBot_DocumentationRules_v1.0
Rules
1. Document Naming Convention :
TeamName_DocumentName_v'versionnumber'.
2. Common Template format : Maintain Header and Document Control Sections.
3. With-in Document :
a. Update the document control section.
b. If there is some extra material useful for understanding but not of direct
importance, put it in Appendix.
c. References have to given in the end and use [number] format for giving
the reference link.
Eg. The gravity-feed system has the fuel tank placed above the
carburetor. [1] Afloat attached to a valve allows fuel to enter the
carburetor at the same rate at which the engine is consuming it.
References:
[1] Hydrogen boosted Gasoline engine http://auto.consumerguide.com/Articles/index.cfm/act/featuredarticles/arti
cle/FA_HYDROGEN_BOOSTED_ENGINE.html
d. Naming Convention for Other Items :
i. Table 1 , 2 ..n
ii. Dig 1, 2, …n – for picture of engine parts etc.
iii. Figure 1, 2, …n - for statistical graphs and charts
e. State assumptions that you make while preparing the document. It will
help other Team Members to understand how some things are derived.
4. Tools to prepare documents :
a. Word
b. Excel
c. Visio – diagrams
5. Responsibility to upload the files lie which each Team Member but before
uploading the file in final destination, take a back-up and put the current file in
another folder.
DO NOT
1. Do not paste powerpoint slides.
2. Do not circulate any material for review which is uneditable.
3. Do not take a backup of the current working version of file on your local machine
alone.