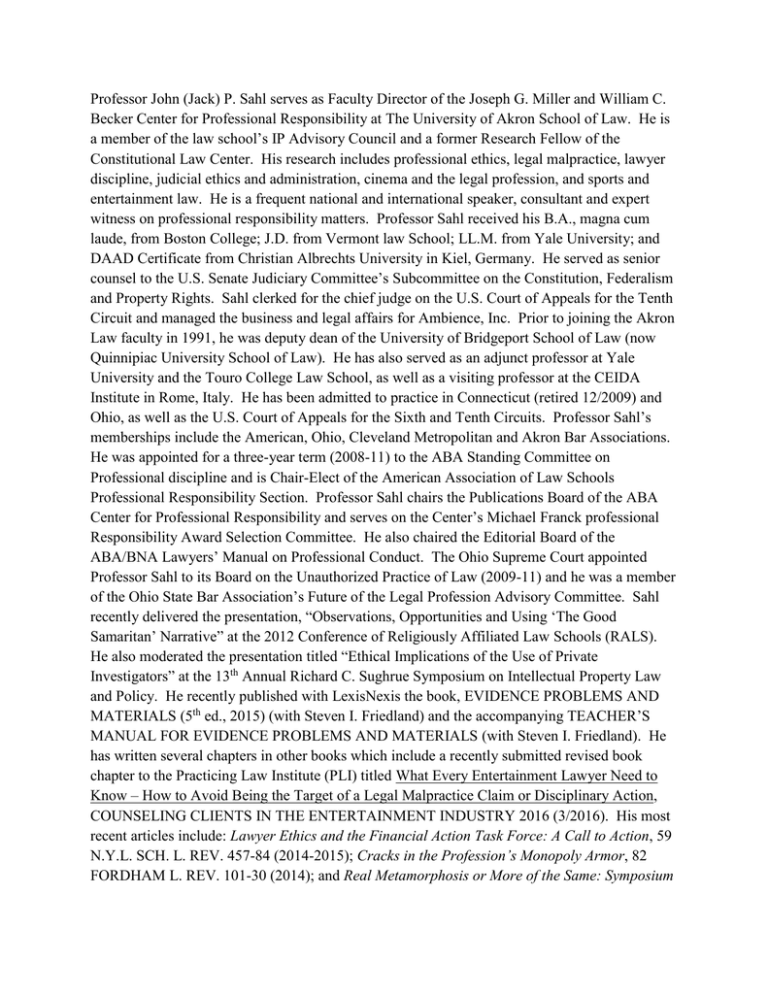 Professor John (Jack) P. Sahl serves as Faculty Director of the Joseph G. Miller and William C.
Becker Center for Professional Responsibility at The University of Akron School of Law. He is
a member of the law school's IP Advisory Council and a former Research Fellow of the
Constitutional Law Center. His research includes professional ethics, legal malpractice, lawyer
discipline, judicial ethics and administration, cinema and the legal profession, and sports and
entertainment law. He is a frequent national and international speaker, consultant and expert
witness on professional responsibility matters. Professor Sahl received his B.A., magna cum
laude, from Boston College; J.D. from Vermont law School; LL.M. from Yale University; and
DAAD Certificate from Christian Albrechts University in Kiel, Germany. He served as senior
counsel to the U.S. Senate Judiciary Committee's Subcommittee on the Constitution, Federalism
and Property Rights. Sahl clerked for the chief judge on the U.S. Court of Appeals for the Tenth
Circuit and managed the business and legal affairs for Ambience, Inc. Prior to joining the Akron
Law faculty in 1991, he was deputy dean of the University of Bridgeport School of Law (now
Quinnipiac University School of Law). He has also served as an adjunct professor at Yale
University and the Touro College Law School, as well as a visiting professor at the CEIDA
Institute in Rome, Italy. He has been admitted to practice in Connecticut (retired 12/2009) and
Ohio, as well as the U.S. Court of Appeals for the Sixth and Tenth Circuits. Professor Sahl's
memberships include the American, Ohio, Cleveland Metropolitan and Akron Bar Associations.
He was appointed for a three-year term (2008-11) to the ABA Standing Committee on
Professional discipline and is Chair-Elect of the American Association of Law Schools
Professional Responsibility Section. Professor Sahl chairs the Publications Board of the ABA
Center for Professional Responsibility and serves on the Center's Michael Franck professional
Responsibility Award Selection Committee. He also chaired the Editorial Board of the
ABA/BNA Lawyers' Manual on Professional Conduct. The Ohio Supreme Court appointed
Professor Sahl to its Board on the Unauthorized Practice of Law (2009-11) and he was a member
of the Ohio State Bar Association's Future of the Legal Profession Advisory Committee. Sahl
recently delivered the presentation, "Observations, Opportunities and Using 'The Good
Samaritan' Narrative" at the 2012 Conference of Religiously Affiliated Law Schools (RALS).
He also moderated the presentation titled "Ethical Implications of the Use of Private
Investigators" at the 13th Annual Richard C. Sughrue Symposium on Intellectual Property Law
and Policy. He recently published with LexisNexis the book, EVIDENCE PROBLEMS AND
MATERIALS (5th ed., 2015) (with Steven I. Friedland) and the accompanying TEACHER'S
MANUAL FOR EVIDENCE PROBLEMS AND MATERIALS (with Steven I. Friedland). He
has written several chapters in other books which include a recently submitted revised book
chapter to the Practicing Law Institute (PLI) titled What Every Entertainment Lawyer Need to
Know – How to Avoid Being the Target of a Legal Malpractice Claim or Disciplinary Action,
COUNSELING CLIENTS IN THE ENTERTAINMENT INDUSTRY 2016 (3/2016). His most
recent articles include: Lawyer Ethics and the Financial Action Task Force: A Call to Action, 59
N.Y.L. SCH. L. REV. 457-84 (2014-2015); Cracks in the Profession's Monopoly Armor, 82
FORDHAM L. REV. 101-30 (2014); and Real Metamorphosis or More of the Same: Symposium
Introduction: Navigating the Practice of Law in the Wake of Ethics 20/20 – Globalization, New
Technologies and What It Means to be a Lawyer in these Uncertain Times, 47 AKRON L. REV.
1-29 (2014).