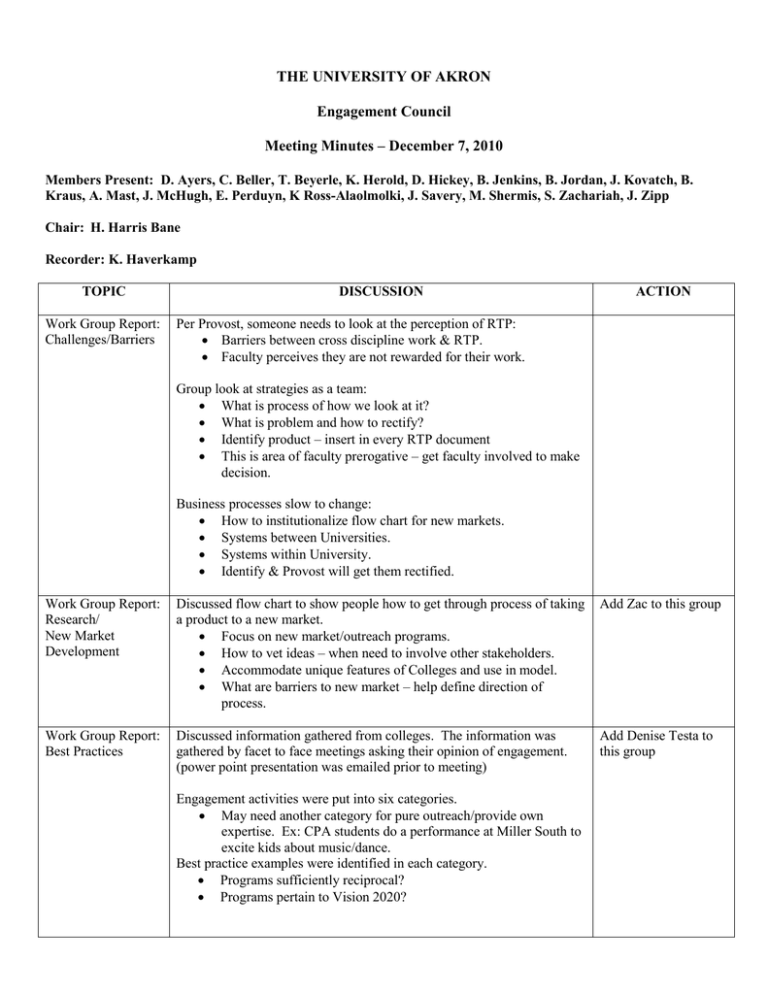 THE UNIVERSITY OF AKRON
Engagement Council
Meeting Minutes – December 7, 2010
Members Present: D. Ayers, C. Beller, T. Beyerle, K. Herold, D. Hickey, B. Jenkins, B. Jordan, J. Kovatch, B.
Kraus, A. Mast, J. McHugh, E. Perduyn, K Ross-Alaolmolki, J. Savery, M. Shermis, S. Zachariah, J. Zipp
Chair: H. Harris Bane
Recorder: K. Haverkamp
TOPIC
Work Group Report:
Challenges/Barriers
DISCUSSION
ACTION
Per Provost, someone needs to look at the perception of RTP:
 Barriers between cross discipline work & RTP.
 Faculty perceives they are not rewarded for their work.
Group look at strategies as a team:
 What is process of how we look at it?
 What is problem and how to rectify?
 Identify product – insert in every RTP document
 This is area of faculty prerogative – get faculty involved to make
decision.
Business processes slow to change:
 How to institutionalize flow chart for new markets.
 Systems between Universities.
 Systems within University.
 Identify & Provost will get them rectified.
Work Group Report:
Research/
New Market
Development
Discussed flow chart to show people how to get through process of taking
a product to a new market.
 Focus on new market/outreach programs.
 How to vet ideas – when need to involve other stakeholders.
 Accommodate unique features of Colleges and use in model.
 What are barriers to new market – help define direction of
process.
Add Zac to this group
Work Group Report:
Best Practices
Discussed information gathered from colleges. The information was
gathered by facet to face meetings asking their opinion of engagement.
(power point presentation was emailed prior to meeting)
Add Denise Testa to
this group
Engagement activities were put into six categories.
 May need another category for pure outreach/provide own
expertise. Ex: CPA students do a performance at Miller South to
excite kids about music/dance.
Best practice examples were identified in each category.
 Programs sufficiently reciprocal?
 Programs pertain to Vision 2020?
Best practice characteristics were identified.
 What are characteristics of relationship if want program to count
as engagement?
 Consistent assessment – Community partner involved in
assessment, ongoing assessment & adjustment.
 How do partners value what we are doing?
Amy Mast send link
from HLC – see
criteria 5.
Questions generated at meeting:
 How do we make sure program is institutionalized? – is it selfsustaining/embedded into whole system?
 What are the priority strategic partnerships based on Vision
2020?
 How do we help stimulate economic development & well being
of economy? – we need indicators if we are going to drive
economic development.
 Is all engagement equal? – Some engagement is a priority based
on the point & time.
Should we have a campus wide conversation?:
 What is UA's definition of Engagement within parameters of
Vision 2020?
 What process/mechanisms need to be in place to institutionalize
engagement initiatives?
 Should there be a repository with access for internal & external
people? If yes:
 What is the purpose
 What would it look like
 How often & what mechanisms use to update
Look at other Carnegie engaged schools – how do they list engagement
activities
Look at Characteristics from PowerPoint – what are unique to UA and
distinguishes us as an engaged university (Vision 2020).
Curricular
Engagement Survey
John will pilot survey with Engagement Council in January. Survey
scheduled to go to campus faculty in February. The survey will not
include an assessment question, but it will identify faculty so an
assessment follow-up can be done after survey is complete.
Announcement
ABIA Women Entrepreneurship Program is in the pilot stage. Science
teams and Law teams will work together.
COB is looking for applicants to the program – graduate students, faculty,
and/or industry. Applicants need to be adept in their field.
Contact Corrine Beller
for more information.