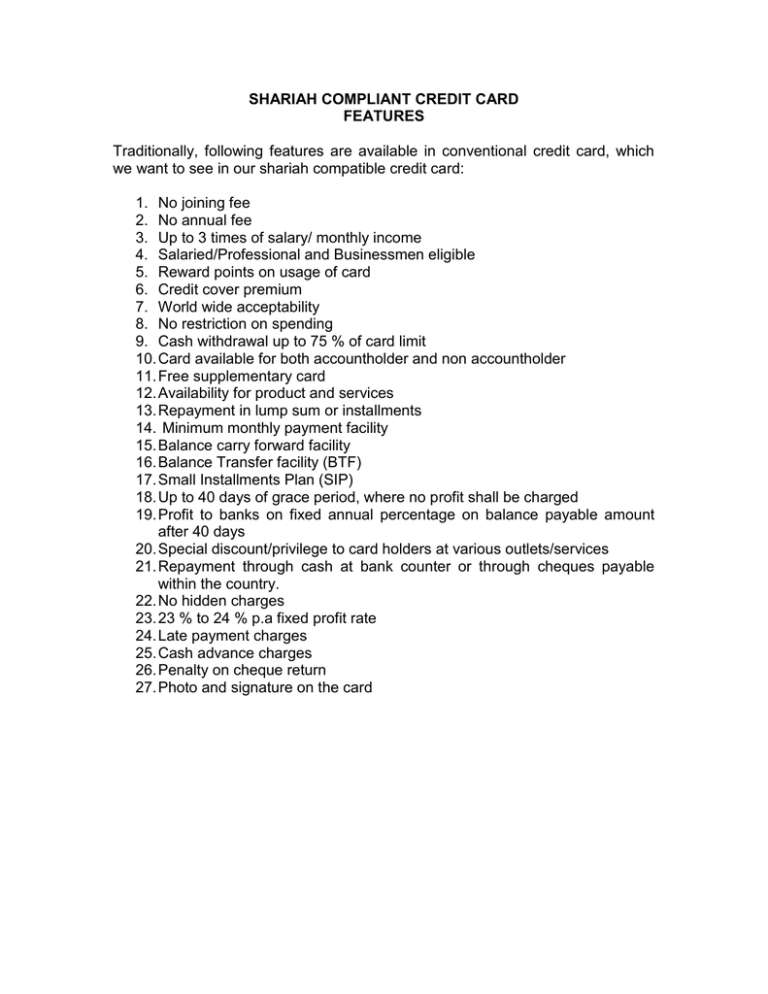 SHARIAH COMPLIANT CREDIT CARD
FEATURES
Traditionally, following features are available in conventional credit card, which
we want to see in our shariah compatible credit card:
1. No joining fee
2. No annual fee
3. Up to 3 times of salary/ monthly income
4. Salaried/Professional and Businessmen eligible
5. Reward points on usage of card
6. Credit cover premium
7. World wide acceptability
8. No restriction on spending
9. Cash withdrawal up to 75 % of card limit
10. Card available for both accountholder and non accountholder
11. Free supplementary card
12. Availability for product and services
13. Repayment in lump sum or installments
14. Minimum monthly payment facility
15. Balance carry forward facility
16. Balance Transfer facility (BTF)
17. Small Installments Plan (SIP)
18. Up to 40 days of grace period, where no profit shall be charged
19. Profit to banks on fixed annual percentage on balance payable amount
after 40 days
20. Special discount/privilege to card holders at various outlets/services
21. Repayment through cash at bank counter or through cheques payable
within the country.
22. No hidden charges
23. 23 % to 24 % p.a fixed profit rate
24. Late payment charges
25. Cash advance charges
26. Penalty on cheque return
27. Photo and signature on the card
MIDDLE EAST BANKS
OFFERING CREDIT CARDS
Below are Middle East banks providing shariah compliant credit cards to its
customers:
National Commercial Bank (NCB)
He added that this promotional offer is considered the first of its kind ever
launched by the banks in the kingdom; hence it embodies the bank motto "One
Family, One Bank, One Dream." He indicated that the first way to benefit from
this special offer was to present the customers credit cards designed in
compliance to Islamic principles. It is the only credit card in the world,
which allows its customers to pay the value of their merchandise in
accordance to the principles of "Tawaruq" sales. He indicated that the card
enjoys many advantages, one of which is its acceptance by more than 24 million
signatures in the world. It also enables its holders the ability to withdraw an
advance and adds insurance services, which cover travel and purchases.
Emirates Islamic Bank offers credit card
Emirates Islamic Bank (EIB) has launched three fully-featured Islamic credit cards.
The products have been approved by the bank's Sharia'h board and offers
convenient and flexible payment terms and an affordable and practical fee
structure, which means using the card can offer substantial savings over most
interest-bearing conventional credit cards.
"The launch of EIB's credit cards marks a new beginning for the credit card industry in
the UAE, where we believe our card will fill a large and growing need within the credit
card industry. These cards are an excellent alternative to conventional credit cards," says
Abdulelah Alkindsy, head of retail banking, EIB.
"The EIB credit card is a solution both for Muslims looking for an Islamic credit card that
offers modern shopping and payment conveniences and non-Muslims who are looking
for an alternative to interest-bearing products that are prevalent among conventional
cards. This is part of our continuous effort to provide our customers with Sharia'h
compliant an innovative financial solutions," he adds.
Cardholders pay a fixed annual fee on a quarterly basis instead of one lump sum payment
upfront, this way, each fee is more affordable to the cardholder.
NBD CREDIT CARDS – YOU JUST CAN'T LOSE!
National Bank of Dubai credit card holders now have a chance to strike it rich! The
Bank's latest promotion in collaboration with Emirates Post allows new and existing
credit card customers to qualify for Scratch & Win instant prizes, weekly prizes and a
grand prize of AED 1 million. To top it all, four lucky customers will drive away luxury
cars!
The promotion, which will run for one year following its launch on July 9, 2005, will
offer NBD's new fee paying credit card holders 2 Post Card Millionaire Packs each
containing four prepaid post cards plus a Raffle Coupon which will allow them to
participate in the prize offerings. As for existing credit card customers, their eligibility to
take part in this exciting new promotion will be determined by their spending AED 1,500
or more per month during the promotion period.
"With the unique proposition and attractive rewards this promotion offers a whole new
world for existing and potential NBD credit card holders. We are delighted to provide our
customers with such exclusive value offerings," said Abdulfattah Sharaf, Head of Cards
Business, National Bank of Dubai.
For every 'Scratch & Win' coupon received, winners will be rewarded with a new mobile
phone or Air miles or instant cash prizes. Customers will also have a chance to win cash
prizes of AED 100,000 in the weekly draws as well as participate in the grand prize draw
of AED 1 million at the end of the year-long promotion. Furthermore, each quarter, NBD
will give away one luxury Mercedes car to one of the luckiest eligible NBD credit
cardholder.
SMART CREDIT CARD
Smart Credit Card from Saudi Hollandi Bank is unique like a human fingerprint. It is the
first Smart Card in the Kingdom. The Smart Card holder enjoys unrivaled security
features coupled with other privileges such as discounts at selected shops and reward
points attainable from SHB whenever you use your Smart Card for payment of your
purchases.
Abu Dhabi Islamic Bank (ADIB)
Abu Dhabi Islamic Bank (ADIB) unveiled their new, exciting Shari'a compliant
covered card at a press conference held in Abu Dhabi on Sunday, July 4, 2004. This
revolutionary new card is a fully fledged alternative to the conventional credit card
and offers all the services of a standard conventional credit card with one additional
major benefit – it is an Islamic card and meets all Sharia'a rules and regulations.
The ADIB covered card gives its holders the freedom of usage, convenience and security
in addition to payment flexibility.
Now Muslims (and non-Muslims) will be able to have all of the financial freedom a
credit card brings while adhering to Islamic shari'a. Until today, most cards offered by
Islamic institutions were in fact charge cards, forcing customers to settle the full
outstanding balance on their monthly statement. ADIB's covered card allows the
customer to carry the balance forward, paying it in monthly installments.
'Emphasizing our commitment to the development of the Islamic banking industry we
introduce a product that complies with Islamic Shari'a while offering the benefits of a
conventional credit card. ADIB has, after years of research by bankers and Islamic
scholars alike, finally been able to develop a comprehensive Islamic alternative to the
credit card. We are extremely excited about this new product.' announced Mr. Abdul
Aziz Al Mehairi, Acting CEO of Abu Dhabi Islamic Bank.
The ADIB covered card will also offer the additional benefits associated with
conventional credit cards such as travel insurance and a purchase protection programme
for all purchases made using the card.
Mr. Abdul Aziz Al Mehairi, reaffirmed ADIB's commitment to introducing innovative
banking products that suit the requirements of its customers. 'Credit card usage is
increasing rapidly in the UAE and the rest of the Middles East and we wanted to offer our
valued customers a Sharia'a compliant card that meets their needs and expectations. The
ADIB covered card is one of many Islamic banking services and innovations that we
offer our clients and we are committed to developing additional cutting-edge banking
products, raising the bar for Islamic banking across the globe.'
SABB launches new Tawaruq personal finance
The Saudi British Bank (SABB) has introduced a new product from Amanah Islamic
financial solution "Amanah Personal Finance", to provide straightforward finance for
individuals (Saudis and Expatriates), with a minimum basic salary of SAR3,000, and to
self-employed people maintaining minimum average balance.
Commenting on the launch, Sulaiman Al Hamdan, SABB Deputy Managing Director
said: "We are proud to be the first bank to provide this service to its customers. In line
with our "Customer First" strategy, the new product is a key part to meet the demands of
our customers in a Shariah's compliant way.
It is worth mentioning that SABB landed many awards and scored many successes on
both local and international levels. Those achievements are attributed to SABB's
commitment to customer services and to the innovative programmes, projects and a wide
array of services to meet customers' requirements. The successes achieved over the past
years enabled SABB to win "Best Equities House in the Kingdom of Saudi Arabia for
2005" by the Euromoney Magazine. Also Standard & Poor's, one of the world's leading
credit rating agencies had assigned a rating of (A-) to The Saudi British Bank.