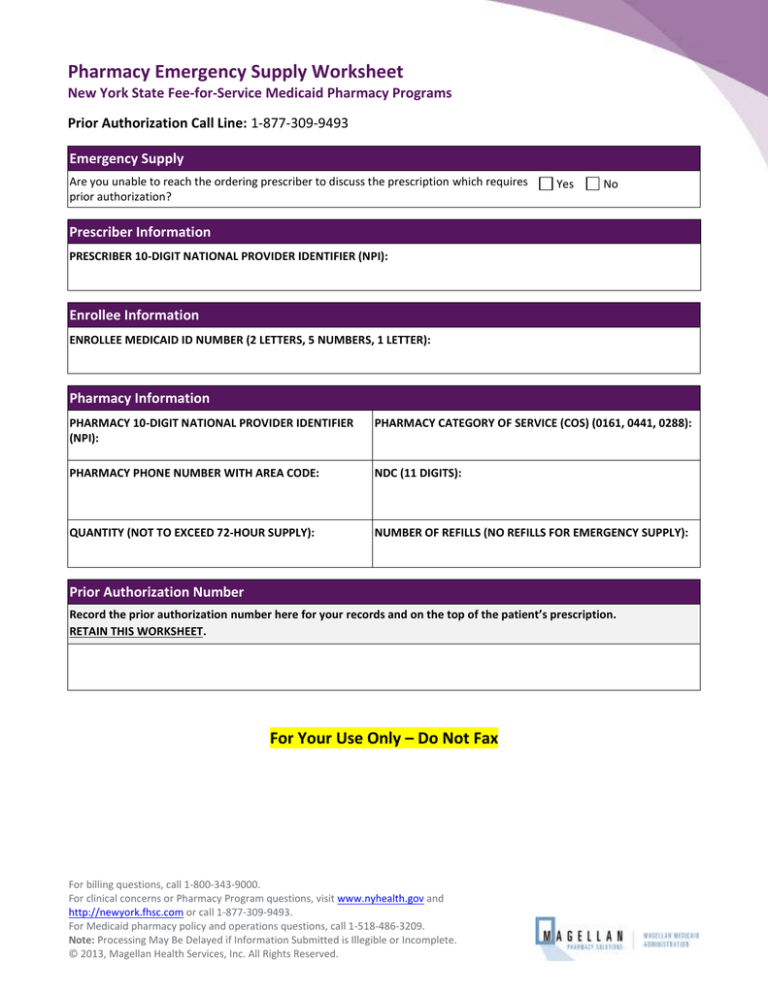 Pharmacy Emergency Supply Worksheet
New York State Fee-for-Service Medicaid Pharmacy Programs
Prior Authorization Call Line: 1-877-309-9493
Emergency Supply
Are you unable to reach the ordering prescriber to discuss the prescription which requires
prior authorization?
Yes
No
Prescriber Information
PRESCRIBER 10-DIGIT NATIONAL PROVIDER IDENTIFIER (NPI):
Enrollee Information
ENROLLEE MEDICAID ID NUMBER (2 LETTERS, 5 NUMBERS, 1 LETTER):
Pharmacy Information
PHARMACY 10-DIGIT NATIONAL PROVIDER IDENTIFIER
(NPI):
PHARMACY CATEGORY OF SERVICE (COS) (0161, 0441, 0288):
PHARMACY PHONE NUMBER WITH AREA CODE:
NDC (11 DIGITS):
QUANTITY (NOT TO EXCEED 72-HOUR SUPPLY):
NUMBER OF REFILLS (NO REFILLS FOR EMERGENCY SUPPLY):
Prior Authorization Number
Record the prior authorization number here for your records and on the top of the patient's prescription.
RETAIN THIS WORKSHEET.
For Your Use Only – Do Not Fax
For billing questions, call 1-800-343-9000.
For clinical concerns or Pharmacy Program questions, visit www.nyhealth.gov and
http://newyork.fhsc.com or call 1-877-309-9493.
For Medicaid pharmacy policy and operations questions, call 1-518-486-3209.
Note: Processing May Be Delayed if Information Submitted is Illegible or Incomplete.
© 2013, Magellan Health Services, Inc. All Rights Reserved.