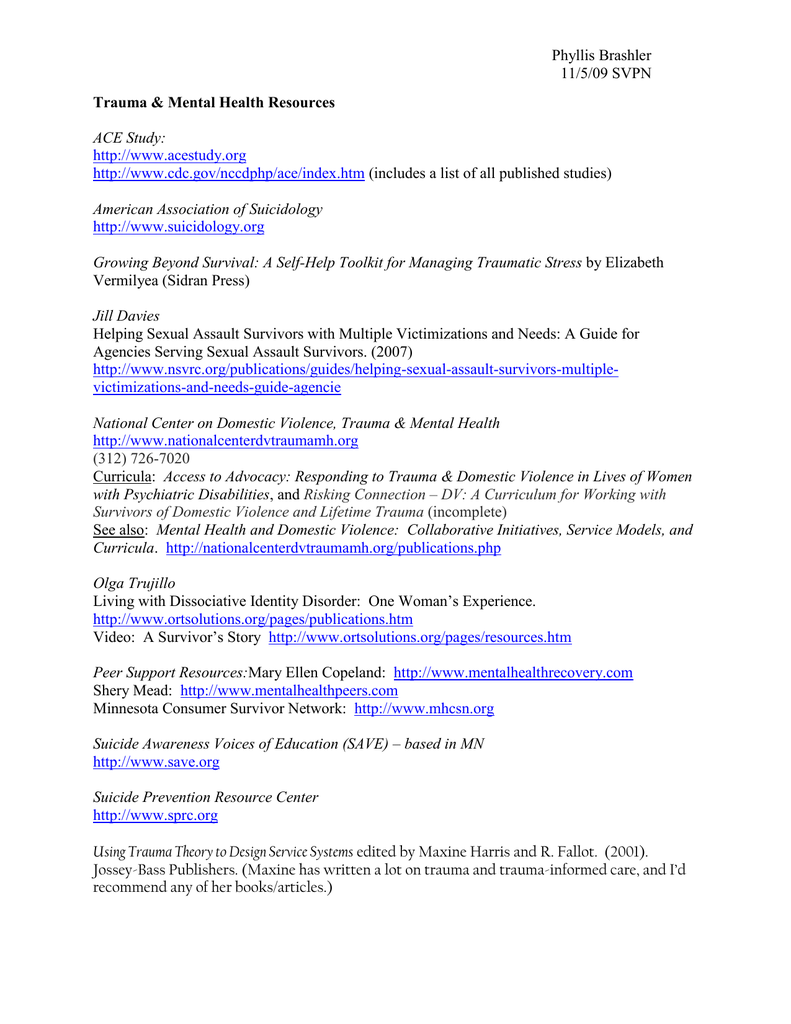 Phyllis Brashler
11/5/09 SVPN
Trauma & Mental Health Resources
ACE Study:
http://www.acestudy.org
http://www.cdc.gov/nccdphp/ace/index.htm (includes a list of all published studies)
American Association of Suicidology
http://www.suicidology.org
Growing Beyond Survival: A Self-Help Toolkit for Managing Traumatic Stress by Elizabeth
Vermilyea (Sidran Press)
Jill Davies
Helping Sexual Assault Survivors with Multiple Victimizations and Needs: A Guide for
Agencies Serving Sexual Assault Survivors. (2007)
http://www.nsvrc.org/publications/guides/helping-sexual-assault-survivors-multiplevictimizations-and-needs-guide-agencie
National Center on Domestic Violence, Trauma & Mental Health
http://www.nationalcenterdvtraumamh.org
(312) 726-7020
Curricula: Access to Advocacy: Responding to Trauma & Domestic Violence in Lives of Women
with Psychiatric Disabilities, and Risking Connection – DV: A Curriculum for Working with
Survivors of Domestic Violence and Lifetime Trauma (incomplete)
See also: Mental Health and Domestic Violence: Collaborative Initiatives, Service Models, and
Curricula. http://nationalcenterdvtraumamh.org/publications.php
Olga Trujillo
Living with Dissociative Identity Disorder: One Woman's Experience.
http://www.ortsolutions.org/pages/publications.htm
Video: A Survivor's Story http://www.ortsolutions.org/pages/resources.htm
Peer Support Resources:Mary Ellen Copeland: http://www.mentalhealthrecovery.com
Shery Mead: http://www.mentalhealthpeers.com
Minnesota Consumer Survivor Network: http://www.mhcsn.org
Suicide Awareness Voices of Education (SAVE) – based in MN
http://www.save.org
Suicide Prevention Resource Center
http://www.sprc.org
Using Trauma Theory to Design Service Systems edited by Maxine Harris and R. Fallot. (2001).
Jossey-Bass Publishers. (Maxine has written a lot on trauma and trauma-informed care, and I'd
recommend any of her books/articles.)
Phyllis Brashler
11/5/09 SVPN
Research Bibliography
Bendall et al. 2008. Childhood Trauma and Psychotic Disorders: a Systematic, Critical Review
of the Evidence. Schizophrenia Bulletin 34(3), 568–579
Briere et al., 1997. Lifetime victimization history, demographics, and clinical status in female
psychiatric emergency room patients. Journal of Nervous and Mental Disease 185, 95-101.
Cusack et al. 2006. Unrecognized trauma and PTSD among public mental health consumers
with chronic and severe mental illness. Community Mental Health Journal 42(5), 487-500.
Dickinson, et al. 1999. Health-related quality of life and symptom profiles of female survivors
of sexual abuse. Archives of Family Medicine 8(1), 35-43.
Edwards, et al. 2003. Relationship between multiple forms of childhood maltreatment and adult
mental health in community respondents: Results from the adverse childhood experiences study.
American Journal of Psychiatry 160(8), 1453-1460.
Felitti, et al. 1998. Relationship of childhood abuse and household dysfunction to many of the
leading causes of death in adults: The Adverse Childhood Experiences (ACE) Study. American
Journal of Preventive Medicine 14(4), 245-258.
Goodman et al, 1995. Episodically homeless women with serious mental illness: Prevalence of
physical and sexual assault. American Journal of Orthopsychiatry 65(4), 468-78.
Koss, M. P. (2003). Depression and PTSD in survivors of male violence: Research and training
initiatives to facilitate recovery. Psychology of Women Quarterly 27(2), 130-42.
Lipschitz et al. 1996. Prevalence and characteristics of physical and sexual abuse among
psychiatric outpatients. Psychiatric Services 47(2), 189-191.
Lombardo & Pohl. 1997. Sexual abuse history of women treated in a psychiatric outpatient
clinic. Psychiatric Services 48(4), 534-536.
McFarlane et al. 2005. Intimate partner sexual assault against women: Frequency, health
consequences, and treatment outcomes. Obstetrics and Gynecology 105(1), 99-108.
Neria, et al. 2002. Trauma exposure and posttraumatic stress disorder in psychosis: Findings
from a first-admission cohort. Journal of Consulting and Clinical Psychology 70(1), 246-251.
Teplin et al 2005. Crime victimization in adults with severe mental illness: comparison with the
National Crime Victimization Survey. Archives of General Psychiatry 62(8), 825-6.
Ullman, S. E. 2004. Sexual assault victimization and suicidal behavior in women: A review of
the literature. Aggression and Violent Behavior 9, 331-51.
Phyllis Brashler
11/5/09 SVPN
Ullman, S. E., and L. R. Brecklin. 2002. Sexual assault history and suicidal behavior in a
national sample of women. Suicide and Life-Threatening Behavior 32, 117-130.
Van der Kolk et al, 1996. Traumatic stress: The effects of overwhelming experience on mind,
body, and society. New York: Guilford Press.
Walsh, B. 2005. Treating self-injury: A practical guide. New York: Guilford.
Warshaw, C., P. Brashler, and J. Gill. 2009. Mental health consequences of intimate partner
violence. In C. Mitchell (Ed.), Intimate partner violence: A health-based perspective. New
York: Oxford University Press.