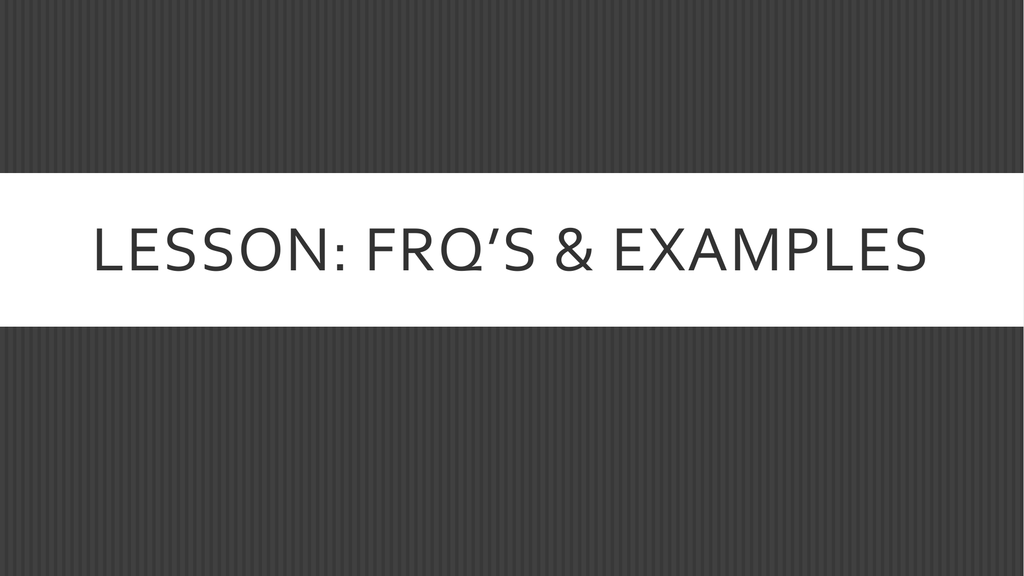 LESSON: FRQ'S & EXAMPLES
THE STUDENT WILL BE ABLE TO…
 Explain concepts using examples.
FREE RESPONSE QUESTIONS
We've been talking about, and will continue to talk
about FRQ's.
Keep in mind these are 35% of your grade and 50% of
the AP test in May.
We're breaking up the questions and how to respond to
it.
Want more? Google "College Board AP Human FRQ's"
and go to the College Board website for examples of
past questions!
EXAMPLES ARE OUR FRIENDS
 Even if a question doesn't ask for an example; you should always
include it as a safety net OR sometimes the rubric includes a point for
an example, even if it's not stated.
 Always make your first example your strongest; it doesn't have to be
long, but it needs to be SPECIFIC.
 What does specific mean?
 Nouns. (Names a person, place, or thing). Even better if it has a capital
letter. Example: A country. Better example: Peru
 More often than not, I won't count an example unless it's specific.
 It also needs to be non-fictional (so real, change everything in Things Fall
Apart to Nigeria.
EXAMPLES OF EXAMPLES
 "An area on earth that is defined by one or more distinctive
characteristics is a region" (That's just me giving you a definition right
now)
 Example: Carnegie Vanguard is a region (TS) because it is a formal
group of houses and businesses set together on a Houston city map
with a shared name (CD).
 My example has a TS  this is the part that answers the question of what
is an example of a region. It is specific, meaning it is a proper name (best
example).
 My examples has a CD  this is the part that ties it to the definition in
how it meets the definition.
LET'S TRY AGAIN…THIS TIME KIND OF LIKE A
QUESTION….
Discuss a formal region.
Abridged Answer: A formal region is an area within which
everyone shares in a common or more distinctive
characteristic. (Make sure you're doing your operator verb)
Example: The Montrose neighborhood is an example of a
formal region (TS) because of land surveying by the city of
Houston that gives clear boundaries (CD).
+1 OF EXAMPLES
 Always use your best example first, then do your best to also give a
second example in FRQ's.
 Make sure your second example is DIFFERENT and can stand alone from
your first example.
 Example: The Montrose neighborhood is an example of a formal
region that has uniformity (TS), because it is seen as wealthy, even
though it has some lower income families (CD).
 Note: Remember the prompt discuss? it actually has you present two
sides of an issue).
AGAIN! LET'S JUST DO ONE MORE…
 Example: An example of a functional region (TS) is a Wi-Fi hotspot because the
signal is organized outward from the center receiver (CD).
 Note: Essentially, your example is showing that you know what the definition of the
term is because you're identify how it is used.
 Remember:
 Specific as possible! Technology vs. Computers
 Must be REAL, can't use Disney.
 This is what you're doing on Friday's; you're reading articles so you have ideas of
examples that you can apply. The submission on Friday's is just ONE example from
the article's you've read. Make sure you have a TS and a CD; with the CD tying
directly back to the portion of the definition it applies to!!