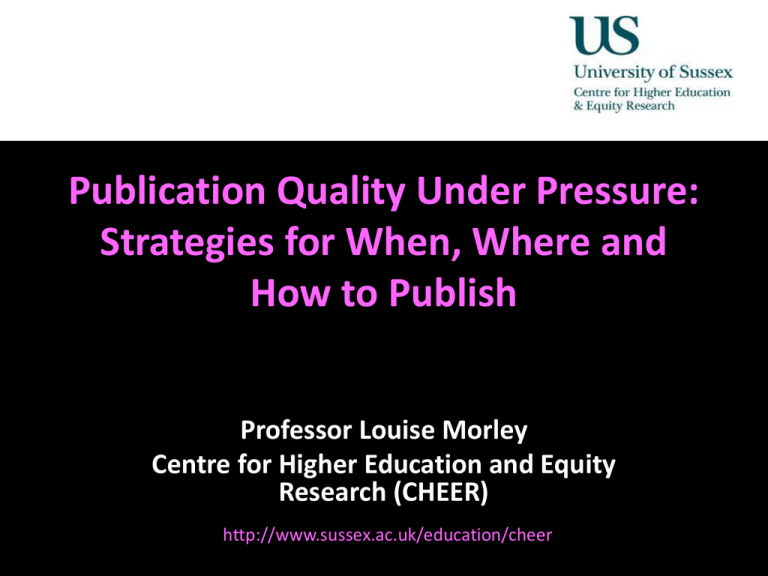 Diversity, Democratisation and Difference: Theories and Methodologies
Publication Quality Under Pressure:
Strategies for When, Where and
How to Publish
Professor Louise Morley
Centre for Higher Education and Equity
Research (CHEER)
http://www.sussex.ac.uk/education/cheer
Main Messages
Publications - prioritise and aim for papers in top
quality journals
Plan - papers for review/ identify and communicate
research support needs/ aspirations via mentoring/
appraisal
Protect - research time/ writing space; aim for
balance between research bidding and writing papers
Promote - network, present conference papers, join
learned societies.
Persevere - re-submit, re-cycle e.g. failed bids into
journal papers.
Nothing stinks like a pile of
unpublished writing
(Sylvia Plath, quoted in Newman, 1971: 168)
Affective Dimensions of Writing
What
•
•
•
•
•
Intrigues
Inspires
Annoys
Confuses
Excites
You?
• What thoughts
go through
your head
when you
write/ think
about writing?
Why/For Whom are you Writing?
• REF
• Appointments/Pr
omotion
• Particular journal
• Community of
Practice
• Media
• Policymakers
• Know your
Audience/Sta
keholders/Ge
nre.
• Network
• Investigate
What is your Intellectual Project?
• Find your focus
• What messages
do you wish to
convey to the
world?
• Two minutes to
tell someone
what is
important about
your work
• What would you
say?
Your Writing Process
• When?
• How?
• What
impedes/
enables you?
• Clear quality
time and space
• Share your
drafts/ get
feedback
• Writing buddy?
• Co-write
• Be systematic!
Be Creative!
What you write
• Theoretically
provocative
• Contemporary
concerns/
capture the
zeitgeist
• Policy relevance
Keep Going!
• We all have an
elephant inside
us but give birth
to a mouse!