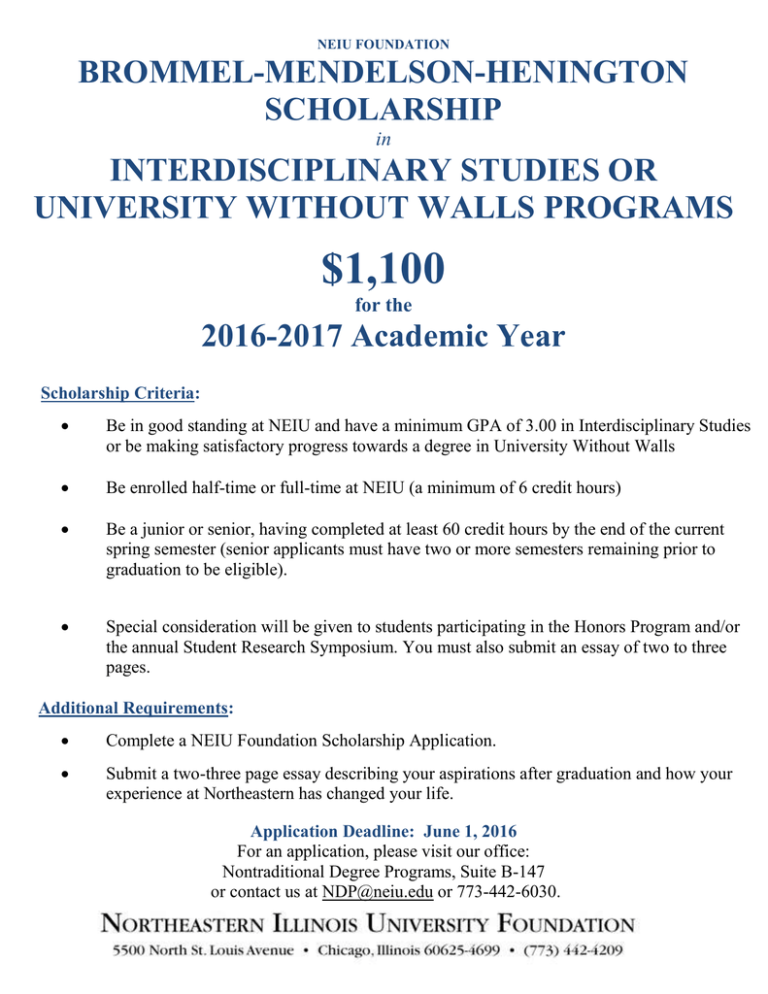 NEIU FOUNDATION
BROMMEL-MENDELSON-HENINGTON
SCHOLARSHIP
in
INTERDISCIPLINARY STUDIES OR
UNIVERSITY WITHOUT WALLS PROGRAMS
$1,100
for the
2016-2017 Academic Year
Scholarship Criteria:

Be in good standing at NEIU and have a minimum GPA of 3.00 in Interdisciplinary Studies
or be making satisfactory progress towards a degree in University Without Walls

Be enrolled half-time or full-time at NEIU (a minimum of 6 credit hours)

Be a junior or senior, having completed at least 60 credit hours by the end of the current
spring semester (senior applicants must have two or more semesters remaining prior to
graduation to be eligible).

Special consideration will be given to students participating in the Honors Program and/or
the annual Student Research Symposium. You must also submit an essay of two to three
pages.
Additional Requirements:

Complete a NEIU Foundation Scholarship Application.

Submit a two-three page essay describing your aspirations after graduation and how your
experience at Northeastern has changed your life.
Application Deadline: June 1, 2016
For an application, please visit our office:
Nontraditional Degree Programs, Suite B-147
or contact us at [email protected] or 773-442-6030.