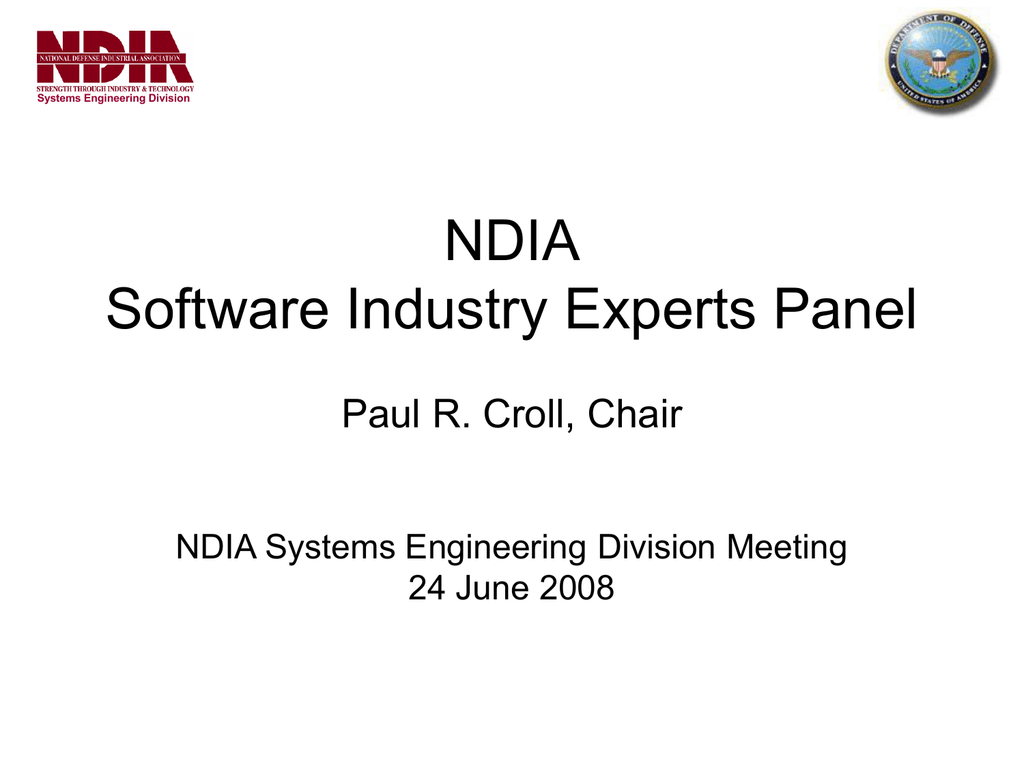 Systems Engineering Division
NDIA
Software Industry Experts Panel
Paul R. Croll, Chair
NDIA Systems Engineering Division Meeting
24 June 2008
Systems Engineering Division
●
●
●
●
Who We Are
The NDIA Software Industry Experts Panel acts as a "voice of
industry" in matters relating to DoD software issues
The Panel helps identify and resolve software acquisition and
development issues facing the industry and its Government customer
base
The Panel may also, from time to time, identify for investigation
certain technologies or practices that promise to improve industry
responsiveness to DoD needs.
Members
–
–
–
–
–
–
–
–
Paul Croll, CSC, Chair
JoAn Ferguson, General Dynamics
Gary Hafen, Lockheed Martin
Blake Ireland, Raytheon
Al Mink, SRA International
Ken Nidiffer, SEI
Shawn Rahmani, Boeing
Rick Selby, Northrop Grumman
2
Systems Engineering Division
●
●
●
●
What We Do
Investigate, analyze, and develop recommendations
concerning software issues, in response to NDIA
and Government requests
Provide industry comments on Government
positions, initiatives, or work products
Develop industry white papers and position papers
Reach out to relevant stakeholders through NDIA
conferences and other venues as appropriate
3
Systems Engineering Division
●
●
Software In Acquisition Spring
Workshop 2008
The purpose of this workshop was to be a "touch point" for the
actions that resulted from the SSA annual software workshop
in October of last year
Review of issues and recommendations in each of the areas
covered under the October workshop:
– Requirements
– Risk/Cost
– Quality Attributes
●
Three Working Groups
– Software Requirements
– Software Risk and Estimation
– Software Quality Attributes
●
Objectives For Each Working Group
– Task Statements
– Deliverables
– Schedule
4
Systems Engineering Division
●
●
Outcome
Knit Together Selected "Big Ideas" into Unified
Proposed Initiative:
Leveraging Competitive Prototyping through
Acquisition Initiatives in Integrated Systems and
Software Requirements, Risk, Estimation, and
Quality
5
Systems Engineering Division
●
●
●
●
●
●
Task Definition
Task 1: Conduct surveys and interviews of leading software
professionals (government, industry, academia) to gather ideas,
assess impacts, and sense expectations for Competitive Prototyping
Task 2: Provide amplification of Competitive Prototyping memo for
integrated SE/SW, [including where in the lifecycle there are
opportunities for Competitive Prototyping [and how they can be
contractually achieved]
Task 3:Identify first adopters of Competitive Prototyping and facilitate
and gather insights on effective usage, including collecting and
analyzing data
Task 4: Develop guidance for early selection and application of
integrated SE/SW quality systems for Competitive Prototyping [for
RFP-authors]
Task 5: Develop Software Engineering Handbook for Competitive
Prototyping including material explicitly targeted to different audiences
(acquirer, supplier, etc.).
Task 6: Develop training assets (materials, competencies, skill sets,
etc.) that capture best-of-class ideas/practices for Competitive
Prototyping
6
Systems Engineering Division
●
Competitive Prototyping Survey
Purpose
– "To gather recommendations, assess impacts, and sense
expectations for Competitive Prototyping" from key members of
government, industry, and academia
●
●
Conducted by the Center for Systems and Software
Engineering (CSSE), at the University of Southern California
(USC)
The domain of interest for the survey and interviews comprise
those projects that are considered large-scale "softwareintensive systems" (SiS)
– Systems for which software is a principal and defining component
– Where software likely represents the key source of technological
and programmatic risk in its development
– The software development costs of projects of interest should be
valued at $100 million, or higher
7
Systems Engineering Division
●
OUSD(AT&L)/SSE-USC/CSSE CP
Workshop
OUSD(AT&L)/SSE-USC/CSSE Workshop on
Integrating Systems and Software Engineering
under Competitive Prototyping with the Incremental
Commitment Model
– Washington, DC, July 14-17, 2008
●
Discussion of the way forward from the survey
through the remainder of the tasks
8
Systems Engineering Division
Questions?