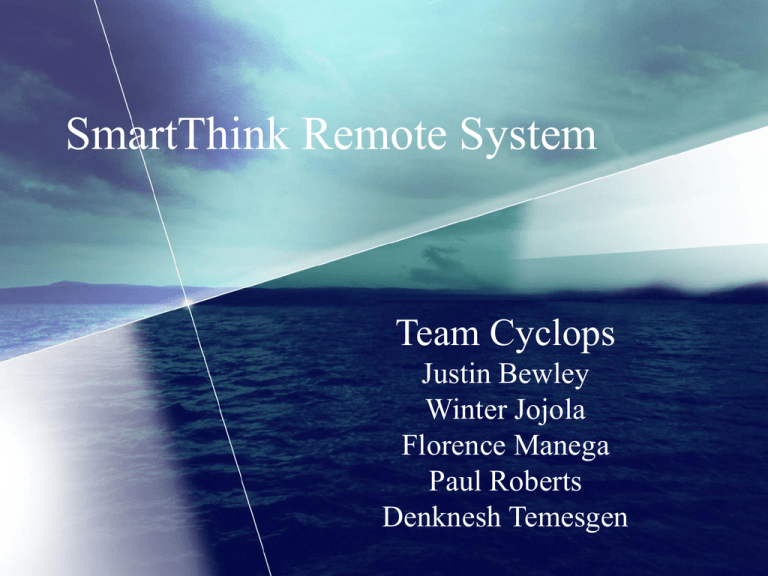 SmartThink Remote System
Team Cyclops
Justin Bewley
Winter Jojola
Florence Manega
Paul Roberts
Denknesh Temesgen
Background
•
•
•
•
Imagine opening the door with a
wink
Imagine turning on the light with a
simple blink
Finally, Imagine controlling an
object by merely looking at it.
Imagine the SmartThink Remote
System
Introduction
• SmartThink Remote System is
primarily designed for people with
disabilities that inhibit them from
performing complex tasks, such as,
opening a door, turning on a
television set, or turning on a light.
Conceptual Design
• Given a room with various objects,
depending on the direction the user is
facing and the line of sight, objects can be
activated.
• SmartThink Remote System will use a
sensor array attached to a target CPU
which analyzes data in and translates the
data into sensible output (i.e. which object,
and activate the various states of that
object).
Description of working system
• Boot code brings up FPGA and
µController unit
• Transmitter begins transmitting
• FPGA has state machine which checks for
a sip/puff interrupt and generates an
interrupt of its own to the µController
Working System continued…
• For optimal goal: On head
movement, helmet heading is sent as
an interrupt to the µController and
servo position is calculated based on
this heading
• If transmitter holds line-of-sight with
receiver (shown by visual LED),
interrupt will transmit signal to
activate selected object
Overview Diagram
Optimal Diagram
State Machine Diagram
Infrared Transmitter/Detector
• Transmitter sends
out variable
frequencies
• Receiver responds
based on state and
frequency
• Backup: Can
purchase IR
system for minimal
cost ($50 - $100)
Why not RF?
• RF requires more error checking
algorithms
• Superimposing signals generating
unwanted noise
• IR is well used and products/support
is easily accessible
• Strong interference in RF frequencies
Risks
• Working with wireless technology
• Networking with Radio Frequency
(RF)
• Picking the correct components and
getting in on time to build the
motherboard
• Completion Time: is it feasible
Contingency Plan
• We are aiming to achieve our
maximum goal, but in case it does
not work out, we plan to implement
our target goal.
• Our target goal is to activate an
object in the line of sight, and our
maximum is to add the servos to
control the transmitter.
Costs
• Monetary Costs
– Approximately $1750 which
includes the following
–
–
–
–
–
Wheelchair
Sip/Blow sensor
Microprocessor
ROM & RAM
LED's
» Just to name a few
Costs continued…
• Sell Price:
– Approximately double manufacturing
cost: $3000.00
• Labor/Man-hours:
– As much as it takes to get the project to
completion
– We are planning to spend about 10
hours per week as a group, plus
additional individual times outside the
group
Schedule
Division of Labor
• Motherboard – Winter, Justin,
Denknesh
• IR – Paul, Florence, Justin
• Sip/Puff – Florence, Denknesh
• Boot Code – Paul
• User Manual - Winter
• Technical Reference Manual Everyone
Questions?