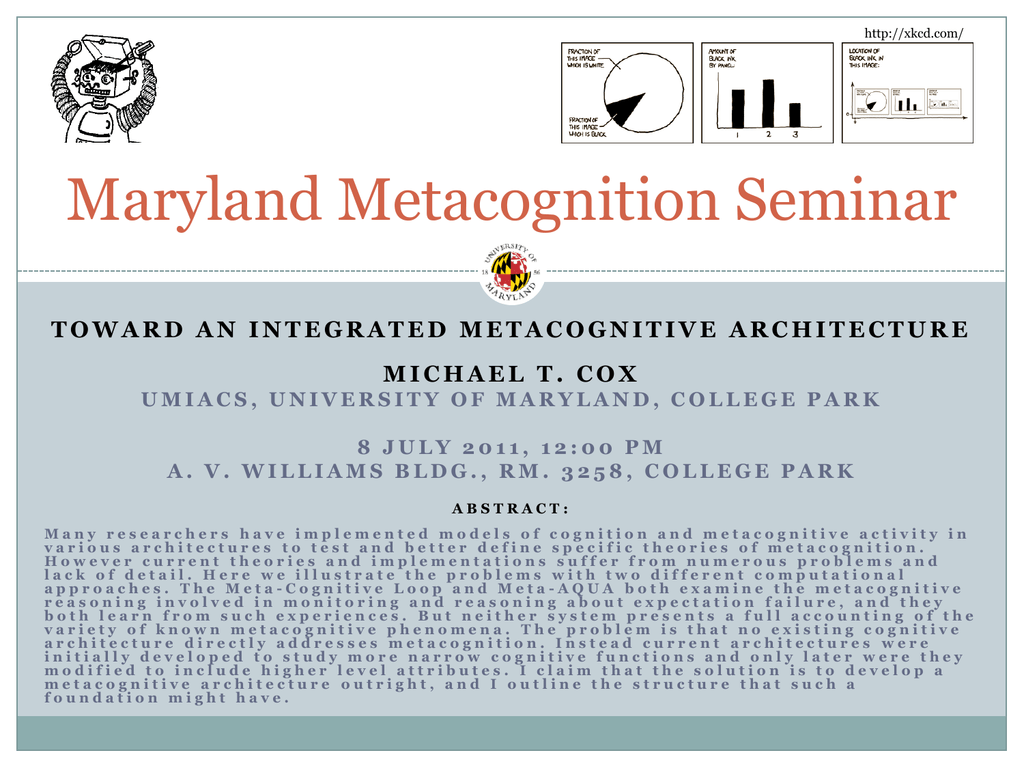 http://xkcd.com/
Maryland Metacognition Seminar
TOWARD AN INTEGRATED METACOGNITIVE ARCHITECTURE
MICHAEL T. COX
UMIACS, UNIVERSITY OF MARYLAND, COLLEGE PARK
8 JULY 2011, 12:00 PM
A. V. WILLIAMS BLDG., RM. 3258, COLLEGE PARK
ABSTRACT:
Many researchers have implemented models of cognition and metacognitive activity in
various architectures to test and better define specific theories of metacognition.
However current theories and implementations suffer from numerous problems and
lack of detail. Here we illustrate the problems with two different computational
approaches. The Meta-Cognitive Loop and Meta-AQUA both examine the metacognitive
reasoning involved in monitoring and reasoning about expectation failure, and they
both learn from such experiences. But neither system presents a full accounting of the
variety of known metacognitive phenomena. The problem is that no existing cognitive
architecture directly addresses metacognition. Instead current architectures were
initially developed to study more narrow cognitive functions and only later were they
modified to include higher level attributes. I claim that the solution is to develop a
metacognitive architecture outright, and I outline the structure that such a
foundation might have.