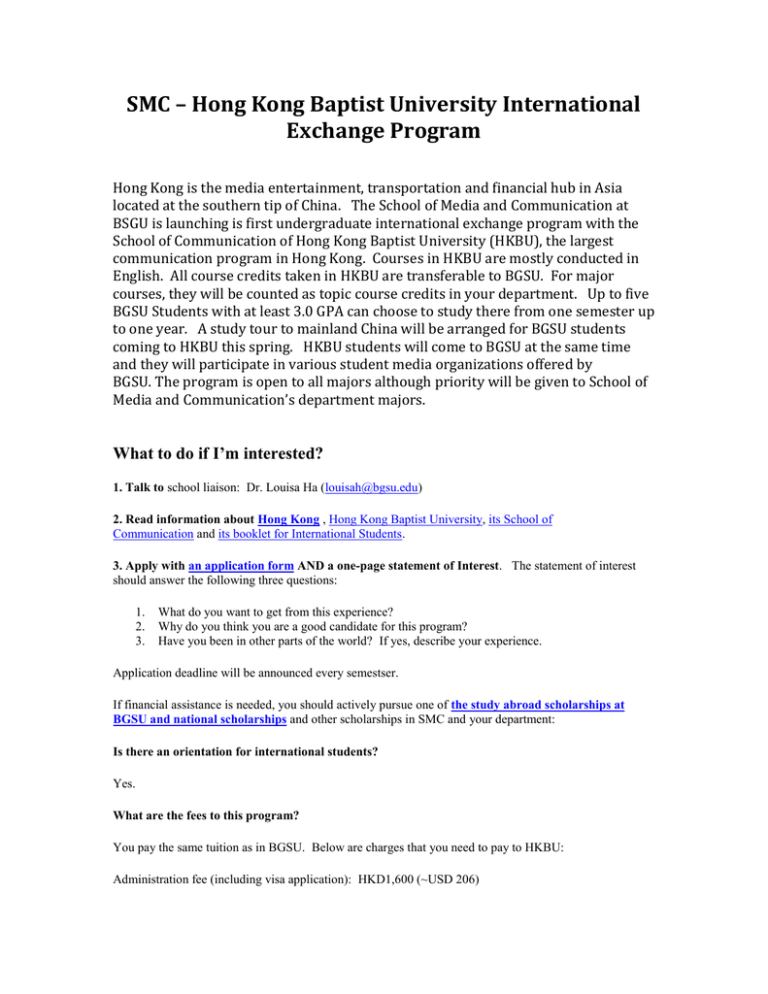 SMC – Hong Kong Baptist University International
Exchange Program
Hong Kong is the media entertainment, transportation and financial hub in Asia
located at the southern tip of China. The School of Media and Communication at
BSGU is launching is first undergraduate international exchange program with the
School of Communication of Hong Kong Baptist University (HKBU), the largest
communication program in Hong Kong. Courses in HKBU are mostly conducted in
English. All course credits taken in HKBU are transferable to BGSU. For major
courses, they will be counted as topic course credits in your department. Up to five
BGSU Students with at least 3.0 GPA can choose to study there from one semester up
to one year. A study tour to mainland China will be arranged for BGSU students
coming to HKBU this spring. HKBU students will come to BGSU at the same time
and they will participate in various student media organizations offered by
BGSU. The program is open to all majors although priority will be given to School of
Media and Communication's department majors.
What to do if I'm interested?
1. Talk to school liaison: Dr. Louisa Ha (louisah@bgsu.edu)
2. Read information about Hong Kong , Hong Kong Baptist University, its School of
Communication and its booklet for International Students.
3. Apply with an application form AND a one-page statement of Interest. The statement of interest
should answer the following three questions:
1.
2.
3.
What do you want to get from this experience?
Why do you think you are a good candidate for this program?
Have you been in other parts of the world? If yes, describe your experience.
Application deadline will be announced every semestser.
If financial assistance is needed, you should actively pursue one of the study abroad scholarships at
BGSU and national scholarships and other scholarships in SMC and your department:
Is there an orientation for international students?
Yes.
What are the fees to this program?
You pay the same tuition as in BGSU. Below are charges that you need to pay to HKBU:
Administration fee (including visa application): HKD1,600 (~USD 206)
Undergraduate students will be accommodated at the on-campus Student Residence Halls
(http://shcweb.hkbu.edu.hk/) All are double occupancy rooms. Halls fee in 2008/09 is USD 840 (spring
semester).
Monthly expenses estimates:
Transportation: HKD200 (~USD 26)
Meals: HKD3,000 (~USD 385)
Entertainment: HKD1,000 (~USD 130)
Miscellaneous: HKD1,000 (~USD 130)
Health and Travel Insurance
All exchange and study abroad students are required to obtain adequate insurance prior to arrival in
HK. Students should check with their home institutions and/or insurance agents about medical and
accident insurance coverage. If the home insurance policy covers the concerned student for his/her
overseas study, he/she should retain it. If that is not the case, please negotiate for coverage of your
overseas study in HK (including personal trips outside HK) before travelling.