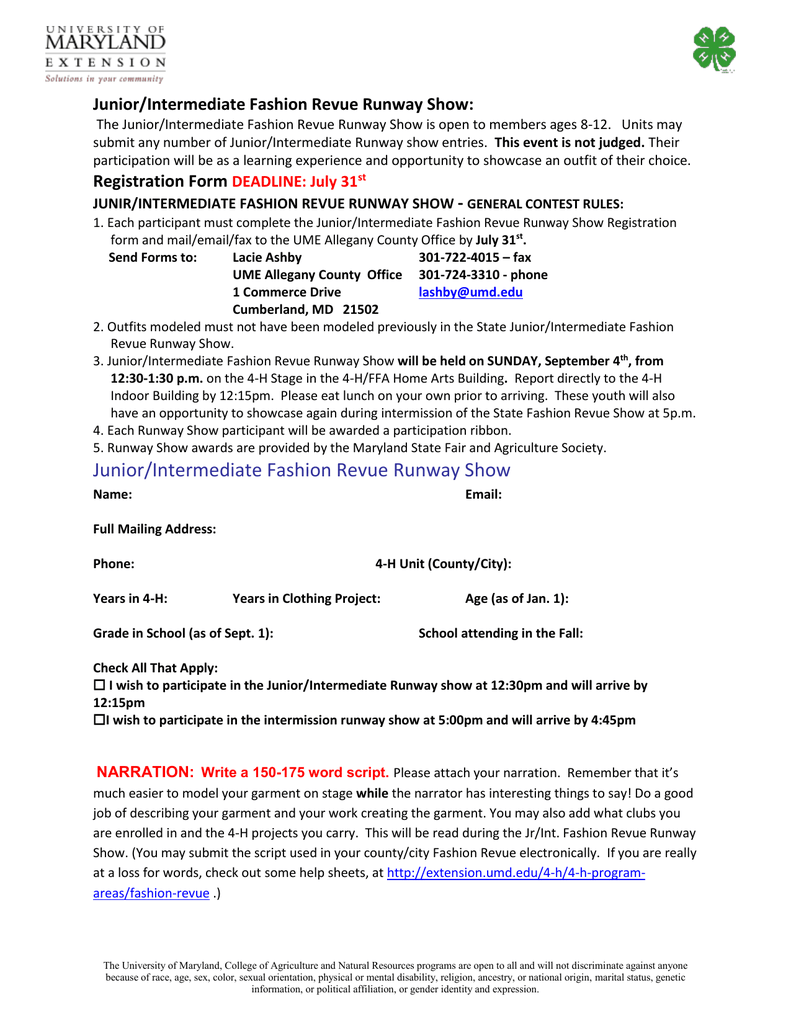 Junior/Intermediate Fashion Revue Runway Show:
The Junior/Intermediate Fashion Revue Runway Show is open to members ages 8-12. Units may
submit any number of Junior/Intermediate Runway show entries. This event is not judged. Their
participation will be as a learning experience and opportunity to showcase an outfit of their choice.
Registration Form DEADLINE: July 31st
JUNIR/INTERMEDIATE FASHION REVUE RUNWAY SHOW - GENERAL CONTEST RULES:
1. Each participant must complete the Junior/Intermediate Fashion Revue Runway Show Registration
form and mail/email/fax to the UME Allegany County Office by July 31st.
Send Forms to:
Lacie Ashby
301-722-4015 – fax
UME Allegany County Office 301-724-3310 - phone
1 Commerce Drive
[email protected]
Cumberland, MD 21502
2. Outfits modeled must not have been modeled previously in the State Junior/Intermediate Fashion
Revue Runway Show.
3. Junior/Intermediate Fashion Revue Runway Show will be held on SUNDAY, September 4th, from
12:30-1:30 p.m. on the 4-H Stage in the 4-H/FFA Home Arts Building. Report directly to the 4-H
Indoor Building by 12:15pm. Please eat lunch on your own prior to arriving. These youth will also
have an opportunity to showcase again during intermission of the State Fashion Revue Show at 5p.m.
4. Each Runway Show participant will be awarded a participation ribbon.
5. Runway Show awards are provided by the Maryland State Fair and Agriculture Society.
Junior/Intermediate Fashion Revue Runway Show
Name:
Email:
Full Mailing Address:
Phone:
Years in 4-H:
4-H Unit (County/City):
Years in Clothing Project:
Grade in School (as of Sept. 1):
Age (as of Jan. 1):
School attending in the Fall:
Check All That Apply:
 I wish to participate in the Junior/Intermediate Runway show at 12:30pm and will arrive by
12:15pm
I wish to participate in the intermission runway show at 5:00pm and will arrive by 4:45pm
NARRATION: Write a 150-175 word script. Please attach your narration. Remember that it's
much easier to model your garment on stage while the narrator has interesting things to say! Do a good
job of describing your garment and your work creating the garment. You may also add what clubs you
are enrolled in and the 4-H projects you carry. This will be read during the Jr/Int. Fashion Revue Runway
Show. (You may submit the script used in your county/city Fashion Revue electronically. If you are really
at a loss for words, check out some help sheets, at http://extension.umd.edu/4-h/4-h-programareas/fashion-revue .)
The University of Maryland, College of Agriculture and Natural Resources programs are open to all and will not discriminate against anyone
because of race, age, sex, color, sexual orientation, physical or mental disability, religion, ancestry, or national origin, marital status, genetic
information, or political affiliation, or gender identity and expression.