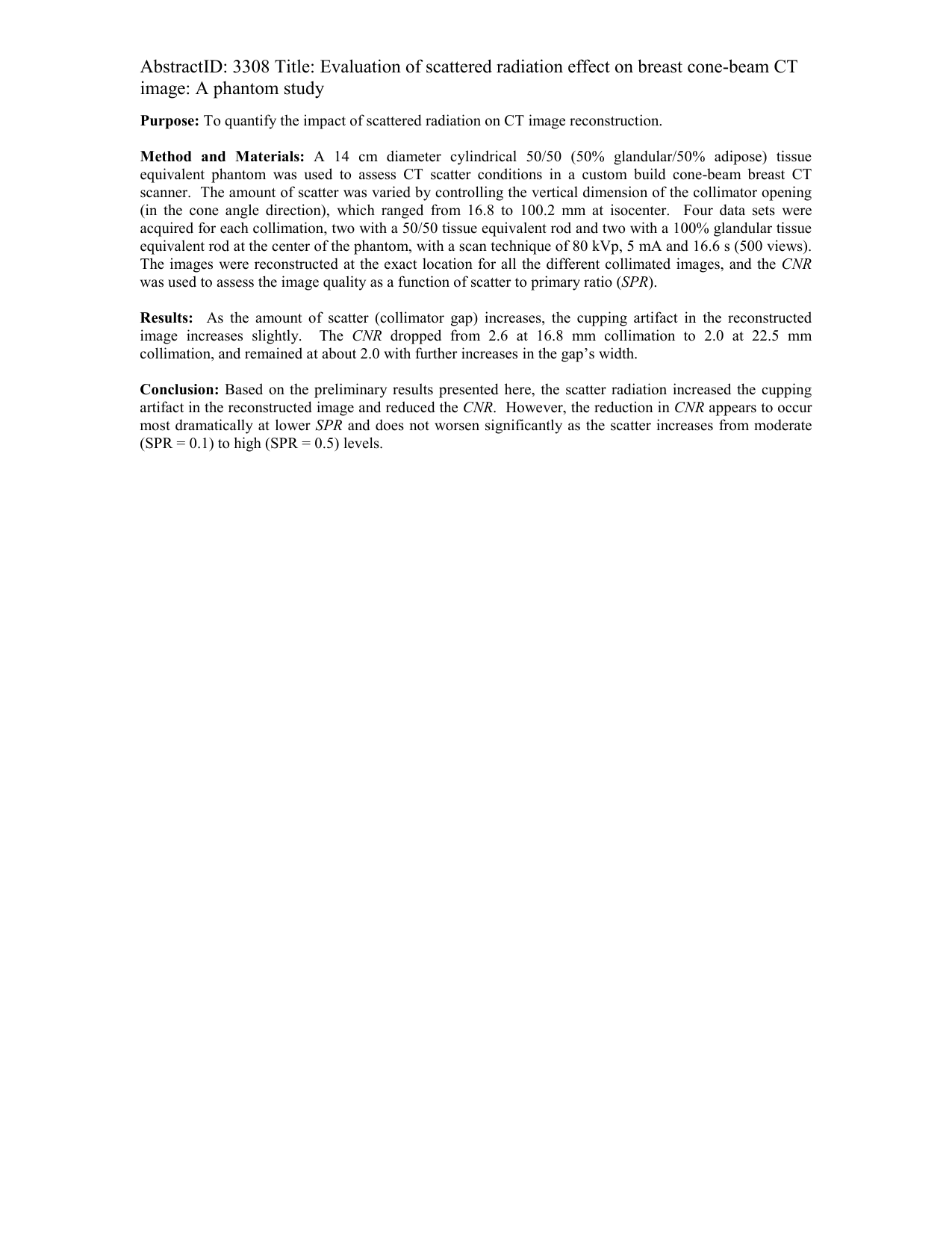 AbstractID: 3308 Title: Evaluation of scattered radiation effect on breast cone-beam CT image: A phantom study
Purpose: To quantify the impact of scattered radiation on CT image reconstruction.
Method and Materials: A 14 cm diameter cylindrical 50/50 (50% glandular/50% adipose) tissue equivalent phantom was used to assess CT scatter conditions in a custom build cone-beam breast CT scanner. The amount of scatter was varied by controlling the vertical dimension of the collimator opening
(in the cone angle direction), which ranged from 16.8 to 100.2 mm at isocenter. Four data sets were acquired for each collimation, two with a 50/50 tissue equivalent rod and two with a 100% glandular tissue equivalent rod at the center of the phantom, with a scan technique of 80 kVp, 5 mA and 16.6 s (500 views).
The images were reconstructed at the exact location for all the different collimated images, and the CNR was used to assess the image quality as a function of scatter to primary ratio (SPR).
Results: As the amount of scatter (collimator gap) increases, the cupping artifact in the reconstructed image increases slightly. The CNR dropped from 2.6 at 16.8 mm collimation to 2.0 at 22.5 mm collimation, and remained at about 2.0 with further increases in the gap's width.
Conclusion: Based on the preliminary results presented here, the scatter radiation increased the cupping artifact in the reconstructed image and reduced the CNR. However, the reduction in CNR appears to occur most dramatically at lower SPR and does not worsen significantly as the scatter increases from moderate
(SPR = 0.1) to high (SPR = 0.5) levels.