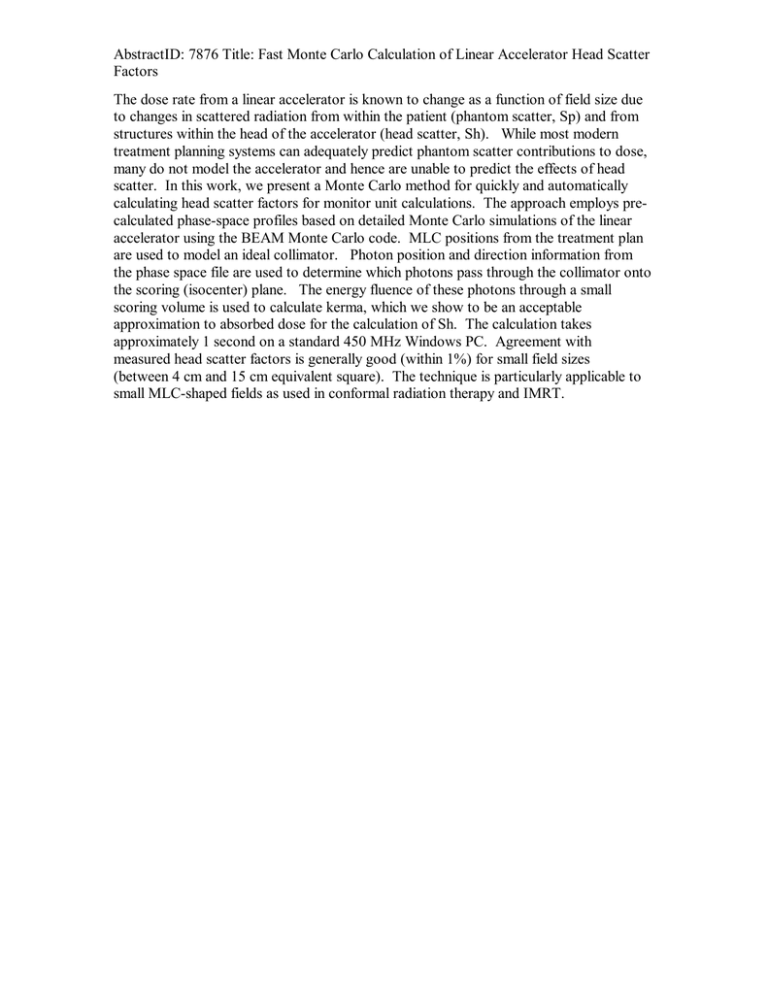 AbstractID: 7876 Title: Fast Monte Carlo Calculation of Linear Accelerator Head Scatter
Factors
The dose rate from a linear accelerator is known to change as a function of field size due
to changes in scattered radiation from within the patient (phantom scatter, Sp) and from
structures within the head of the accelerator (head scatter, Sh). While most modern
treatment planning systems can adequately predict phantom scatter contributions to dose,
many do not model the accelerator and hence are unable to predict the effects of head
scatter. In this work, we present a Monte Carlo method for quickly and automatically
calculating head scatter factors for monitor unit calculations. The approach employs precalculated phase-space profiles based on detailed Monte Carlo simulations of the linear
accelerator using the BEAM Monte Carlo code. MLC positions from the treatment plan
are used to model an ideal collimator. Photon position and direction information from
the phase space file are used to determine which photons pass through the collimator onto
the scoring (isocenter) plane. The energy fluence of these photons through a small
scoring volume is used to calculate kerma, which we show to be an acceptable
approximation to absorbed dose for the calculation of Sh. The calculation takes
approximately 1 second on a standard 450 MHz Windows PC. Agreement with
measured head scatter factors is generally good (within 1%) for small field sizes
(between 4 cm and 15 cm equivalent square). The technique is particularly applicable to
small MLC-shaped fields as used in conformal radiation therapy and IMRT.