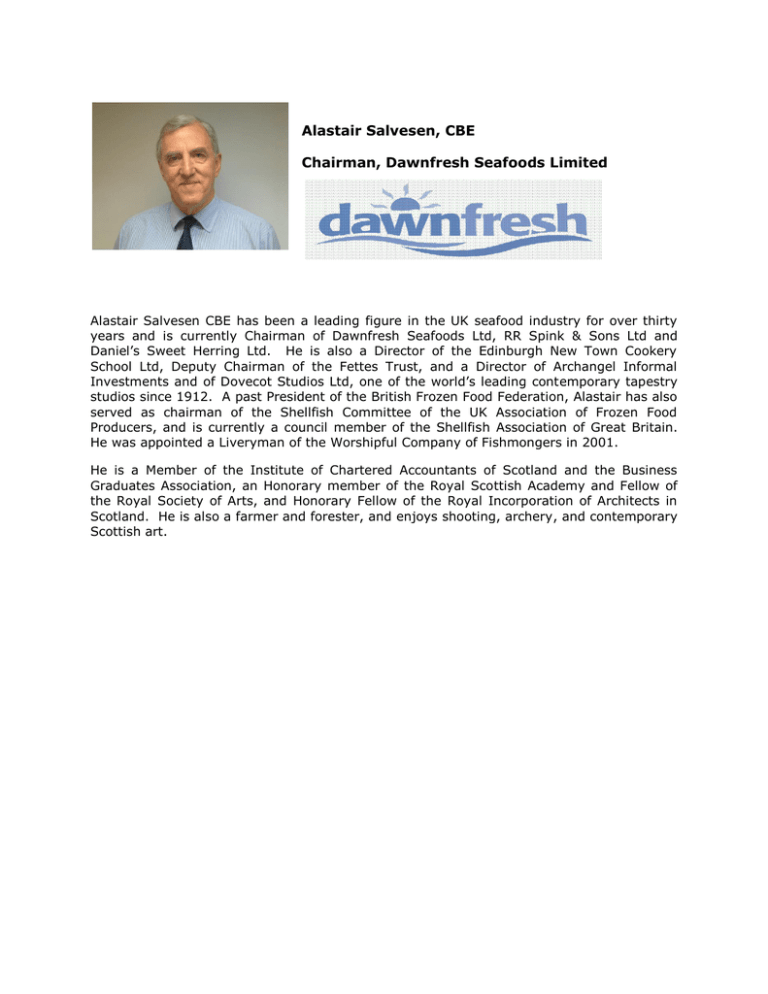 Alastair Salvesen, CBE
Chairman, Dawnfresh Seafoods Limited
Alastair Salvesen CBE has been a leading figure in the UK seafood industry for over thirty
years and is currently Chairman of Dawnfresh Seafoods Ltd, RR Spink & Sons Ltd and
Daniel's Sweet Herring Ltd. He is also a Director of the Edinburgh New Town Cookery
School Ltd, Deputy Chairman of the Fettes Trust, and a Director of Archangel Informal
Investments and of Dovecot Studios Ltd, one of the world's leading contemporary tapestry
studios since 1912. A past President of the British Frozen Food Federation, Alastair has also
served as chairman of the Shellfish Committee of the UK Association of Frozen Food
Producers, and is currently a council member of the Shellfish Association of Great Britain.
He was appointed a Liveryman of the Worshipful Company of Fishmongers in 2001.
He is a Member of the Institute of Chartered Accountants of Scotland and the Business
Graduates Association, an Honorary member of the Royal Scottish Academy and Fellow of
the Royal Society of Arts, and Honorary Fellow of the Royal Incorporation of Architects in
Scotland. He is also a farmer and forester, and enjoys shooting, archery, and contemporary
Scottish art.