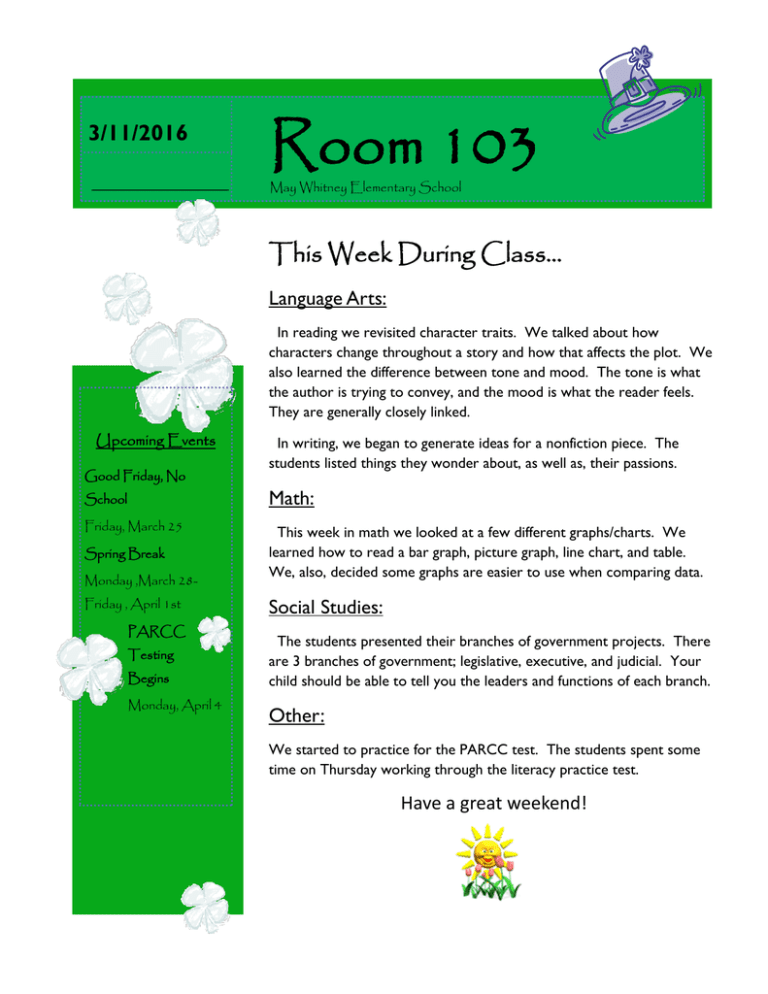 3/4/2013
3/11/2016
__________________
Room 103
May Whitney Elementary School
This Week During Class...
Language Arts:
In reading we revisited character traits. We talked about how
characters change throughout a story and how that affects the plot. We
also learned the difference between tone and mood. The tone is what
the author is trying to convey, and the mood is what the reader feels.
They are generally closely linked.
Upcoming Events
Good Friday, No
In writing, we began to generate ideas for a nonfiction piece. The
students listed things they wonder about, as well as, their passions.
School
Math:
Friday, March 25
This week in math we looked at a few different graphs/charts. We
learned how to read a bar graph, picture graph, line chart, and table.
We, also, decided some graphs are easier to use when comparing data.
Spring Break
Monday ,March 28Friday , April 1st
PARCC
Testing
Begins
Monday, April 4
Social Studies:
The students presented their branches of government projects. There
are 3 branches of government; legislative, executive, and judicial. Your
child should be able to tell you the leaders and functions of each branch.
Other:
We started to practice for the PARCC test. The students spent some
time on Thursday working through the literacy practice test.
Have a great weekend!