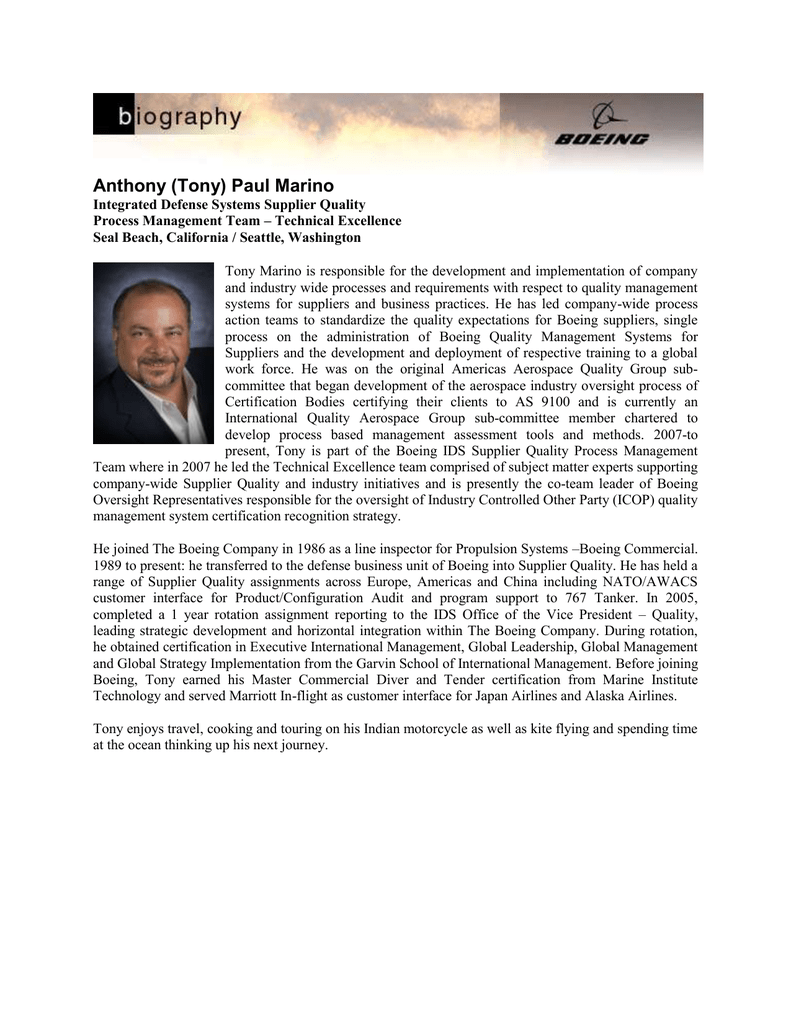 Anthony (Tony) Paul Marino
Integrated Defense Systems Supplier Quality
Process Management Team – Technical Excellence
Seal Beach, California / Seattle, Washington
Tony Marino is responsible for the development and implementation of company
and industry wide processes and requirements with respect to quality management
systems for suppliers and business practices. He has led company-wide process
action teams to standardize the quality expectations for Boeing suppliers, single
process on the administration of Boeing Quality Management Systems for
Suppliers and the development and deployment of respective training to a global
work force. He was on the original Americas Aerospace Quality Group subcommittee that began development of the aerospace industry oversight process of
Certification Bodies certifying their clients to AS 9100 and is currently an
International Quality Aerospace Group sub-committee member chartered to
develop process based management assessment tools and methods. 2007-to
present, Tony is part of the Boeing IDS Supplier Quality Process Management
Team where in 2007 he led the Technical Excellence team comprised of subject matter experts supporting
company-wide Supplier Quality and industry initiatives and is presently the co-team leader of Boeing
Oversight Representatives responsible for the oversight of Industry Controlled Other Party (ICOP) quality
management system certification recognition strategy.
He joined The Boeing Company in 1986 as a line inspector for Propulsion Systems –Boeing Commercial.
1989 to present: he transferred to the defense business unit of Boeing into Supplier Quality. He has held a
range of Supplier Quality assignments across Europe, Americas and China including NATO/AWACS
customer interface for Product/Configuration Audit and program support to 767 Tanker. In 2005,
completed a 1 year rotation assignment reporting to the IDS Office of the Vice President – Quality,
leading strategic development and horizontal integration within The Boeing Company. During rotation,
he obtained certification in Executive International Management, Global Leadership, Global Management
and Global Strategy Implementation from the Garvin School of International Management. Before joining
Boeing, Tony earned his Master Commercial Diver and Tender certification from Marine Institute
Technology and served Marriott In-flight as customer interface for Japan Airlines and Alaska Airlines.
Tony enjoys travel, cooking and touring on his Indian motorcycle as well as kite flying and spending time
at the ocean thinking up his next journey.