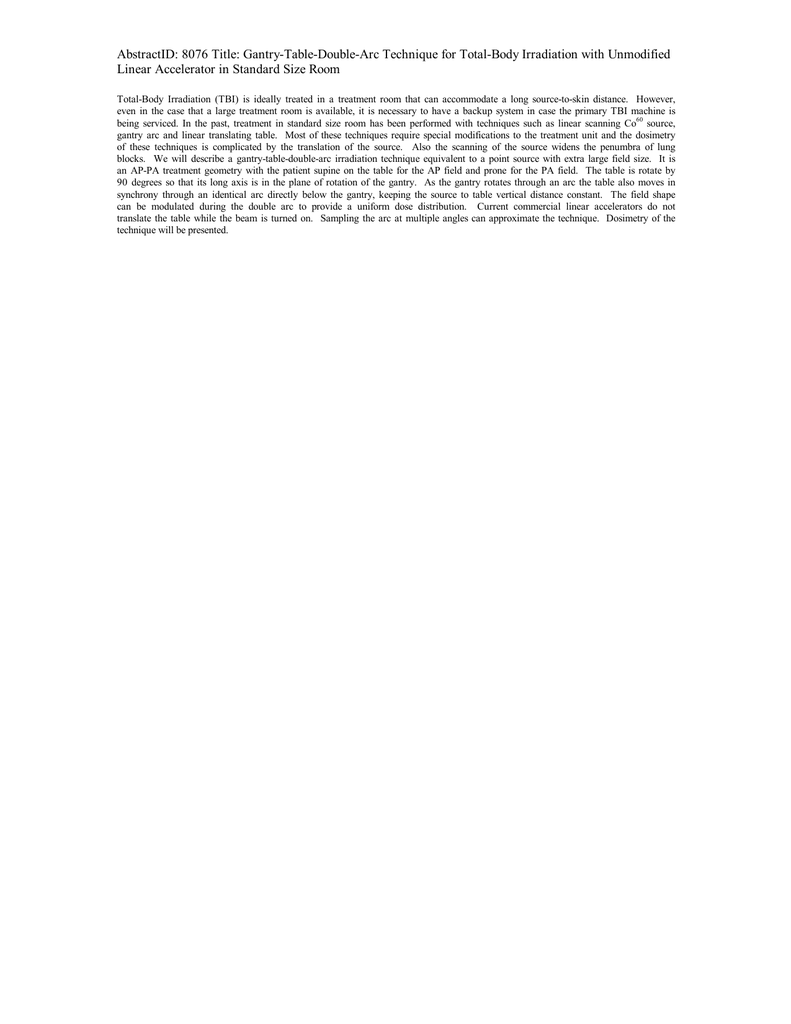 AbstractID: 8076 Title: Gantry-Table-Double-Arc Technique for Total-Body Irradiation with Unmodified
Linear Accelerator in Standard Size Room
Total-Body Irradiation (TBI) is ideally treated in a treatment room that can accommodate a long source-to-skin distance. However,
even in the case that a large treatment room is available, it is necessary to have a backup system in case the primary TBI machine is
being serviced. In the past, treatment in standard size room has been performed with techniques such as linear scanning Co60 source,
gantry arc and linear translating table. Most of these techniques require special modifications to the treatment unit and the dosimetry
of these techniques is complicated by the translation of the source. Also the scanning of the source widens the penumbra of lung
blocks. We will describe a gantry-table-double-arc irradiation technique equivalent to a point source with extra large field size. It is
an AP-PA treatment geometry with the patient supine on the table for the AP field and prone for the PA field. The table is rotate by
90 degrees so that its long axis is in the plane of rotation of the gantry. As the gantry rotates through an arc the table also moves in
synchrony through an identical arc directly below the gantry, keeping the source to table vertical distance constant. The field shape
can be modulated during the double arc to provide a uniform dose distribution. Current commercial linear accelerators do not
translate the table while the beam is turned on. Sampling the arc at multiple angles can approximate the technique. Dosimetry of the
technique will be presented.