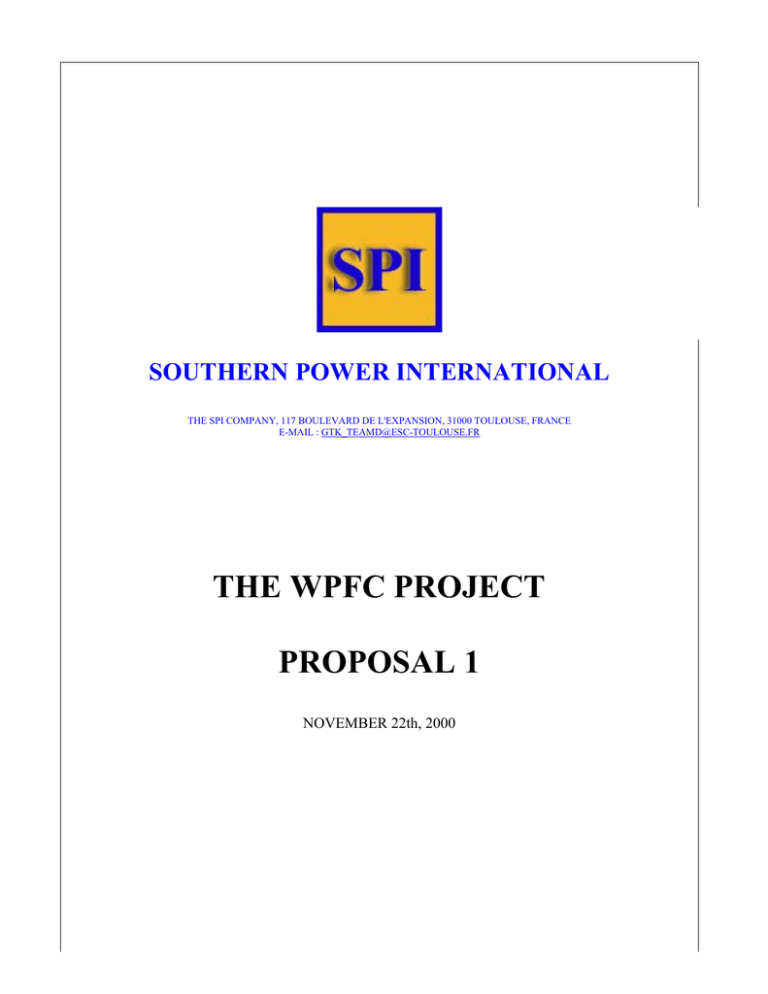 SOUTHERN POWER INTERNATIONAL
THE SPI COMPANY, 117 BOULEVARD DE L'EXPANSION, 31000 TOULOUSE, FRANCE
E-MAIL : GTK_TEAMD@ESC-TOULOUSE.FR
THE WPFC PROJECT
PROPOSAL 1
NOVEMBER 22th, 2000
ESC Toulouse
SOUTHERN POWER INTERNATIONAL
"THE FUTURE'S BRIGHT...
...THE FUTURE'S SPI"
A message from the Chairman
For now more than ten years, SPI has been providing power from non polluting energies (NPE) : Wind
and Sun. The challenge was to offer an efficient service to a low cost, in order to be competitive
regarding the traditional nuclear and oil supply sources. SPI now successfully manages more than 6
wind power plants and has been the main architect for two large ones in France (more than 10 MW) and
9 mid-sized ones in Europe (between 2 and 10 MW).
Today, SPI seeks a partner for its development inside and outside Europe. We need competences in
order to improve the quality of the power produced, and a strategic view to make NPE become the
reference in the liberalized European market. For best results, we are looking for an American or Asian
company which owns an experience in wind or solar power production and distribution. The alliance
will be an efficient investment in terms of market share and turnover. SPI is enthusiastic to work in
partnership and is determined to create value for both shareholders and employees.
We have prepared this document to present you our first proposal in the WPFC joint-venture project.
We hope that you will find the information you need. However, if you had any questions, don't hesitate
to contact us. My team and I are available to examine any offer you make.
Hoping to meet you soon,
Anne-Sophie DUCHESNE
CEO Southern Power International
1. THE SPI COMPANY : WHO WE ARE
• Capital : 148 millions FRF (French Francs), equiv. 21 millions USD (US Dollars).
• Net sales (1999) : 1.1 billion FRF, equiv. 150 millions USD.
• Net profit (1999) : 37 millions FRF, eqiv. 6.2 millions USD.
• Employees : 5,084 in Europe (4,510 in the Toulouse area).
• Main shareholders : Suez-Lyonnaise Group (40%), Alstom Group (35%), State of Midi-Pyrenees
(5%), CCF bank (10%) and Barclays bank (5%).
• Staff : Anne-Sophie "Anne-So" DUCHESNE (Chairman), Jean-François "Jeff" LACOSTE (Technical
director), Jean-Luc "Goupil" DURAND (Legal director), Stéphane KOSKA (Marketing director),
Guillaume CHARPENTIER (Financial director).
1.1. SPI Activities
SPI is a French private and independent company. The main activities are : marketing, project
management in both wind and solar energy programs, wind farms' exploitation and maintenance. The
chart below gives you an idea of our wind power activity with the installed capacity per year.
140
120
100
80
60
40
20
0
Installed capacity
per year
1999
1997
1995
1993
1991
Total Capacity
Installed Capacity Per Year (MW)
1.2. SPI organization
Finance/Accounting
Department
Human Resources
Department
Marketing Department
Management
Group
Solar Energy
Program Department
Wind Energy
Program Department
Energy Production Department
Management Group
The management group is composed of experienced and competent people.
Marketing and Sales Department
This staff is responsible for finding potential markets in both solar and wind applications. They must
understand the customers' needs and are in charge of all the contract aspects.
Solar Energy Program Department or Wind Energy Program Department
Once a contract has been signed, responsibility is transferred to the project manager of Solar or Wind
Energy Program Department These departments provides expertise and technical assistance in the field
of wind power and solar energy, and offers also a consultancy service covering a wide range of
technical, economic and environmental issues concerned with Wind Energy Development
In the wind power field, the program department provides various services :
_ site prospecting,
_ wind speed monitoring and data analysis,
_ turbines selection and wind farm design,
_ negotiation with local partners (EDF regional services),
_ economic and profitability assessment,
_ environmental impact evaluations,
_ background noise survey,
planning appro als
_ selection of partners : financial institutions, local industry, people...
_ raising grants from local communities, regional (Conseils Généraux, Regional Councils),
national and European levels,
_ negotiation with land owners (option agreement...),
_ public relations and lobbying,
_ technical and managerial following up.
Energy Production Department
This department consists of several wind power units. Exploitation and management of the operation
and maintenance of facilities
Localization of our agencies
The head office is located in Toulouse in the South West of France. The majority of the activities are run
from the head office. In order to be close to our subcontractors and the local authorities involved in our
wind power program, our company has set up two agencies located in St Brieux in Brittany and in
Montpellier in the South East of France.
SPI Wind Power Activities
Localization of our current Wind Power Units :
In these units, a local staff is ready to operate whenever there is a wind mill's damage. They also make
statistics based on data collected by the different equipments.
Company's strategy in the Wind Power field
SPI strategy is based on an expected global increase of energy consumption and a rise in the level of
environmental awareness. Together with its associated companies, SPI aims to be an international
market leader.